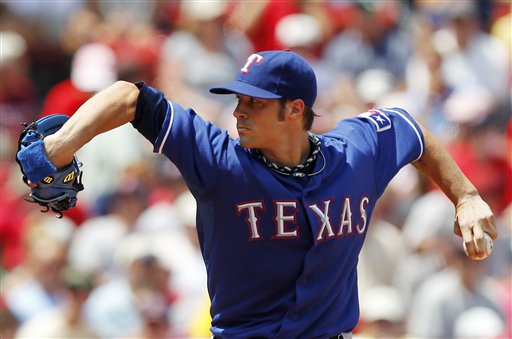 Even though the Yankees tack a half-game onto their division lead during their ten game stretch against the Rays, Blue Jays, and Red Sox, it's hard to really characterize that stretch as a success. They went just 4-6 and were outscored 36-39, but I guess in the end all that matters is that the Yanks increased their lead and knocked a handful of games off their magic number, which now sits at 50.
Unfortunately things won't get easier tonight, with the Yanks in Texas to take on the first place Rangers. Not only are they seven-and-a-half games up in an otherwise unspectacular AL West, but they're throwing one of the game's breakout starters tonight. C.J. Wilson, one of the few athletes worth following on Twitter, is holding opponents to a .216/.318/.316 batting line this year (lefties just .105/.190/.133), generating close to 50% groundballs. The former setup man and closer has walked more batters (66) than any other pitcher in the league, so if the Yanks are patient Wilson work himself into trouble. Doesn't mean it'll be easy though.
I guess the good news is that the Rangers are just 17-16 in their last 33 games, and just 3-4 over the last week. Still, they're a very dangerous team with a great offense and a deep, dominant bullpen. With Mark Teixeira home tending to his knocked up wife, things don't figure to get any easier. Here's the um, lineup…
Jeter, SS
Swisher, RF
Thames, DH
A-Rod, 3B
Kearns, LF
Berkman, 1B
Cervelli, C
Gardner, CF
Pena, 2B
And on the bump, it's A.J. Burnett.
Unfortunately the Rangers play in the Central Time Zone, so this one doesn't start until a little after 8pm ET. The game can be seen on My9 locally, or the MLB Network nationally. Enjoy.