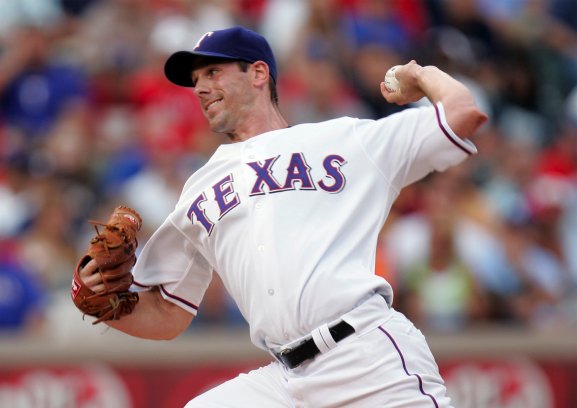 The Yanks have long been known as a patient team. They take pitches and work counts. They're currently second in the league in walks, to Tampa Bay. They led the league last year. They led the league in walks from 2002 through 2004 and finished in the top three from 2005 through 2007. The only year since 2002 that they fell below third was, unsurprisingly, in 2008. But tonight patience might not pay off.
This year Cliff Lee is dominant as ever. His walks per nine, 0.52, is less than half the rate of the pitcher with the next lowest rate, Roy Halladay. His WHIP is also a league-low 0.92. In other words, the Yanks will have to be a bit more aggressive than normal if they want to get something going off Lee. Working the count isn't an option, as Lee finishes off batters with an average of 3.42 pitches, which is the second fewest in the AL.
On their end the Yanks will have Javier Vazquez to face the Rangers lineup. Javy wasn't too hot the last time out, at least partly because his velocity was down in the low- to mid-80s. The Yanks called it a dead arm, so we can only hope that he's feeling better. Maybe the Texas heat will help him get loose. The Rangers aren't the most patient team, so maybe he can get them hacking at off-speed stuff. He'll need it if his fastball isn't at its best.
It's another Granderson-less night. He'll return tomorrow with a new swing, apparently. Mark Teixeira will return tomorrow, too, so this will be Marcus Thames's last day as a No. 3 hitter. Probably ever.
Lineup:
1. Derek Jeter, SS
2. Nick Swisher, RF
3. Marcus Thames, DH
4. Alex Rodriguez, 3B
5. Robinson Cano, 2B
6. Jorge Posada, C
7. Austin Kearns, LF
8. Lance Berkman, 1B
9. Brett Gardner, CF
And on the mound, number thirty-one, Javier Vazquez.