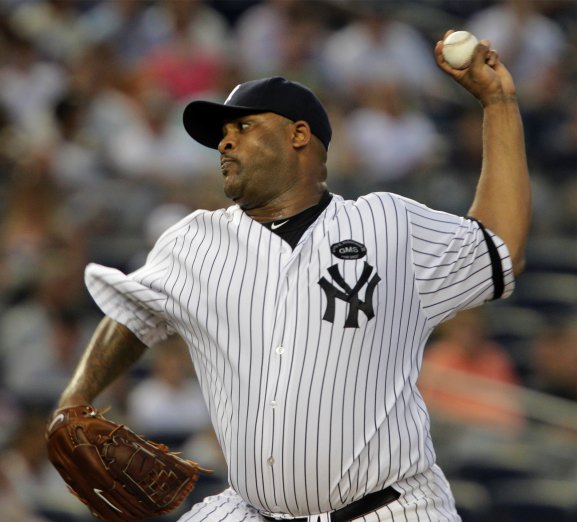 No one has taken to pitching at the new Yankee Stadium quite like CC Sabathia. In his two seasons in pinstripes, the Big Man is 16-2 in the Bronx with a 2.92 ERA. In 12 starts this year, he's 9-0 in the Bronx, and he hasn't lost a game at home since he faced the Mariners on July 2, 2009. As the Yanks close out a home stand and try to win the series against the Mariners, Sabathia will get the ball.
It's tough to overstate Sabathia's importance to the Yanks this year. As Javier Vazquez and AJ Burnett have struggled to find anything approaching an effective consistency, Sabathia has been the stalwart in the rotation. He's 16-5 with a 3.12 ERA. Although his K rate is down to 7.1 per 9 IP, he doesn't allow many long balls, and he gives the Yanks length, averaging seven innings per state.
This year, Sabathia has dominated the Mariners. He's 2-0 with a 1.20 ERA in 15 innings against Seattle. The team has hit just .208/.250/.245 against him, and Sabathia will try to use his lefty-lefty advantage to neutralize Ichiro Suzuki and Russell Branyan today. Branyan, who has owned the Yanks this year, is just 1 for 10 against CC with no home runs and six strike outs.
Opposing Sabathia will Luke French. The 24-year-old lefty is making his sixth start of the year. In eight appearances, he is 2-3 with a 4.02 ERA. He doesn't strike anyone out — just 3.8 per 9 IP — but has allowed only two home runs in 40.1 innings this year. In his one appearance against the Yanks, he allowed a run in three innings of mop-up work on July 9. The lone scored on a Mark Teixeira home run.
Derek Jeter SS
Nick Swisher RF
Mark Teixeira 1B
Robinson Cano 2B
Marcus Thames DH
Jorge Posada C
Austin Kearns LF
Brett Gardner CF
Eduardo Nunez 3B
Carsten Charles Sabathia P
Weather permitting, the game starts at 1:05 p.m. and will be on the YES Network.
Update (3:18 p.m.): The Yankees have announced that the game will resume at approximately 3:30 p.m. No word yet on who will take the mound for the Yanks in the top of the 7th. CC Sabathia and the Bombers are leading the Mariners 5-0 after 5.5 innings.