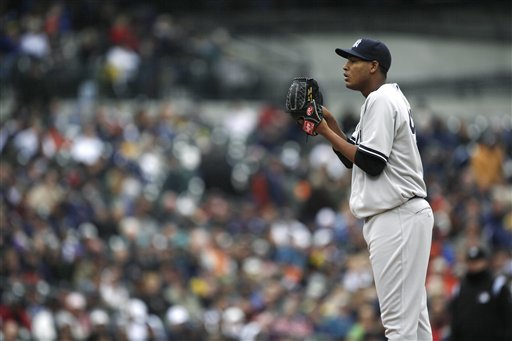 About 20 months ago, then 21-year-old Ivan Nova wasn't much more than an afterthought in the Yankees' farm system. His performance was solid yet unspectacular (6.6 K/9, 2.8 BB/9, 52% grounders) in 22 starts (and two relief appearances) with High-A Tampa in 2008, not enough to earn him a 40-man roster spot after the season. The Padres, then in search of anyone young and able to throw remotely close to 90 mph, gobbled him up in the Rule 5 Draft but were so unimpressed in Spring Training that they sent him right back to the Yanks at the end of camp.
So Nova went about his way last year and had what was arguably his worst season as a professional. He struck out just 5.8 batters per nine innings and walked a career high 3.8 per nine, avoiding total destruction by generating 54% ground balls. It was his first taste of both the Double-A and Triple-A levels. Knowing that Nova not only had a much better chance of sticking with a big league team in 2010 if taken in the Rule 5 again, but also that they'd likely lose him to free agency if he didn't stick (since it would have been his second time on outright waivers), the Yanks added him to the 40-man roster last December and penciled him in as a 7th or 8th starter type to stash away in Scranton.
Following a three inning relief cameo in mid-May, Nova returns to the big leagues tonight to make his first career start, an exciting moment in every player's career. It's all part of the team's plan to keep their regular starters rested down the stretch and in September. He made this opportunity possible by having the best season of his career with Triple-A Scranton, striking out a career high 7.1 batters per nine, walking three per nine, and getting his usual helping of ground balls (54%). Even more encouraging is Nova's continued trend of becoming less and less hittable; he allowed a whopping 11.0 hits per nine innings during his first full season back in 2007 (.337 BABIP), but has gradually whittled that down to 8.4 this season (.303 BABIP). Certainly not great, but pitchers that rely on the ground ball will always give up their fair share of base knocks.
In the 2008 Prospect Handbook, the first time Nova was considered one of the Yanks' top 30 prospects according to Baseball America, he was said to have a fastball that "sits 90-94 mph" with "a solid-average curveball and changeup" as the team's 18th best prospect. The scouting report improved a bit next year, when he was San Diego's 30th best prospect. Those same pitches – fastball, curve, change – were now said to grade out as "above-average when they're on." As the Yanks' 16th best prospect before this season, Nova had the same basic scouting report and was dubbed a number four starter in the big leagues if his command and secondary pitches improved, which is still his ultimate ceiling. Modest, but useful to a team set at the front of the rotation for the foreseeable future.
The biggest knock against Nova is his delivery, which I explained last winter in his prospect profile. It's too smooth and effortless. There's very little deception and hitters haven't had too much trouble picking the ball up against him, hence the inflated hit totals earlier in this career. Here's video of his big league debut and a minor league clip so you can see what I'm talking about. A nice and easy motion, for sure, but it doesn't take much effort to find the ball before it comes out of his hand. If Nova could find a way to hide the ball a bit better, his stuff probably plays up a touch and improves not only the results, but his long-term outlook.
As for tonight, the Blue Jays actually present a nice matchup for the now 23-year-old. They're an extremely impatient team, swinging at an American League worst 31.6% of the pitches they see outside of the strike zone. As you probably deduced given their homer happy ways, the Jays also hit a frickin' ton of balls in the air, a MLB high 43.5% to be exact. Nova, a groundball fiend that is stingy with walks, plays right into Toronto's weaknesses as long as he doesn't catch too much of the plate. As long as he doesn't get the jitters and elevate his pitches, he should be fine. The Jays will chase when he nibbles and the ground balls, which infrequently go for extra bases, will come. Tonight would actually be a good night to give Derek Jeter a break and let Ramiro Pena handle short on the turf, as well.
Nova's not going to come up and give the Yanks a late-season kick in the rear by firing off dominant start after dominant start, he's just not that kind of pitcher. What he should do is provide bulk innings and hopefully keep the game close enough that two of the Yanks' biggest strengths – the offense and bullpen – can nail down the win. Then again, I welcome surprises.