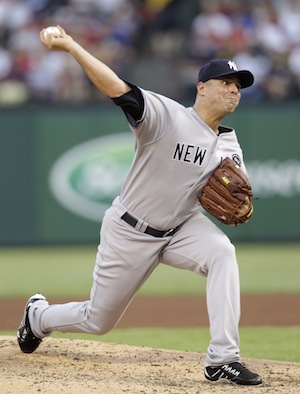 Lost in the aftermath of a thrilling Yankee victory last night was another mediocre start by Javier Vazquez. Pitching in temperatures nearing 100 degrees, Vazquez, thanks in part to his defense, labored through 4.1 innings, and his final line — 8 H, 6 ER, 2 BB, 1 K — doesn't do much to inspire confidence. After a great run through late May, June and the first half of July, Javier Vazquez has seemingly run out of steam.
Last night's affair caps off a rough stretch for Vazquez. Over his last 28 innings, he's allowed 20 earned runs for a 6.43 ERA while giving up 36 hits and seven home runs with 10 walks and just 15 strike outs. His FIP clocks in at 6.35, and while earlier this season he couldn't locate his pitches, this time, he doesn't seem to have much on them.
"It's been very frustrating for me, the velocity," Vazquez said after his start. "I don't have any life on my fastball. All the swings and misses I'm getting are on my change-ups and curveballs."
The results bare out the pitcher's own observations. Of the 82 pitches Vazquez threw last night, the Rangers swung and missed at just four of them. According to the Pitch F/X data, those swings came on pitches that were 77, 75, 68 and 65 miles an hour. In other words, none of them were on fastballs.
As with last week's outing against the Red Sox, Vazquez's heaters weren't too hot. He started the game out with a few heaters that didn't crack 85 and hit 88 only once in the first inning. The fastest pitches he threw were a pair of four-seamers in the third that just eked above the 89-mph mark and the final pitch of his outing. For the first time all season, his fastball velocity never cracked 90.
Vazquez, as the Yanks said last weekend, has been going through a dead-arm period, and he doesn't need his velocity to excel. As Mike Mussina showed, smart pitchers with pinpoint command and very good breaking pitches — two traits Vazquez possesses — can keep hitters guessing with a slow-slower-slowest approach to pitching. The Yankees need that from Javy right now.
In an ideal world, the 34-year-old with the fifth most innings pitched among active players would get some time off before the playoffs. But when it comes to starting pitching, the Yankees are a little short-handed right now. Andy Pettitte is still a week to ten days away from rejoining the team, and Phil Hughes is fast approaching the magic 175 IP mark, his soft cap for an innings limit. If the Yankees need to monitor Hughes' workload to keep him fresh for the playoffs, they can't ease up on Vazquez at the same time. When Pettitte comes back, the Yanks can use Dustin Moseley to give Vazquez an extra day off now and then, but until then, their starters must go on turn.
So the Yanks will continue to run Javy out there every five days. Without an extra pitcher — say a Cliff Lee — the team has few options, and despite the results, it's an easy choice to make. They won't overtax Hughes, a future starting pitcher, to coddle Javier Vazquez, a one-year rental. Instead, they'll hope he can make the best of it and work through a dead arm period. With no days off until the 26th, the Yankees are going full steam ahead through the dog days of August.
As the fans sigh in frustration at another slow fastball, though, Vazquez does as well. "I've got a lot of innings on my arm," he aid after yesterday's game. "Maybe it's catching up to me. I reach back and see 88. It's kind of frustrating."