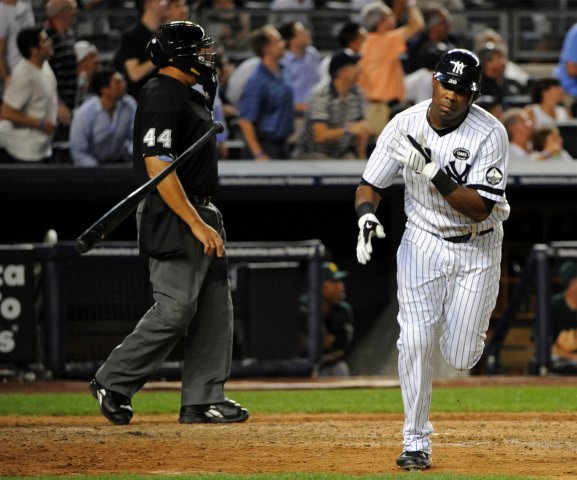 Everyone loves a nice feel good story, and that's exactly what Marcus Thames is. He and his four siblings ran the household at a young age after his mother was paralyzed in a car accident, and after his junior year of high school Thames joined the National Guard to earn extra money for his family. Nicknamed Slick by his mother because he used to suck his thumb as a child, Marcus managed to overcome the hardship of his adolescence to become a big league baseball player that homered on the first pitch he ever saw, off a future Hall of Famer no less. It's the kind of stuff they base movies on.
Thames' season has been pretty storybook for the Yanks this year. His "welcome to the Yankees" moment, so to speak, was the walk-off homer off Jonathan Papelbon back in May. Another walk-off hit against the Blue Jays in July built up his good will, though his defense in the corner outfield spots tested the limits of the fans' patience. A 2-for-23 stretch before a disabled list stint in June appeared to put his job in jeopardy, and quite a few people thought he would/should be designated for assignment after the Yanks acquired Austin Kearns and Lance Berkman at the trade deadline. Thankfully, that didn't happen.
Free from the rigors of outfield defense, Thames has been a man on a mission this month while playing almost exclusively designated hitter. He started the month with four hits in eight plate appearances before stepping in for Mark Teixeira as the three-hole hitter during a two game series against the first place Rangers. Lefties C.J. Wilson and Cliff Lee started the two games, exactly the demographic Thames was brought in to face. He picked up five hits in the two game set including an eighth inning solo homer and a game-winning single in the ninth inning of the second game. Marcus' latest masterpiece includes six homers in his last five starts, putting his season wOBA at .410.
Like I said, Thames was brought in strictly to pound lefthanded pitching, but he's gone above and beyond the call of duty. He's posted a .419 wOBA against southpaws but has nearly matched it with a .400 wOBA against righthanders. It's his best single season performance against pitchers of the same side since he wOBA's .378 off righties in 2006, the year he helped the Tigers to the World Series. In a year where almost every offseason acquisition – Nick Johnson, Javy Vazquez, Randy Winn, Curtis Granderson, Chan Ho Park – has failed to meet expectations, Thames stands out as the one great move.
The inevitable question will arise about Thames' future with the Yanks, which of course is something we can't answer until the season is over and we see how things play out. The answer right now is an unequivocal yes, but as always we have to remember to keep things in perspective. At .318/.398/.556, he is currently sporting career highs in all of the triple-slash categories, and it's really not all that close either. It's practically impossible for Thames to repeat that next year, and if he drops back down to .249/.315/.496 (his career average) as a 34-year-old next year, how useful is he to this team?
That's a debate for another time, but right now Thames has been worth every penny of his $900,000 contract (there's another $900,000 in performance bonuses in there, and I'm sure he's met a few of those already). Every great team needs to get big time production from an unexpected sources throughout the season, and for this year's Yankees, it's Marcus Thames. Mr. Thames to you.