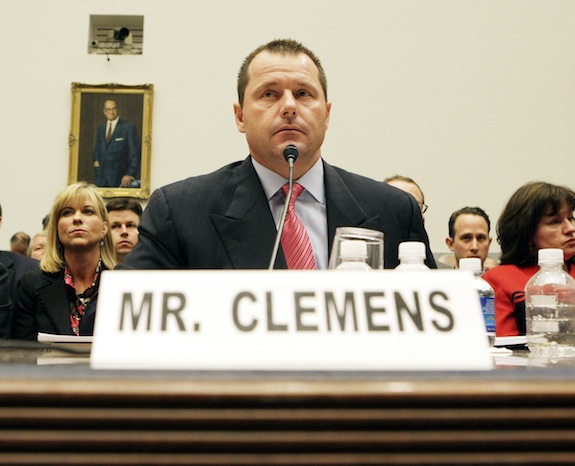 Roger Clemens' six season with the Yankees were, in the annals of his career, mostly unspectacular. He stole a Cy Young from his teammate Mike Mussina in 2001 and captured two World Series rings, but his numbers — a 4.01 ERA/114 ERA+ with strike out rates below his career norm and walk rates higher — show that the Roger who was in the Bronx was more hype than substance. He was, after all, pitching in his age 36-40 seasons and made his Yankee encore at age 44.
Still, the post-baseball Roger Clemens — the one embroiled in a PED scandal and facing an indictment for perjury — will forever be linked to the Yankees. Unfairly or not, Roger Clemens' problems will cast a shadow over Yankee past and could impact Yankee present and Yankee future too. This nagging issue comes about because Andy Pettitte, it seems, is key to the Justice Department's case against Clemens.
Once upon a time, Roger Clemens and Andy Pettitte were very close friends. They wintered together in Houston; their kids grew up together; they trained together; and they, according to Pettitte, shot human growth hormone together. Clemens said that Pettitte "misremembered," but in the he said-he said war, Congress and the Justice Department have seemingly sided with the current Yankee southpaw.
As former House Representative Tom Davis said late last week, Pettitte was the House's key witness. In a phone call with ESPN New York's Ian O'Connor, Davis spelled out the Congressional case against Clemens and highlighted Pettitte's importance. "If it was just Roger versus McNamee, it's a different matchup," he said. "We didn't call Andy Pettitte, we deposed him, and he supported McNamee and that was a problem for [Clemens]. Without Pettitte, neither McNamee nor Clemens was that articulate or credible."
Pettitte has yet to address Clemens' situation and, if the case goes to trial in three or four years, Andy will likely be called as a witness. It will create an uncomfortable situation for the two men and for a Yankee organization trying to live down the Mitchell Report accusations. "Andy Petttitte didn't want to testify against his friend," Davis said to ESPN. "But when he raised his right hand, he told the truth. It would've been different without him. Roger was a great pitcher who's done a lot for the community, and McNamee's had other issues."
Today, Clemens and Pettitte seem cordial at best, but their intense friendship has long since cooled. In an interview with Boston's WEEI last week, the Rocket commented on Pettitte. Clemens, who must repeatedly deny any PED use, said he and Andy no longer speak. "My boys went out to a game quite a bit," he said, but we don't."
While the perjury case may rest in part on Pettitte's shoulders, Clemens' lawyer is being aggressive — some would say overly so — in his case. He rejected a plea deal that would have required Roger to admit PED use in exchange for no jail sentence, and Rusty Hardin seems willing to let this drama play out in an open court room. "The government made a recommendation [for a plea agreement] and we declined," Hardin said to ESPN. "I will tell you the recommendation they made was a very good one if he was guilty. And if he was guilty we would have jumped on it."
Hardin too is engaged in his own he said-he said debate with Representative Davis. The former House member claims they gave Clemens ample opportunity to avoid testifying for Congress but that Clemens wanted to clear his name. "We're sitting around, and they were deciding whether to go through with the hearing or not," Davis, who insists that Congressional representatives urged Clemens to be as forthcoming with the truth as possible, said. "This wasn't a mandatory hearing. We weren't hanging [him] out to dry. We were only giving him an opportunity to refute the Mitchell report and to tell his side of the story."
Hardin refuted that take. "So Tom Davis," Clemens' attorney said, "who I saw on TV last night, comes down to us, calls us aside and urges us to have Roger testify. And now that son of a bitch is on TV saying that Roger insisted upon it."
It's a nasty, nasty business, and Clemens has found himself embroiled in a royal mess. By the time this case goes to trial, Andy Pettitte will have likely retired. He'll be called upon to rehash his own PED testimony, and he'll have to again talk, under oath, about the conversations he had with Roger Clemens while both were on the Yankees. The era may be in the past, but the legal percussions will echo into the future. As Joe Torre, the man who managed a team hiding some steroid users, said, "It's sad."