Amidst rumors of an MLB probe, Yankee rookie Ivan Nova threw a gem against the White Sox on Sunday afternoon. He held the Chicago offense to one run over 5.2 innings, and the Yanks' bullpen, shaky on Saturday night, spun 3.1 scoreless innings as the Yanks grabbed the rubber match of this three-game set 2-1.
Nova settles in
Ivan Nova isn't one of the heralded arms leading the Yankee farm system this season. He doesn't generate the same kind of buzz as a Brackman, Betances or Banuelos does. But for the second straight start, he has beguiled Major League hitters, lending stability to a shaky Yankee rotation. On Sunday, he earned himself the game ball as he picked up his first Big League win.
As he did against Toronto, Nova showed confidence in his stuff on Sunday. He averaged 94 with a live fastball and hit 96/97 regularly. He showed good velocity separation with his change-up and threw his curveball for strikes as well. As the stuff was there, so too were the results. Through 5.2 innings, he struck out seven Chicago hitters, and the White Sox lone run came on a Juan Pierre RBI single. The Yankees needed a good pitching performance, and Nova, all of 23 years old, delivered.
After the game, Joe Girardi announced that Nova would start next weekend against Toronto, and it will be interesting to see how a team fares against him in his second turn in short order. Nova is clearly on a short leash; he started leaving the ball up in the sixth, and Girardi took no chances after just 88 pitches. The Blue Jays, as we saw, are a solid offensive club, and facing them will be a true test for a pitcher who could be a key player in the Yanks' rotation in September.
Let the good Thames roll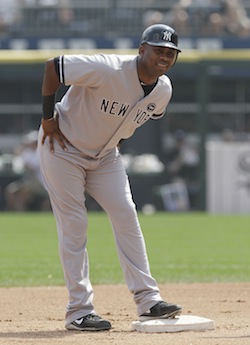 With Gavin Floyd on the mound, the Yanks couldn't get much of anything going, but Marcus Thames came through in the second. Pressed into service against a right-hander because the team wanted to give Jorge Posada and Mark Teixeira remains sidelined by a sore hand, Thames led off the sixth with a booming home run to left field. The Yankees had a 1-0 lead they would not relinquish.
"I'm a power guy," Thames said after the game. "And it's big for power guys: You have to get into a rhythm to get some stuff going. But I know my role, so I don't need to start putting pressure on myself. I'm just glad if I hit the ball hard every time I get a chance."
For Thames, this homer was his ninth of the season and his fifth in his last four starts. On the season, he is hitting .320/.401/.544 in limited playing time. Considering how badly a pair of Brian Cashman's other off-season pick-ups have fared, Thames' solid play is a breath of fresh air for the Yanks. He's a true weapon off the bench and has delivered during his starts as well. As long as the Yanks don't need Thames to put on a glove, he's a fine contributor and at 1 win above replacement and counting, well worth the money the Yanks are spending.
Cervelli's big day
For all the grief I've given Francisco Cervelli this season, I can't wrap up this game without a nod to his 4-for-4 performance. It is but the second time in his professional career that the offensively-challenged catcher has knocked out four hits in one day, and on Sunday, Cervelli scored what would be the winning run.
On a 3-1 pitch to start the third, Cervelli roped a double to right field. After fouling off a bunt attempt, Brett Gardner swung away on 0-2 and lined a single to center. Cervelli scored, and the Yanks would plate no more men throughout the rest of the game.
Cervelli's day wasn't a good one just at the plate either. He had his moments behind the dish as well. With Joba on the bump to start the eighth inning, Paul Konerko reached on an error by Eduardo Nuñez. Brent Lillibridge came on to pinch run, and the stolen base was clearly in the mix. Lillibridge went, and Cervelli threw a strike to Robinson Cano. It was a huge out for the Yanks as Andrew Jones singled in the at-bat. Cervelli hasn't been a defensive whiz this year, and with Jesus Montero knocking on the door, his time on the Yanks may be limited. But on Sunday, he gave the team its biggest late-inning WPA bump as the White Sox's win expectancy dropped from 40.9 to 24.8 with that caught stealing. It was a good moment for the beleaguered Cervelli.
To end the game, Joe Girardi was able to mix and match with the bullpen. Although Kerry Wood came dangerously close to blowing the lead, the pen, so bad on Saturday, sealed the deal for Nova, Cervelli and Thames — three unlikely heroes — on Sunday.
WPA Graph
Box scores: ESPN and Fangraphs.
Up Next
With the Rays' nailing two out of three from Boston, Tampa Bay and the Yankees remain tied atop the AL East as Boston slips 6.5 games behind the pack. The Yankees will take on the Oakland A's tonight at 7:05 p.m. at the stadium in the Bronx. Dustin Moseley (4-2, 4.53) will face the man with a .215 BABIP and AL Cy Young candidate Trevor Cahill (14-5, 2.43).