For the second straight night the White Sox scored nine runs. But instead of another discouraging loss the Yankees hit John Danks hard, driving him from the game in the fifth. They scored 12 runs in all, including four home runs. That'll get them a win just about every time.
Biggest Hit: Jorge extends the lead
The Yanks went ahead early in this game thanks to three two-run home runs, but by the end of the fourth the White Sox had hit a few homers of their own. The game was 6-5 when Danks started working the fifth. Nick Swisher Drew an eight-pitch walk. Four batters later, after a Robinson Cano single, Jorge Posada drove a double to right. It was deep enough to score both Swisher and Cano, extending the Yankees' lead to three. They'd tack on two more before the end of the inning.
The rally coincided with CC's revival. From the fifth through the seventh he faced 11 batters and struck out five of them. He looked generally good earlier in the game, but Jones and Konerko took advantage of hittable pitches. That will sometimes happen. Thankfully it happened on the right night.
Learn from Mo, for Mo is wise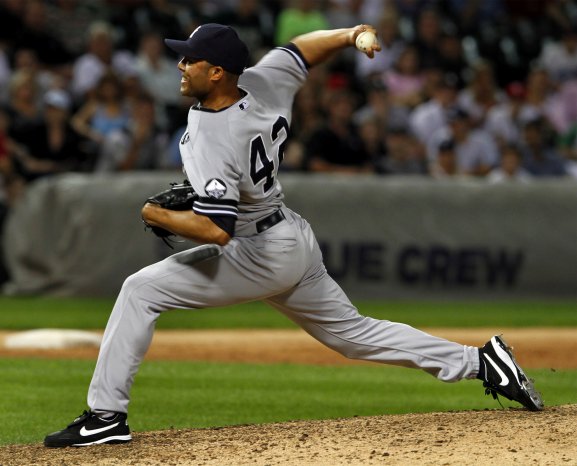 As he so often does, CC pitched a solid seven which, with the aid of 11 runs, should have meant an easy job for the bullpen. The Yankees used four relievers in the final two innings, and the first three of them gave up runs. Well, technically only Joba and Robertson gave up runs, but Logan allowed both of his inherited runners to score so he's not so innocent. It wasn't encouraging, but again it came on the right night.
Mo picked them all up at the end. Robertson had created a save situation, and since he hadn't pitched in a week it was as good a situation as any to use him. His first order of business was to get rid of that pesky baserunner, which he did by busting Carlos Quentin inside and eventually inducing a ground ball double play. He then toyed with the White Sox for a couple of batters before finishing the game.
Nunez's big day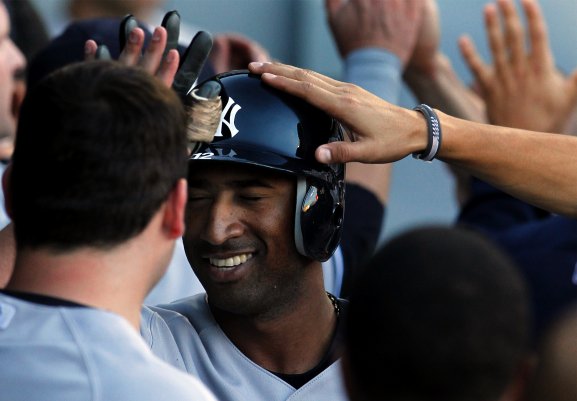 A lefty started the game, which meant that Eduardo Nunez took his turn in the uninspiring A-Rod replacement platoon. Both Nunez and Ramiro Pena can field the position with ease, but neither has a bat that remotely approaches a diminished A-Rod. But there are some games when that light hitting player can go on a tear. Pena has done it before. Last night it was Nunez's turn.
He started the festivities in the second with a two-run homer, the first of his career, extending the lead to three. It was the third straight fastball from Danks, and it actually looked pretty inside. Nunez got around on it and lined it out to left. He then came through in the seventh with a bases loaded single that put the Yanks up by five. In the eighth he singled to lead off and eventually came around to score on a Swisher single. Finally, in the ninth he picked up his first big league walk.
The career evening raised his line from .250/.250/.300 to .333/.360/.500.
Graph and Box
That's how I like my away game graphs. Nice and towards the bottom.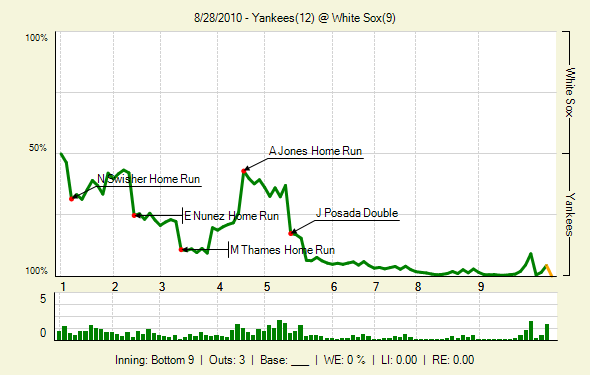 More at FanGraphs. And there's also the box score.
Up Next
The Yanks get Gavin Floyd tomorrow at 2 p.m. Ivan Nova gets his second major league start.