Just a little over a week shy of his 39th birthday, the Yankees have enjoyed another solid season out of stalwart catcher Jorge Posada. His .361 wOBA is second best among American League catchers, and other than a few fluke injuries (hit by pitch on the knee, foot fracture on a foul tip) and some nagging soreness that's cost him a day here and there, Posada has largely defied the typical catcher aging curve. At least until now.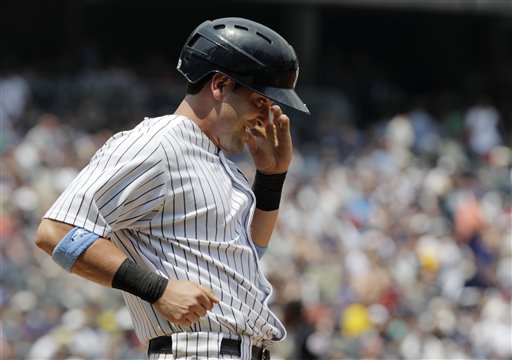 After catching three straight games, including a day game after a night game, it was obvious that Posada was going to receive a day off yesterday. Throw in Joe Girardi's stated catching rotation, and it's even less surprising. What did come as a surprise was the news following yesterday's game that Posada's surgically repaired right shoulder was "barking," something that first popped up when he threw to second on a stolen base attempt during Monday's game. Perpetually optimistic, Girardi downplayed the issue, saying that he hoped it would clear up and his starting backstop would return to the lineup soon. Whether or not that actually happens remains to be seen.
What we do know is if the Yanks lose Posada for any length of time, or even see his playing time reduced to cope with the ailment, they're in big trouble. Frankie Cervelli, the target of much ire this summer, is far from an everyday catcher. Even with last night's run scoring single, he's still hitting just .197/.269/.237 in his last 175 plate appearances dating back to mid-May. Take away three hit by pitches and that on-base percentage shrinks to .250. On top of that, Cervelli has thrown out just seven of 39 attempted basestealers, a 15% success rate that is lower than Posada's (17%) and the worst by a Yankee backstop with at least 500 innings caught in a season since Johnny Blanchard threw out 14% of basestealers in 1962. Who knows, perhaps regular playing time will help get Frankie in a rhythm and allow him to rediscover that BABIP luck from April, but things don't usually work like that. The extended playing time during Posada's disabled list stint in May is what brought Cervelli back to Earth in the first place.
In his Under The Knife column today, Will Carroll says the Yanks would like to add a catcher (according to his sources), which tells you a few things if true. First of all, the team is not seriously considering a Jesus Montero call-up regardless of his .413/.473/.775 batting line since the All Star break. That could be for any number of reasons, but it probably has something to do with them either a) not wanting to rush him, b) not feeling his a big league catcher defensively, or c) both. It was a long shot to begin with, as far as I was concerned.
Secondly, it tells you the Yanks aren't all that comfortable with Cervelli as an everyday backstop down the stretch in a division race. Should the situation arise, finding a backup catcher on trade waivers shouldn't be tough, though you're not going to land anything special. Maybe the Mets are willing to move the presently injured Rod Barajas (.266 OBP, yuck) or Henry Blanco. The Jays could dump either John Buck or Jose Molina with J.P. Arencibia setting the world on fire, and I'm sure the Tigers would love to get of Gerald Laird to free up playing time for Alex Avila (and some salary). Point being, the trade options aren't great, but they're out there.
Either way, if Posada's shoulder becomes enough of an issue to limit his catching to a game or two a week, the Yankees are in some pretty big trouble. Having his offensive production come from a premium position is part of the reason why the team has been so successful for the last decade-plus, and now if you're replacing that with essentially a replacement level hitter who can't control the running game, you're talking about a one or two win swing down the stretch, if not more. In the ultra-competitive AL East, that could be difference between playing the Twins at home in October or going on the road to face the Rangers.