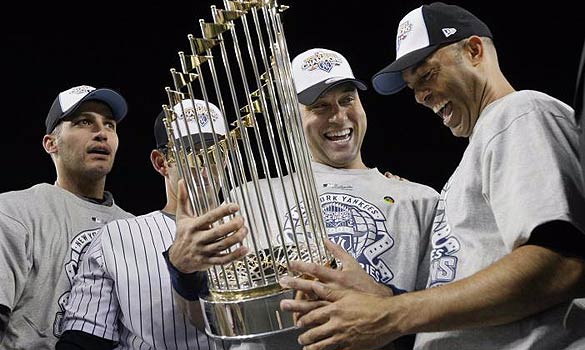 Jorge Posada's Hall of Fame candidacy is already being debated and will continue to be debated for years.  His candidacy will likely be debated long after he either gets in or he doesn't.  While I am a believer in his credentials, I wonder if his chances would be greater had he had an identical career in a different city, for a different team.
It sounds weird to suggest as many people believe in an East Coast Bias or Yankee Bias that brings more attention to players like Posada which should help his candidacy.  Also, had he not played for the Yankees, he clearly wouldn't have as many rings as he does.  Despite all of that, I think Posada's chances would be better had he spent his whole career in Atlanta, Chicago, Anaheim or another team that has had success over his 16 (and counting) year career.  Without getting too deep into his candidacy (here are cases for and against), Posada is one of the greatest hitting catchers of all time.  Whether you think he belongs or not, this really can't be argued.  My argument is that playing for the Yankees has been detrimental to his candidacy.
Posada has never been the best player on the Yankees (his best season, 2007 happened to be the year Alex Rodriguez unanimously* won the MVP with a season for the ages) and has been far from the most recognizable.  If you were to start a list of the biggest names of the Yankees from 1995-2010, where would he fall?  Well, he's the 4th biggest name of the "Core Four" for starters.  Then there's A-Rod. Maybe Bernie Williams. And maybe he falls behind Brian Cashman, Joe Torre and George Steinbrenner when it comes to divvying out the credit of who helped the Yankees to 5 titles.  Is there another team in baseball where Posada could have played his career and been so far down on this list?
*Well, it would have been if two voters from Detroit didn't vote for their own guy.
If Posada had played in Atlanta his whole career he would be right there with Chipper Jones when it comes to getting credit for position players.  While the Maddux, Glavine, Smoltz triumvirate are well remembered, Glavine hasn't played a full season for the Braves since 2002, Maddux since 2003 and Smoltz since 2007.  While he would have long been in their shadows, he also would have had plenty of time on his own being the 2nd best, most well known player on the team.  He has not been afforded that luxury in New York where Jeter and Rivera have been bigger than him since Day 1 and continue to be, and Pettitte has been there for all but 3 years of his career.  Also, let's assume that Posada wins a ring with Atlanta (very possible) and doesn't have the stain of not winning a ring on his resume.  Wouldn't Posada the Atlanta Brave be a bigger deal than Posada the New York Yankee?
What if Posada had spent his entire career in Anaheim?  Ignore for a moment that Mike Scoscia would have just benched him for being a catcher with a great bat, again, wouldn't Posada's career be more appreciated out of the shadows of New York (and his teammates)?  Who is the face of the Angels for the last 15 years?  Scoscia? Vladimir Guerrero?  Who else?  Guerrero spent 6 years in Anaheim, you could easily argue had Posada been an Angel, he would be the most recognizable Angel of the past 15 years.  Right or wrong, this would bolster his Hall of Fame candidacy.  Being the face of a franchise can only help when the members of the BBWAA cast their ballots.
You can run through these scenarios a million different ways, but for almost every other team during Posada's career, he would be higher up on the pecking order of fame than he is with the Yankees.  For many baseball teams he would have been the face of the franchise for a 15 year period.  Personally I think this would outweigh the fact that he has played in New York his whole career.  Whatever benefit he has gained from playing for the Yankees, I think he has lost more by being viewed as a complimentary piece instead of the great player that he has been.  In fact, playing in New York probably has even led to more of the criticism he has come under, especially during the past few years.  The Posada Hall of Fame candidacy will be a fascinating one for the next 5, 10, maybe even 15 years.  If he can put up another solid season or two after this year maybe he jumps up to the "almost definite" category.  If he struggles (or retires) the case will be made for or against based on what he has done so far.  Either way, I think Posada's case has been hindered by being the (relatively) small fish in a big pond.  If he were the proverbial big fish in a small pond, I think his candidacy would already be viewed in a better light.