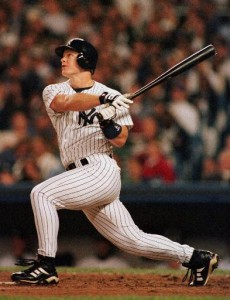 In just two short days, the calendar will flip to September and teams will be able to add extra players to their roster for a little extra help in the season's final month. We already know that the Yankees will recall Jon Albaladejo and Juan Miranda on that day, and the same would have happened to Romulo Sanchez if he had not gotten hurt last week. For all intents and purposes, we can consider Lance Berkman a September call-up as well.
Historically, the first wave of September call-ups are just the essentials, no luxuries. Some help for the pitching staff, a third catcher, maybe another bench player. That's pretty much it.  Last year the Yanks recalled three pitchers (Mark Melancon, Edwar Ramirez, Mike Dunn), an infielder (Ramiro Pena), and a third catcher (Frankie Cervelli) on the 1st, with more trickling in throughout the month. The year before that it was just Chad Moeller and Phil Coke on the 1st. One year before that it was Ian Kennedy and Alberto Gonzalez with Doug Mientkiewicz and Jose Veras coming off the disabled list.
The easiest calls are the guys we've already seen this year. The Yanks already have their extra backup infielder on the big league roster in Eduardo Nunez because Alex Rodriguez is on the disabled list. The scorching hot Colin Curtis (14 for his last 39 with seven doubles and a homer) will certainly get the call once the Triple-A playoffs are over, ditto Chad Huffman (would be nice to have another righty bat) and Kevin Russo (yay versatility). Greg Golson's close to a shoo-in for the Freddy Guzman late season pinch-runner role. Just think, if the Yanks manage to pull ahead in the division, those late-September blow-outs will feature an outfield of Huffman-Golson-Curtis in the late innings.
Those are the easy ones. It's not a matter of if, just when with those four. The real question marks surround the pitching and the third catcher.
Starting on the mound, the only pitchers on the 40-man roster and not in the big leagues at the moment are Albaladejo, Sanchez, Wilkin DeLaRosa, Hector Noesi, and Andrew Brackman. The first two we've already addressed. DeLaRosa isn't a call-up candidate because frankly he's holding onto his Double-A Trenton and 40-man roster spots by the skin of his teeth. This season he has 4.83 FIP with a rather atrocious 54/41 K/BB ratio in 69.2 innings, and the southpaw isn't even doing the job against lefthanded batters (4.56 FIP, 25-15 K/B in 23.1 IP). All of this comes after he posted a 4.58 FIP with Trenton last season, so it's basically been two years of the now-25-year-old spinning his wheels and making no progress. If the Yanks removed him from the 40-man roster and gave the spot to someone else, chances are they would retain him anyway.
Noesi was just promoted to Scranton and has made all of one start there, so I can't imagine he's a realistic call-up option. The kid was pitching in the High-A Florida State League less than four months ago, too much too soon can be counter-productive. Brackman is an interesting call-up candidate, but not to make a start or pitch key innings or anything. Perhaps just to give him a taste of the big leagues and let him see what he's on the cusp of enjoying if he continues to progress next year. I'm not saying I recommend it, but it would be interesting.
So, the bad news is that of the five pitchers on the 40-man and not in the bigs, three of them aren't call-up candidates (at the moment) and the fourth is just a question mark. They could cut DeLaRosa and add someone like lefty Royce Ring (holding lefties to a .181 average against) or righty Zack Segovia (3.87 FIP and capable of throwing upwards of 45 pitches per outing). Those two would be far more useful than WDLR, and are easy to let go of in the winter to free up the roster spot. Jason Hirsh might have been a candidate as well, but he's dealing with more shoulder soreness and his status is uncertain. So from the looks of things, the pitching staff might only be getting help from Albaladejo, Ring/Segovia, and possibly Sanchez if he gets healthy before long. With any luck, Damaso Marte, Andy Pettitte, and Al Aceves will be coming off the DL next month to further fortify the staff down the stretch.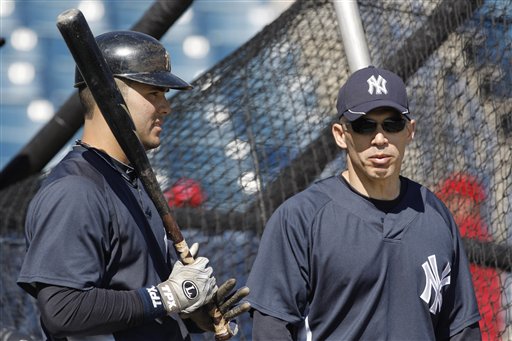 Now, about that third catcher situation. There's just two candidates for the job, and neither is on the 40-man: Chad Moeller and Jesus Montero. Moeller was up earlier this year and is the obvious candidate because he's familiar with being a backup and there is no concern about running him out there four days in a row late in the season to help Jorge Posada and Frankie Cervelli rest up for October. Like Ring and Segovia, Moeller's 40-man roster spot would easily be reclaimed after the season when he's designated for assignment.
Montero's a different story all together. He's clearly a better offensive option (.363 wOBA) than Moeller (.267) right now even though he has yet to see a big league pitch, but adding him to the 40-man roster has some long-term ramifications. First of all, it ties up a spot over the winter, meaning that's one less player the Yanks will be able to protect from the Rule 5 Draft. Montero himself wouldn't be Rule 5 eligible until after next season, so you'd be adding him and starting his option clock before it was absolutely necessary. Basically, it limits roster flexibility going forward. Then there's also the issue of playing time; how much would he really play down the stretch if it's a tight race with the Rays like we all expect?
The Yanks could also have Montero join the team but not activate him; they've done this a few times over the year with guys like Phil Hughes, Jeff Marquez, Tyler Clippard, J.B. Cox, and others. They basically do everything with the team – workout, taking batting practice, throw bullpens, etc. – but watch the game from the stands instead of in the dugout with the uniform on. It gives them a taste of the big league life without compromising the 40-man roster. I think that's the best thing to do with Montero so Moeller can be the sacrificial lamb down the stretch if needed.
I would like to see Montero in September as much as the next guy, but I don't think it's the right time for him. Let him help Scranton in the playoffs, then let him come up and hang out with the big league team without actually being on the roster. Next year is when he gets unleashed on unsuspecting America League pitchers. Regardless of who the Yanks call up to be the third catcher, they're going to have to clear a 40-man spot, which might mean the end for someone like Huffman, or they could just use WDLR's spot and not call up Ring or Segovia. They have some options.
Beyond Albaladejo and Miranda (and Berkman), most of the call-ups won't arrive until the middle of the month when Scranton finishes their playoff run. The third catcher could come up sooner with Rene Rivera and Jose Gil moving up a level to fill the empty spots in Double- and Triple-A, and frankly the sooner the better. It'll allow Joe Girardi to pinch hit for Cervelli late in a game without having to remove Posada from the designated hitter spot or something like that.
Very rarely do September call-ups come up and have an impact, save for the occasional Shane Spencer or Francisco Rodriguez. Their real value lies in resting the regulars and giving the kids some experience in low-leverage spots. September is where Coke earned himself a big league job for the following season, ditto Ian Kennedy. For a team dealing some injuries and needing to rest some older players after 130+ games, having the extra bodies around is going to be a big help.