When word got out the other day that Curtis Granderson and hitting coach Kevin Long were working on a "total reformation" of the centerfielder's swing, most of us thought "it's about time!" It's no secret that Granderson has been a disappointment in his first season in pinstripes, with a .240/.307/.417 batting line before this current road trip. He probably bought himself some time with a few timely homeruns, namely against the Red Sox, Diamondbacks, and Indians.
After two days out of the starting lineup in Texas to work with Long, Granderson was set to unveil his new swing and setup last night, except something happened. He didn't look any different, at least to this untrained eye. Don't believe me? Let's hit the video. The screen cap on the left is his first at-bat against Jon Lester on Monday, the one of the left is his first at-bat against Bruce Chen last night.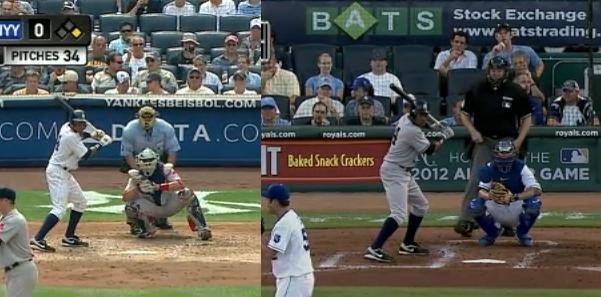 The only real difference (and it's basically impossible to see in the still pics) is his his front foot, which doesn't have that same exaggerated toe tap. He still does it, but it's not as extreme. His hands though, they're basically in the same position with no discernible difference. I'm out of luck once he starts his swing, I have no authority to break down swing mechanics and talk about it intelligently. Perhaps there's a significant change in there that I (we) simply can't see. But just looking at his setup, hey look, the toe tap's gone.
Granderson downplayed the changes yesterday, which comes as no surprise. "I wouldn't necessarily call it big changes," he said. "It's just trying to simplify things. Everything I've done up to this point is just trying to get to the point I want, and there's always some moving parts before it. We're just trying to eliminate some of those moving parts." Well, getting rid of toe tap would qualify as eliminating some moving parts, for sure. It's not as sexy as the changes I think we were hoping for, but it's a very real difference nonetheless.
As I was digging through video last night to see if there were any other obvious changes made throughout the season, it's turns out that yeah, there definitely have been. Let's start right from the get go, and compare one Granderson's first at-bats of the season to his first at-bat last night.
Now there's a difference. His hands went from way up high to in front of his chest, but what you can't see in the still screen shots is all the fidgeting and extraneous movement. Here's the video of his very first at-bat of the season, and here's the video from his single last night. Granderson's hands were waving all over the place back in April, but now they're much calmer. Yeah, there's still some movement now, probably his timing mechanism or whatever, but it's definitely not as exaggerated.
Obviously, something has changed during the course of the season, and based on Granderson's comments yesterday, it was probably a series of changes. "I've made changes throughout my whole career," said the Grandyman. "I've been an unorthodox hitter. I've never been a very routine and picture-perfect hitter as far as what everyone else is doing. And everything in between. Whenever someone says to make a change, I've always been a very adaptive player."
Curious about when this change actually happened, I dug through the MLB.tv archives and managed to find it. I actually feel kinda special for doing this, because I didn't think there would be an exact moment where we could pinpoint exactly when he dropped his hands, but sure enough there is.
Anyway, this is Granderson on June 17th, the game Kyle Kendrick frustratingly shut the Yanks down.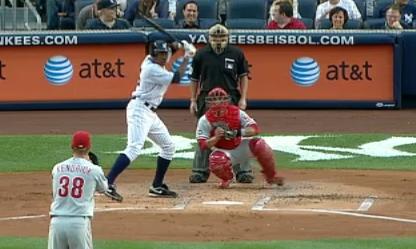 Looks pretty similar to the shot of his April at-bat above, no? His hands are high and even though you can't see it in the pic, trust me he was still waving the bat around like he was earlier in the season.
With lefthander Hisanori Takahashi on the mound for the Mets the next day (the 18th), Granderson started the game on the bench while Chad Huffman took his spot in the starting lineup. However, Grandy pinch hit for Huffman in the 7th inning with the righty Elmer Dessens on the mound (Jerry Manuel countered by bringing Pedro Feliciano out of the pen once Granderson was announced). Here's a shot of him during that at-bat.
Look at that, change! If you're having trouble seeing it, here's a side-by-side shot that will hopefully make it easier. Use his head as a reference, on the 17th his hands are basically even with the interlocking NY on his helmet, but the next day his hands are level with his shoulders/neck. He didn't start on the 18th, so it's easy to think he and K-Long had a little mid-afternoon pow-wow that resulted in Granderson lower his hands, but we don't know that for sure. For all we know Grandy made the adjustment himself.
Now, did it work? Eh, kinda. From the start of the season through June 17th, he hit .234/.317/.428, and in his first 35 games after the change (completely arbitrary sample size) he hit .276/.328/.457 before falling into another slump that presumably brought about this latest session with Long. His spray charts don't look too different either (pre-June 18th, since then). If anything, Granderson hasn't hit as many balls deep to the outfield the other way, which could means he's cut down on the lazy flies, but we have no way of being sure.
Curtis Granderson may never be anything more than a league average hitter again, we don't know. The guy that hit .302/.361/.552 with 26 steals  in 2007 might never come back, but it won't be for lack of effort. He's not naive about his struggles and is clearly making an effort to fix things by tinkering with his swing. All this talk about making adjustments isn't just talk, there's tangible evidence of him putting these changes into practice. Hopefully one of these adjustments unlocks the talent that made Granderson one of the best outfielders in baseball just two or three seasons ago.