After its stellar work during the 2009 season, most figured that the bullpen would once again be a strength for the Yankees in 2010. For the most part the personnel remained the same and we figured their roles would as well, so it was reasonable to expect similar results. Naturally, the opposite happened, and the Bullpen of Doom resurfaced in April.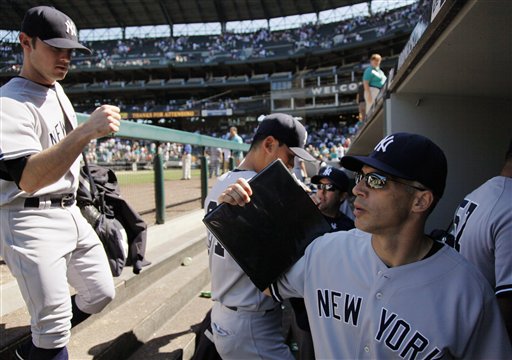 The strikeout heavy squad from last year (8.44 K/9 in '09, second best in the biz)  struck out just over seven batters per nine innings through the season's first two months, and unsurprisingly their overall performance suffered. On a macro-level, the bullpen had a 4.55 ERA (4.53 FIP, 4.40 xFIP) through the end of May and ranked towards the bottom third of the league. On a micro-level, there simply was no one reliable in the bullpen besides the great Mariano Rivera.
Dubbed the 8th inning setup man barely a week into the season, Joba Chamberlain was shaky right from the get-go despite strong peripheral stats. The underlying data suggest a rebound at some point, but the Yankees couldn't afford to wait around for that happen in the ultra-competitive AL East. David Robertson, the natural alternative for high-leverage work, was battling consistency issues himself. Al Aceves, last year's do-it-all relief stud, went down with a back injury in early May, and of course Phil Hughes had been successfully moved into the rotation.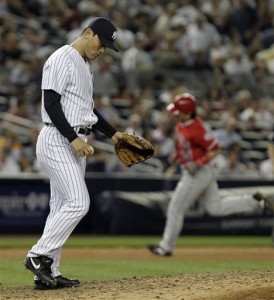 Chan Ho Park, the late offseason roll of the dice, was a complete bust, serving up gopher balls like they were going out of style. Damaso Marte was utterly dominant against southpaws (.146/.200/.268 against) but shaky versus righties (eight walks, just one strikeout) so he wasn't a viable option in anything other than matchup work. Sergio Mitre had a nice go of it early on, but he served as the de facto long man until Andy Pettitte's barking elbow forced him into the rotation for two turns and an oblique injury landed him on the shelf. Up and down went names like Mark Melancon, Romulo Sanchez, Ivan Nova, and Jon Albaladejo, none really given an opportunity to establish themselves with the big league team.
Unlike last season when it was easy to pinpoint exactly when things started to turn around for the relief corps (the mid-to-late May makeover, dumping Jose Veras and Edwar Ramirez in favor of Aceves and Robertson, shifting Hughes to the bullpen), this year's resurrection has been a bit more subtle. There haven't been any wholesale personnel changes, just a few minor tweaks here and there and some injuries. Really, it's not the bodies that are different, just their performance.
Joba has lost exclusive rights to the 8th inning job, since demoted to middle relief until he finds his way. In seven appearances since the demotion, he's allowed just two hits, three walks, and zero runs against six strikeouts while rediscovering some velocity. The lessening of Joba's role wouldn't have been possible if not for Robertson's turnaround. The diminutive righthander has held opponents to a .188/.310/.200 batting line against with 10.44 K/9 since the start the June, and he's been ever better of late: .091/.216/.091 against and a 12.51 K/9 over the last 38 days. He hasn't allowed an extra base hit since the series with the Diamondbacks.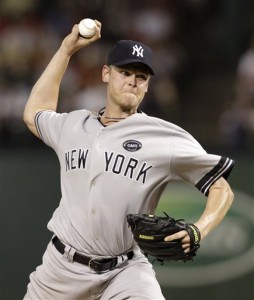 With Marte on the disabled list with a shoulder issue, Boone Logan has stepped in as the lefty specialist and stepped up his game. Most of us wanted him nowhere near the team in the early parts of the season, and why would we? Opponents tattooed him for a .286/.390/.400 batting line until his latest demotion to Triple-A, but in Marte's stead he's been straight money. Overall, he's holding batters to a .100/.156/.200 line since returning, and get this, lefthanded batters are 0-for-16 with seven strikeouts and a hit by pitch during that time. He and Robertson have really been the central figures of this turn around, they've stepped up in a big way and solidified the late innings.
Of course, I'd be remiss if I didn't mention the addition of Kerry Wood. First and foremost, it was an obvious upgrade over CHoP, but it also gave the team a veteran guy with experience in high leverage work. He's certainly not the Kerry Wood of old, but he still strikes out a ton of batters and is effective enough to be a viable middle reliever, if not more. His work in last night's comeback win should not be understated.
Overall, the bullpen has gone from those unimpressive numbers in April and May (once again: 4.55 ERA, 4.53 FIP, 4.40 xFIP, 7.15 K/9) to being one of the better relief outfits in the game since (3.07 ERA, 3.61 FIP, 4.06 xFIP, 7.98 K/9 since the start of June). The improvement has largely been under-the-radar since there were no major moves, it's just a matter of the guys that were already here turning things around and getting back to being the players we expected them to be.