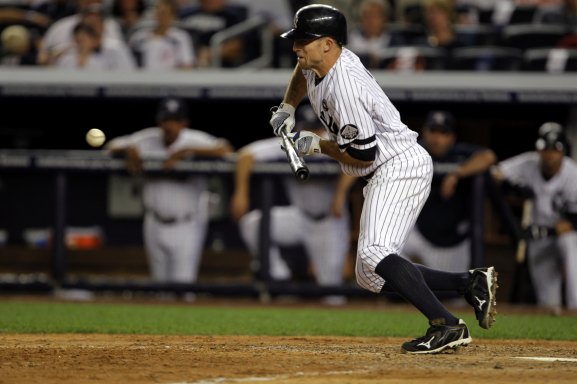 As the AL East tightens up a bit and the Yankees look to get back to their winning ways, a few glaring holes in the team's lineup has emerged. We've spent a lot of time focusing on how Francisco Cervelli has gotten far more playing time than he deserves, but the Yanks' catcher isn't the only source of outs these days. Another key player — a speedy outfielder — went from an early season catalyst to a summer slumper. He is none other than Brett Gardner.
It's a dangerous exercise to split a player's season into smaller bits and pieces and then draw conclusions from them. Small sample size issues abound, and a player is generally the overall sum of his parts by the team the season ends. That said, Gardner's recent play presents a stark contrast to his early season success.
The Yanks' left fielder opened the season on a tear. Through May 9, he had 108 plate appearances and was batting .344/.425/.419 with 12 strike outs — or one every nine plate appearances. He had also stolen 14 out of 15 bases. From May 10 to June 21, his numbers underwent a regression. In 37 games, 34 starts, he enjoyed 149 plate appearances and hit a very respectable .310/.389/.434, but he struck out 21 times, once every 7.1 PAs. He was safe on nine out of 12 baserunning attempts.
In his last 39 games, the bottom has fallen out. Over 141 plate appearances, he's hitting .195/.321/.280 with 35 strike outs or one very four times up. He has stolen just eight of ten bases, and since August started, he's 2 for 26 with 11 strike outs.
It's hard to stress just how bad Gardner has been since the start of July. He has a .290 wOBA, and his .601 OPS barely trumps that of Francisco Cervelli. At a time when the Yanks desperately need base runners who can wreck havoc, Gardner has disappeared from the scene, and his late-season swoon is raising questions about his Yankee future.
In the long-term, the team has a few options. They can market Gardner as a 2-3 win player who is cost-controlled for a few more years and has shown the ability to get on base at a high rate and steal bases. We know that his base-runner skills are suspect, but we also know that he has the speed to outrun his lesser running instincts. To replace Brett Gardner, the Yankees can throw money at Carl Crawford. The Ray's outfielder is a free agent this winter, and he's already put up a 5-win season with seven weeks to go. Gardner is very expendable, and the Yanks could probably get a high return for him.
In the short-term, though, the team has a problem. The team needs his outfield defense. Gardner has been the Yanks' best outfield defender with a 7.0 UZR and an arm slightly below average. He has eight assists and has muffed just one play. But his glove work can't mask his offense, and to that end, the team must consider Austin Kearns the other half of a left field platoon.
Kearns isn't an All Star. So far this year, he's been worth only 1.3 wins above replacement to Brett Gardner's 2.8. His left field UZR puts him below average in the field, but he has a decent stick. With the Yanks, he's hitting .273/.429/.364, and overall, he's at .272/.357/.417. Unlike Gardner lately, Kearns isn't an automatic out. It's less than ideal, but unless Gardner can put the ball in play and get on base again, his playing time should dwindle.
We've seen this year what Brett Gardner can do and what he can't do. He has approximately a quarter of the season left to send the Yanks a message that he, and not Carl Crawford, should be the left fielder of the future. Austin Kearns is here to put pressure on Gardner, and how he responds will impact both the Yanks' pennant race and their long-term outlook. I like Brett, but lately, he's making a doubter out of me.