Coming off an unspectacular homestand in which they went 3-4 against a pair of division rivals, the Yankees rolled into Texas to take on the league's best team outside of the East. A.J. Burnett returned to the mound after his little bout with back spams, and was surprisingly effective save for one bad pitch. The back-and-forth affair ended in an unfamiliar way, with the opposing team celebrating a walk-off hit against the great Mariano Rivera.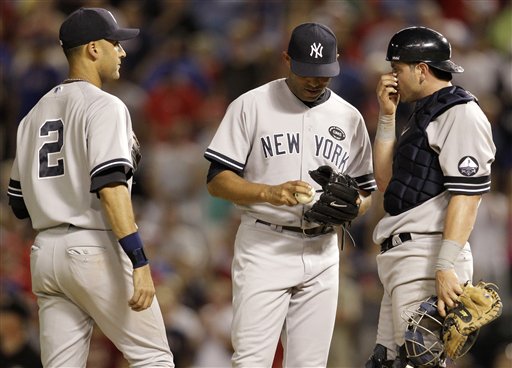 Nickeled And Dimed
Most of us understand the concept of using your best reliever in a tie game on the road, after all there's no point in saving your closer for a save situation that may never come. With the game tied at three in the 10th inning, out came the Sandman to hold it down against the Rangers' four best hitters. We were all very happy to see him, but what followed wasn't exactly expected.
Michael Young, the Rangers' all-time hit leader, led the inning off with an infield single, a tapper deep into the 5.5 hole that he barely beat out at first. Josh Hamilton, arguably the best player in baseball this season, followed up with dinky little single of his own, scooting just beyond the reach of a diving Robbie Cano. The two runners moved over on a game-saving play by Alex Rodriguez, a diving play to his right to keep the ball in the infield. As a bonus, he was able to throw out Vlad Guerrero at first for the first out of the inning.
The bases were intentionally loaded to create the force at any base, but in what was an off-night for the game's best reliever ever, David Murphy took three straight balls and was one pitch away from driving in the winning run without so much as lifting the bat off his shoulder. Mo worked it back full, but in the end Murphy ripped a solid single to right and ended the game. Two hits on weak contact set up the winning rally, which is usually what happens when Mo blows a game.
Like I said, it was an uncharacteristic night for Rivera, who didn't exactly get smacked around. At least the Yanks went down with their best on the mound. I can sleep a little easier knowing that.
The Big Hit That Never Came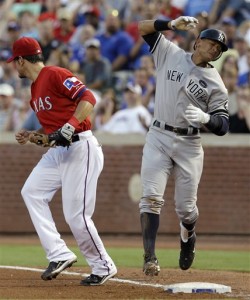 That little title is misleading, because the Yanks certainly came through with some big hits in this one. Nick Swisher doubled Jeter home in the 5th, Frankie Cervelli singled in the tying run in the 6th, and A-Rod blasted a game tying homer in the 8th, but once again we're left wondering about what could have been.
Right off the bat, the Yanks threatened by putting men on first and second against C.J. Wilson in the 1st inning, but Austin Kearns (more on him later) bounced into a fielder's choice to end the threat. Fast forward to the 4th, and you've got A-Rod on third and Kearns at second following an error, single, and another error (on a double steal) with one out. Lance Berkman, still trying to find his way as a Yank, went down swinging for the second out of the frame before Frankie Cervelli flied out harmlessly to center to end the inning.
Two innings later in the 6th, Kearns was standing on second with one out following a Cervelli run scoring single, but Brett Gardner and the pinch hitting Robbie Cano went down on a strikeout and ground out to end yet another threat. Two innings after that, Curtis Granderson stood on third with one out after he pinch ran for Kearns, but again Cervelli and Gardner could not bring him home.
Cano led off the 9th with a single, though he was erased when Jeter managed to ground into a double play on a hit and run. He's really finding new ways to hit into those twin killings. At that point you felt like it just wasn't going to be the Yankees' night, and sure enough it wasn't. Perhaps things would have been better with Jorge Posada and Mark Teixeira in the starting lineup, but sometimes guys need rest or (gasp!) have something more important than baseball to take care of. Take solace in the fact that the Yanks were pretty close to winning this one with the lineup they trotted out there.
Men Of Steel
Prior to Mo's meltdown, the Yanks got two innings of simply (ugh, I hate this word, but I guess it applies) clutch relief work out of Boone Logan and David Robertson, the new setup tag team. Logan struck out Hamilton to start the 8th, then handed the ball off to D-Rob, who struck out Vlad and got Nellie Cruz to bounce out harmlessly to first. Robertson came out for another inning of work and immediately walked the leadoff hitter, who was sacrificed over and into scoring position.
At this point a base hit wins the game, but Robertson coaxed a fly out from Bengie Molina before intentionally walking pinch hitter Mitch Moreland to create the force at any base. Elvis Andrus, who caught basically everything hit within 30 ft of him on the night, worked the count well and was on the cusp of drawing a walk, but he ended up flying out to Nick Swisher in right to end the threat.
I don't know about you, but it was probably the most stressful inning of the 2010 season so far, which means we're getting down to crunch time. That's not a bad thing though, I'll take meaningful baseball over the alternative every day of the week. Great job by Logan and D-Rob in this one, but it's too bad they probably won't be available tomorrow.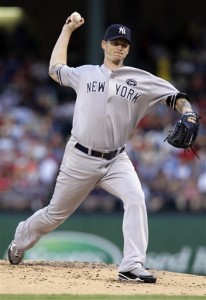 Misc.
I'd write more about it if it wasn't so late, but you gotta hand it to Burnett. Seven innings and just three runs against a team as good as Texas is no small feat. He made that one terrible pitch to Murphy for a two-run homer, but otherwise he was very strong and more than kept the team in the game. You can blame plenty of people for this loss, but A.J. isn't one of them. We'll take this kind of outing from him every five days, no questions asked.
We were all clamoring for Jorge Posada to pinch hit for Cervelli in that8th inning, but it turns out Georgie's surgically repaired right shoulder was barking and he was unavailable for anything but an emergency. Hopefully this latest ailment goes away rather quickly, the less Frankie the better.
Can we start to get on Brett Gardner yet? He's now two for his last 30 (.067) and ten for his last 66 (.152), and is hitting .233/.347/.315 over the last two months plus a day. It's been a tale of two seasons for him; 55 games of awesomeness followed by 49 games of utter crap.
On the bright side, give it up to Kearns in this one. He went 2-for-3 with a double, a walk, and a run scored. Big time job as the day's number five hitter.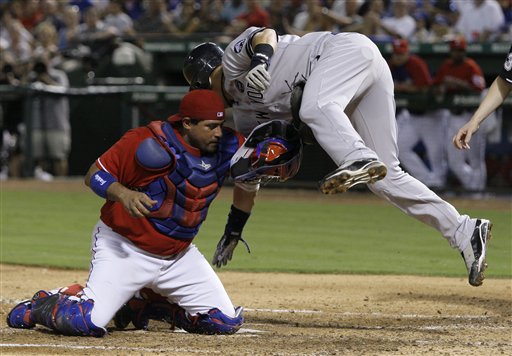 Swish got thrown out at the plate (by a mile) after Marcus Thames singled in the 5th, but I have no problem with the send there. Murphy made a strong, accurate throw and Molina made a great scoop at the plate and held on. Force them to make the perfect play, and they did. That early in the game, I have no problem being aggressive.
Joe Girardi and various other folks on the bench were barking at home plate ump Mike Estabrook all night, and with good reason. He and first base ump Paul Emmel got together and changed a call at first after conferencing it out early in the game. Can't say I've ever seen that before.
Both the Rays and Red Sox won tonight, so the Yanks' lead over each fell to half-a-game and five games, respectively.
WPA Graph & Box Score
A little too jumpy for my liking. MLB.com has the traditional box, FanGraphs the other stuff.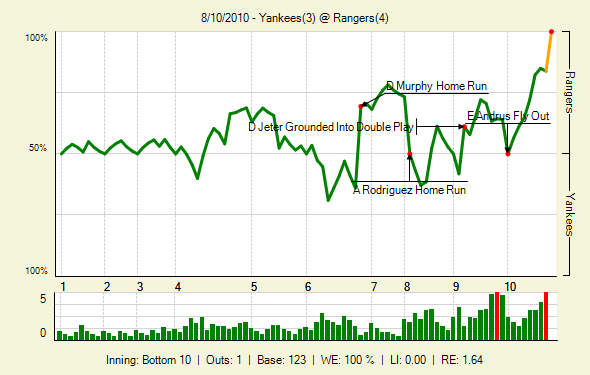 Up Next
Same two clubs manana, when Yankee Javy Vazquez takes on almost-a-Yankee (and hopefully, future Yankee) Cliff Lee. That should be a quick one.