There's not much better than turning the tables on a division rival the day after they hand you a loss and show you up in the process. The Yankees returned to Rogers Centre with a plan to put Monday's loss behind them, and that plan involved hitting several baseballs far, far away. Order was restored to the universe with a big win, and the Yanks moved that much closer to securing themselves a postseason berth.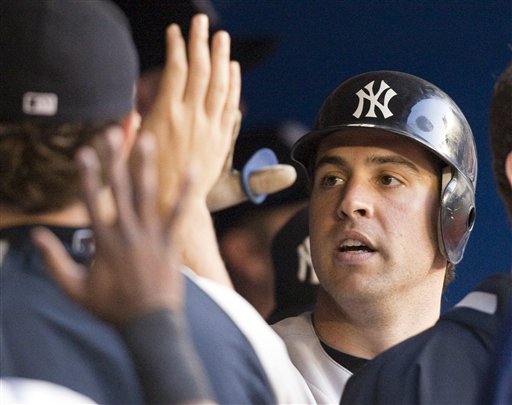 Bombs Away
When you rack up just shy of a dozen runs, there's really no such thing as that one big hit. Sure, WPA says it was Marcus Thames' two run homer to make it five-love in the 3rd, but I think we're slighting the rest of the offense if we just automatically dub that the biggest hit. I prefer to spread the love around whenever possible.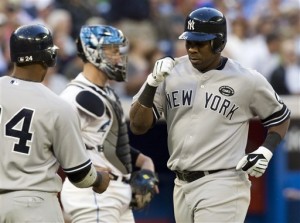 Certainly we can't forget Mark Teixeira's single back through the box in the 1st inning to plate the Yanks' first run, nor can we ignore his solo shot to make it three-zip Yanks in the 3rd. Then there's Jorge Posada's two run shot two batters later and his run scoring single in the 6th, and of course you have Derek Jeter's first outside-the-park homerun since June 12th in that same inning (he has hit one inside-the-parker in the interim). I can't pick a favorite, can you?
More than the homers or the rest of the offensive explosion, what I enjoyed most is that the Yanks actually listened to me. I used the game thread to ask the team to pay the Jays back for Monday's loss and Jose Bautista's antics not by plunking the game's leading homerun hitter or anything like that, but by pounding them into submission. I wanted runs, runs, and more runs, and they delivered. Toronto won the first game and had a nice little feel good moment doing so, but the Yankees reminded them who was in charge in this game. That's what first place clubs do to fourth place clubs.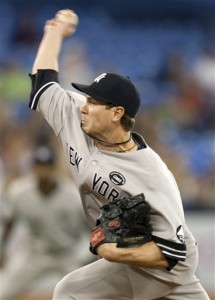 Mos(el)eying Along
The Yanks' rotation has suddenly turned into a hodgepodge of mediocrity behind CC Sabathia and Phil Hughes, and at the forefront of that mediocrity is Dustin Moseley. The sinkerballing righthander has been essentially replacement level during his four starts prior to this one, but he was a bit better this time out. His six relatively unspectacular innings featured five hits (all singles), four walks, four strikeouts, two runs, seven ground ball outs, and 97 total pitches just (50 strikes).
Moseley's biggest jam of the night came in the 4th inning, when Toronto put runners at the corners with no outs and managed to push across just a single run. Like I said, it was a fine outing, and I guess my biggest complaint is that he walked the leadoff man in the 5th (with a six run lead) and 6th (nine run lead) innings, which is a big no-no. Just throw strikes in those spots dude, I'd rather give up a solo homer than start a potentially big inning without making the batter take the bat off his shoulders. No offense to Dustin, but I sure hope Andy Pettitte gets healthy soon.
Leftovers
Nick Swisher's 1st inning double was a thing of beauty. Fell into a quick 0-2 count, then waited back on a breaking ball and drove it the other way for a ground rule double. He never did that kind of stuff last year. His improvement as a hitter has been pretty fun to watch, not that he was bad before. Unfortunately Swish had to leave the game after fouling a ball off his left leg, but it doesn't sound serious at all.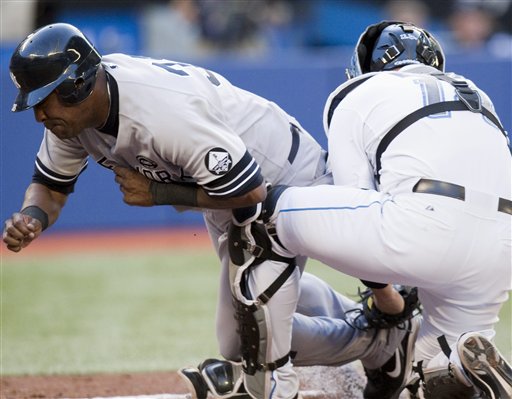 Love the hard-nosed play by Marcus Thames, running over catcher John Buck in the 2nd inning. He knocked the ball loose, but managed to miss the plate despite flying right over it. Oh well, still respect him for going in hard. He's tough, he used to be in the National Guard. Marcus went 3-for-4 with the walk, pumping his season line up to .313/.399/.463. I don't think anyone saw that coming.
One night after an 0-for-3, three strikeout game, Curtis Granderson was all over the place in this one. He made a great running catch deep in the right-centerfield gap in the very 1st inning, then walked, singled, and homered off lefties in his first three trips to the plate. The homer was a three run shot on a first pitch slider of all things, not exactly a pitch you usually see hit for power. He also singled later in the game. Since remaking his swing with hitting coach Kevin Long in Texas, the Grandyman is hitting .326/.420/.698. That'll do.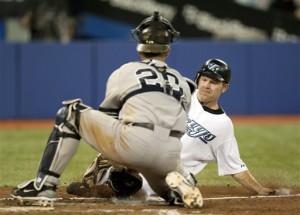 Oh, and on top of that, Grandy threw a runner out at the plate. Brett Gardner did the same on Monday, as did Nick Swisher on Sunday. I can only assume Austin Kearns will get in on the action tomorrow.
Oddly enough, the only two players in the starting lineup who didn't get in the hit column were Robbie Cano and Kearns. Cano's simply been one of the best hitters on the planet this year, and Kearns starting the night with an 11 game hit streak. Both guys drew walks and eventually came around to score, so not all was lost.
Chad Gaudin had actually been pitching pretty well this month (8 IP, 3 H, 1 R, 2 BB, 8 K) before this game, though he promptly allowed a trio of runs in two innings of work. If he's going to have a meltdown, I guess this is the kind of game to do it in. Meanwhile, how can you not love Kerry Wood? What a great pickup.
Jays' starter Marc Rzepczynski lasted just three innings in this one, the first time the Yanks have knocked a pitcher out of a game that early (without the help of injury) since getting to Fausto Carmona on July 28th. He allowed three homers, all coming in that 3rd inning of work.
The Red Sox were rained out, so the Yanks' cushion on a playoff spot stands at six full games.
WPA Graph & Box Score
I love it when these things flatline for about five innings in the Yanks' favor. MLB.com has your tradition box score, FanGraphs your nontraditional box score.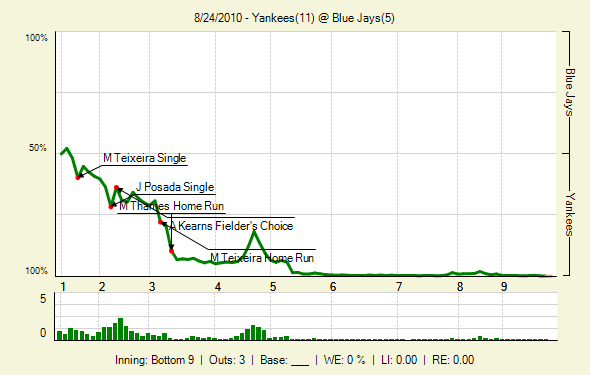 Up Next
The Yanks will try to win their third straight series Wednesday night when they send Phil Hughes to the mound against southpaw Brett Cecil. For the second night in a row, both starters will have the exact same season ERA (3.90) heading into the game.