Early on in the broadcast of Thursday's game, John Flaherty and Ken Singleton talked some about this game having the potential to be what they called a "trap game." The basic idea was that after such a grueling two game set against the Rangers, it would have been easy for the Yanks to fall into a lull and get a little too comfortable against the lowly Royals. Thankfully that did not happen and they kept their foot on gas right through to the end, escaping with just their fifth win in their last eleven games.
Good Thing They Tacked Some On
This game had a weird feel to it. The Yanks never had a substantial lead yet it felt like they did at times. I dunno, I guess that goes back to the "trap game" business I was talking about above. Facing a bad team with your ace on the mound, I suppose it's easy to feel pretty confidence about the outcome.
Anyway, it turned out that the Yanks would need all four of the runs they scored tonight. Curtis Granderson and his new setup drove in the first run with a solid single back up the middle in the 2nd, then new father Mark Teixeira plated another run the next inning with a sac fly. Austin Kearns poured it on with a solo homer the inning after that, and Alex Rodriguez tacked another one on in the 7th with a run scoring ground out. Pretty standard stuff here.
It was a very blah game offensively. The Yanks had at least one runner reach base in each of the first eight innings, and they went a rather unremarkable 1-for-9 with men in scoring position. Two of their four runs were scored on outs, and really they only had two hard hit balls all night – Kearns' homer and Granderson's double immediately following that.
The most important thing is that the team didn't just go to sleep and think they had this game won in the 4th inning. They applied pressure in each inning and threatened to score, but right now the balls just aren't falling in for hits. Luckily they're good enough to still win games when that happens.
For the sake of being consistent, the biggest hit in the game according to WPA was Granderson's single in the 2nd, though Kearns' homer was a close second. Subjectively, man it's a good thing A-Rod got that run home in the 7th.
CC on Cruise Control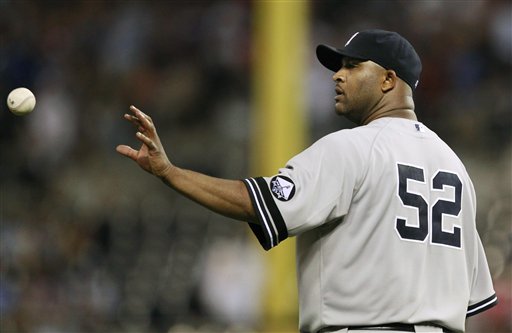 When the Yankees gave CC Sabathia that enormous contract, they expected him to be The Man (capital letters, very important) in big games and in the playoffs. He's absolutely met that expectation and then some, but there's also a nice side benefit, and that's games like this one. Even though they place second in baseball with a .275 team batting average, the Royals are one of the game's weaker offenses because they don't draw walks or hit for much power. Sabathia should chew right threw lineups like this, and that's exactly what he did.
The big guy had the fastball working, topping out at a whopping 99.3 mph according to PitchFX, and from the looks of the data he eclipsed the 98 mph plateau about a half-dozen times. The Royals did collect ten hits off of him, but just two were hard hit (doubles by Alex Gordon and Wilson Betemit) and as we saw in the series a few week ago, Kansas City sure knows how to bloop the other team to death. Sabathia consistently worked out of trouble all night and never once appeared to be on the brink of a meltdown.
The final line with show three runs scored against CC, but two of those runners cross home plate when he was sitting in the dugout. He retired nine of ten in the middle innings while the Yanks were building their lead, and he exited with a pretty manageable pitch count of 110. He usually just starts to get warmed up around that mark. After two stressful games in Texas, Sabathia made this game feel a lot safer than it actually was. Solid work by the big man.
Leftovers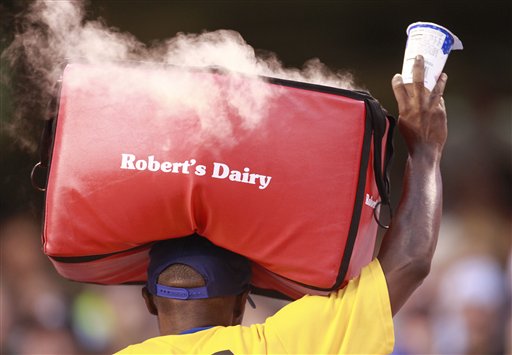 Mariano Rivera wasn't available tonight after working in both games against the Rangers and in four of the last five overall, but Sabathia almost made that a moot point by recording the first 26 outs of the game. David Robertson made things a little interesting with two outs in the 9th, but ultimately came through for his first save of the season and the second of his career. Mo should be available tomorrow, and there's enough left in the relief well that Robertson won't be sorely missed should he get the night off.
Meanwhile, I don't have any trouble with Joe Girardi yanking Sabathia when he did, but based on what I've read in the comments and on Twitter, some people were complaining about it. I guess people complain about every little thing, but you know what I mean. Two players had already left the game with heat related ailments, and here you have his monster of an investment a man on the mound with 110 pitches already to his credit in a meaningless August game against the freaking Royals. What's wrong with lifting him there? I mean, sheesh, save some bullets for a game that actually means something. Let's use our brains a little here. Frankly I was surprised Girardi even had CC start the inning.
One night after a four strikeout performance, Nick Swisher rebounded by going 3-for-4 with a walk before leaving the game with exhaustion. It was something like 106° on the field according to the broadcast, so it's easy to understand Swish's predicament when you include the last two games in Texas.
Congrats to Kearns on his first Yankee homer. One of these days Lance Berkman will go deep in pinstripes, I'm sure of it.
Derek Jeter picked up two hits and came around to score twice, and is now hitting .324 dating back to July 18th, a span of 19 games. Am I wrong in saying it's about damn time?
Frankie Cervelli went 0-for-4 and saw just nine pitches total, but he did throw out a baserunner trying to steal that looks pretty important in retrospect.
The Rays were off on Thursday while the Red Sox lost on a Jonathan Papelbon blown save to the Blue Jays, so the Yanks' lead over each in the AL East sits at two and six games, respectively.
WPA Graph & Box Score
After those heart attack games in Texas, this one was nice and easy. Here's the box score, here's the other stuff.
Up Next
Game two of this four game series will be played at the same time tomorrow. Dustin Moseley gets the ball against Kyle Davies. I'm sure everyone who bought tickets is thrilled with the matchup.