We've seen this movie before, several times in the past week in fact. The Yankees push a run across early, but otherwise squander a fantastic opportunity or two to blow things open. The starting pitcher does his job, but can't hold the opposition scoreless forever and the Yanks go into the late innings trying to find some offense. Thankfully, the movie had an alternate ending tonight. Alex Rodriguez pulled his latest Superman act to almost singlehandedly put the Yanks in the win column after eight borderline unwatchable innings.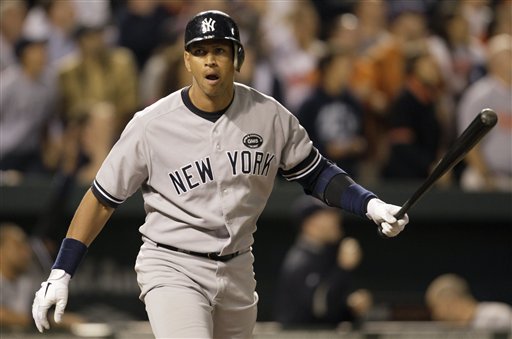 Biggest Hit: Just Get It To Alex
Those were my words when Mark Teixeira stepped to the plate with two men on and one out in the top of the ninth inning. Just get it to Alex, he will make everything okay. He already put the Yanks on the board with a solo shot in the second inning, but they needed him more than ever when Orioles' closer Koji Uehara entered the game.
Jorge Posada led off the ninth with a single after monster at-bat (more on that in just a sec), and two batters later Curtis Granderson dunked a single into right. Tex did as I asked and merely popped out into foul territory to bring A-Rod to the plate as the tying run. Clearly, Uehara's plan was to bust Alex inside with hard stuff, and he did exactly that with his first four pitches for a 2-2 count. The fifth pitch, a 90 mph fastball, was inside as well, but not as far as in the others. A-Rod jumped all over it, and everyone in the building knew it was gone just by the sound. Why they didn't throw a changeup there, I'll never know.
Just like that, the two run deficit became a one run lead, and all of the frustration from the last ten days was seemingly lifted off everyone's shoulders. With that one swing of the bat, the Yankees went from their ninth loss in 11 games to first place in the AL East. Remember, just get it to Alex, he cures all ills.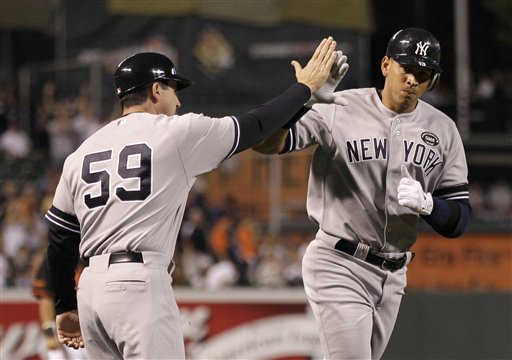 Honorable Mention: Jorge Works It
Of course, A-Rod's ninth inning heroics wouldn't even have been possible if it wasn't for Posada's huge, huge at-bat to start the inning. Uehara jumped ahead 1-2, but just couldn't seem to find the put-away pitch. Jorge fouled off five of the next seven pitches to work the count full before going down and poking a changeup into shallow left-center for a leadoff single. I'm not convinced the pitch was even a strike, but it doesn't matter. All Posada had to do was get on base, and he delivered.
Alex's homer is clearly the most important play of the game, but there isn't enough we can say about Jorge's at-bat. Just a brilliant job by a brilliant player.
Oh Yeah, Good A.J. Showed Up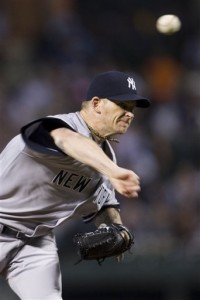 It didn't really feel like it when the game was going on, but the end result for starter A.J. Burnett was undeniably positive. Seven innings, three runs, six runs, five strikeouts, and 11 grounders against five fly balls. The first run was straight up manufactured by the O's; hit by pitch, stolen base, grounder to the right side, sac fly. The second was an Adam Jones homer that Ben gets 100% of the blame for given the way he taunted Jones on Twitter all day. The third was Robert Andino's first homer of a season, the only true WTF moment of A.J.'s outing.
Everyone wants to know how A.J. got his shiny new black eye, but if he keeps giving the Yanks outings like this, I couldn't care less how he got it. He's gone at least six innings in six of his last seven starts (ignoring the rain shortened start in Texas last time out), so lately he's been giving them length, and the last three times out he's even managed to keep them in the game. Burnett is definitely trending up at the right time, but there's still more work to be done.
Still Wasting Chances
Ah yes, we can't ignore those blown chances just because they won the game in dramatic fashion. The Yanks once again stranded double digit baserunners (11 this time), and their lone hit in nine at-bats with men in scoring position was A-Rod's deciding homer. A bases loaded, one out situation in the second inning yielded zero runs, as did a first and second with two outs spot in the sixth. Hopefully Alex's homer gets the monkey off everyone's back and the team can just relax and loosen up a bit and start cashing in these opportunities. Honestly, I don't know how much more of this I could take.
Leftovers
Brett Gardner was back in the starting lineup for the first time since last Saturday after getting a cortisone shot in his wrist, and he promptly drew a walk in his first plate appearance. He didn't reach base the rest of the night, though he did see 22 pitches in four trips to the plate. I love ya Colin Curtis, but I'm glad Brett's back in there. Nick Swisher grounded out in his pinch-hitting appearance; hopefully he's ready to go before everyone goes back to work on Monday.
Derek Jeter saw 24 pitches in his five plate appearances, but he got caught looking at strike three twice in the late innings to stall rallies. The Captain's been swinging the bat much better lately, so I'm sure (hopeful) this is just a blip on the radar.
Yawn, Lance Berkman reached base three times in his four trips to the plate. Since coming off the disabled list, Fat Elvis is hitting a cool .455/.550/.515 with more walks (seven) than strikeouts (five). Love it. Meanwhile, Austin Kearns only struck out once in three plate appearances, so that's progress.
Mark Teixeira had that beastly homestand a two weeks or so ago, but he's hitting just .152/.298/.152 in his last dozen games. I know offense is down around the league this season, but I think we all expected a little more than .259/.367/.483 (his line after this game) out of Mark this year.
Two more perfect innings for the bullpen; one by David Robertson, one of course by Mariano Rivera. When rested, this relief crew is a force.
Tampa Bay fell to the Angels because of a late Brandon Wood (!!!) homerun, so the Yanks are back on top of the AL East by half-a-game. Boston lost to the Blue Jays, so the lead for the Wild Card is at seven games. Any combination of Yankee wins and Red Sox losses that total nine from here on out will clinch a postseason berth for the Bombers. There's a very real chance the Yanks could clinch when the Red Sox come to the Bronx next weekend, just like they did last year.
WPA Graph & Box Score
Games like this are why I love baseball. That's a .709 WPA swing right there. Point seven oh nine. It doesn't get much bigger than that. MLB.com has the box score and video highlights, FanGraphs the cool stuff like this…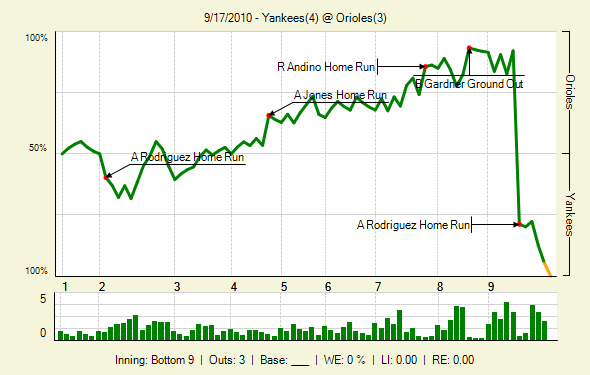 Up Next
Oh yeah, CC Sabathia's pitching tomorrow. He gets the ball against Jeremy Guthrie at 7:05pm ET tomorrow night. I despise Saturday evening games, but what can you do.