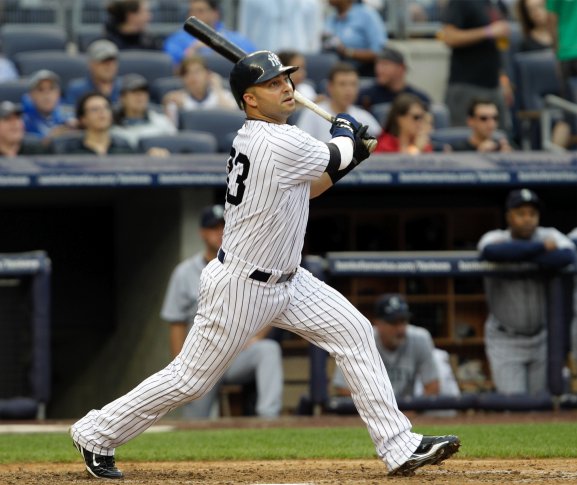 Nick Swisher is like a different hitter this year. In 2009 he was the same old Swisher, taking pitch after pitch in hopes of either running into one or drawing a walk. It worked out well, as he produced a career year. But he wasn't satisfied with that. During the winter he worked with Kevin Long, which apparently resulted in a new stance and a new approach. Swisher is no longer the guy who finds himself with multiple full counts per game.
This year Swisher's walk rate is a career low 9.3 percent after it was a career high 16 percent last season. Yet this doesn't mean that he's necessarily swinging earlier in the count. He has still seen 4.04 pitches per plate appearance this year, which, while worse than his 4.26 P/PA last year, still ranks 19th in the AL. The difference, it seems, is that Swisher is taking fewer pitches inside the zone, as evidenced by his 26 percent strike-looking rate, easily the lowest of his career. That means he's swinging at more pitches in the zone, which are presumably better pitches.
You can see this in his strike zone plots. For 2009 I stopped at September 10 so we'd have a similar number of plots on each. Here's 2009: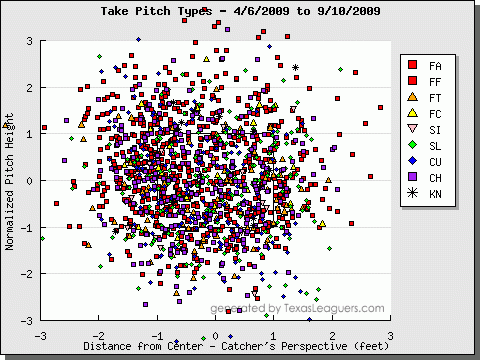 And 2010: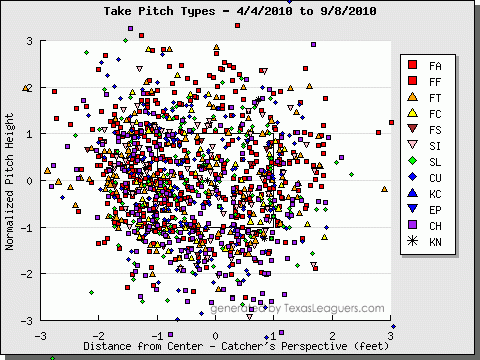 There's a lot more white inside the zone this year. Most of his takes come around the edges, which is the way it should be. Last year he let a lot of hittable pitches pass him by. This year he's taking advantage of those opportunities.
The result, by most measures, has been a smashing success. Swisher's batting average currently sits at .292, even after a mild slump. He has never hit higher than .262 in any season. His wOBA is at a career high .383, thanks to a career-high .521 SLG. He's hitting breaking balls much better than he has in the past as well. This has led to a much evener batted ball distribution. Here's his 2009 spray chart: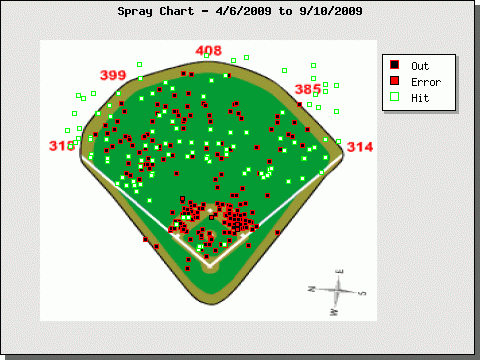 And 2010: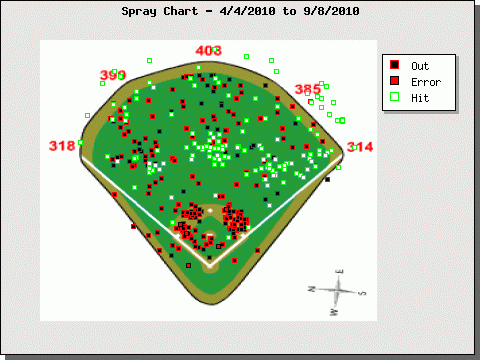 There are more plots on the 2010 chart because he's clearly put more balls in play this season. But the 2010 chart looks fuller, too. Swish has hit the ball to every part of the ballpark, while in 2009 he tended to put the ball into left field. He has used the right field line much more in 2010 and his doubles total, 31, just four fewer than last year, thanks him for it.
We've seen a new Nick Swisher in 2010, and it's one that I think we can get used to. It's amusing to recall that shortly after the Yankees acquired him that he was designated as fourth outfielder. Now he's the right fielder of the forseeable future. Given the year he's putting together, I think that's something we can live with.