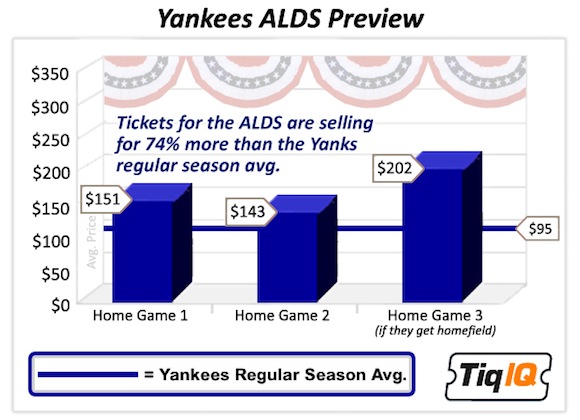 At 10:01 a.m. this morning, I logged onto to Yankees.com hopping to find a seat — any seat — for the Yanks' American League Division Series games. After watching the Ticketmaster website do its thing, I was greeted with a "No tickets found" page. No matter where I searched, I couldn't find one single ticket for sale. Seats, it seemed, were wiped out in the presales for season ticket holders.
Luckily for us, the secondary market is alive and well. Our partners at TiqIQ tell us that, for the ALDS, Yankee Stadium tickets are going for 74 percent above the regular season average and are selling for well above face value. That's hardly surprising, and this is a trend that will continue throughout the playoffs. Tickets for Game 3 are going for, on average, $202 even though it's unlikely that the Yanks will host three home games during the first round of the playoffs. The sellers can keep their profits if the Yanks do not enjoy home field advantage, and buyers can get some of their money back.
Meanwhile, RAB Tickets should be your place for playoff tickets (and, yes, we get a cut of the sales). For Home Game 1, date still to be determined, there are 8343 tickets available, and for Home Game 2, we have 9511 listings. Check it all out at RAB Tickets.
After the jump, a neat graph of average World Series ticket price vs. the number of tickets available. Tickets for the Giants, Phillies and Rangers are going for top dollar.