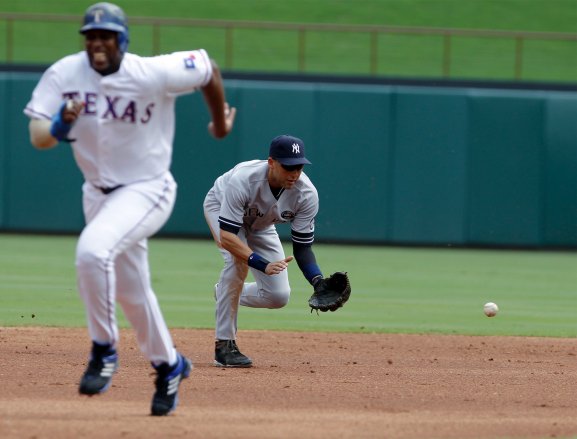 Vladimir Guerrero played no small role in torturing the Yankees this past weekend. The one hitter the Yanks never signed but should have twice, Vlad knocked out six hits in 13 at-bats and even walked once for a cool .500 OBP. He swung at pitches at which he had no business swinging, but it's always worked for him. Making just $6.5 million, he's hitting .305/.348/.503 with 26 home runs, and the Yanks could have had him for $1 million more than Nick Johnson is making.
Johnson, of course, was the Yanks' choice for the DH spot. With three free agent options — Guerrero, Matsui, Johnson — for that empty hole, the Yanks went with the youngest guy coming off a season in which he played 133 games and got on base 42.6 percent of the time. For $5.5 million, it seemed like the best choice, but Johnson played all of 24 games before coming down with a wrist injury. He won't be back in 2011.
For the Yankees, though, the designated hitter spot hasn't been a problem this year. Led by Marcus Thames, A-Rod and, to a lesser extent, Jorge Posada, the team's DHs are hitting a combined .263/.348/.459 with 23 home runs in 583 plate appearances. Their sOPS+ — the overall OPS relative to the league split — is 114.
In fact, Nick Johnson's injury allowed the Yankee braintrust to exploit the DH spot as they seem to prefer. Without a full-time designated hitter, the slot became one of rest. The DH hole allowed the Yanks to keep Jorge Posada, banged up and bruised all season, in the lineup more frequently than they could have. It allowed them to give A-Rod's balky legs some time off the turf. It allowed them to ride a very hot Marcus Thames during the team's recent eight-game winning streak.
Yet, that rotating DH spot has a residual impact on the rest of the lineup, and through it, we can see the weaknesses in the Yanks' current roster construction. When, for instance, Alex Rodriguez DHs, someone else has to play third base, and that someone else — Ramiro Peña, Eduardo Nuñez, Kevin Russo — isn't a very good hitter. In fact, Yankee third basemen are hitting .252/.316/.418 this season with an sOPS+ of 95. A-Rod's contribution to that is a 116, which just goes to show how bad the rest of the team's third base options are offensively.
The same problem arises behind the plate. Jorge Posada as a catcher has a .906 OPS and a 156 sOPS+. Francisco Cervelli, a fine player if used properly, has an sOPS+of 96 and nearly 300 plate appearances behind the plate. Against right-handers, in particularly, Cervelli is an offensive liablity, but he's been pressed into service because Jorge Posada is 39.
For now, this imbalance brought about by the rotating DH is a problem that should plague the Yankees only in 2010. In fact, because of Jesus Montero's development and Jorge Posada's contract, the Yanks have the DH situation largely in hand next year. Montero ought to be the primary catcher with Posada as the primary DH. Francisco Cervelli, then, will serve as the late-inning defensive replacement for Montero who can also start against left-handers when need be.
That three-headed DH/catcher platoon solves half of the problem. The Yankees still need to keep an eye on their bench for 2011, and they should go into and play out the season with a back-up infielder better than Ramiro Peña (and his third base sOPS+ of 12) available to them. Who that will be remains to be seen, but the Yanks have the money to spend on the bench.
Had Brian Cashman used his crystal ball to sign Vladimir Guerrero to a one-year deal ten months ago, we would be pleasantly thrilled with his production. But that was then, and this is now. If they play their cards right, they won't have a DH problem come 2011.