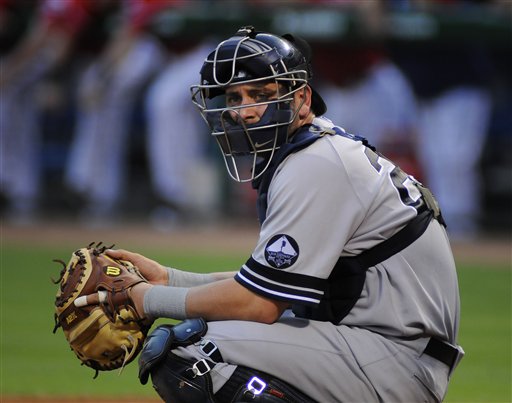 For much of the summer, we lamented every time Frankie Cervelli's name was written into the lineup. He started the season off in glorious fashion, hitting .354/.426/.451 in his first hundred or so plate appearances through mid-May. As Jorge Posada's backup it was fantastic, but then things started to go south once Cervelli received more and more playing time. From May 23rd through August 25th, a period during which Posada missed time due to a broken foot, a bruised ring finger, a sore knee, and a sore shoulder, Cervelli hit just .174/.248/.208 in 164 plate appearances.
Production at the bottom of the order was compromised, and oftentimes it was painful to watch. No one really expected Frankie to hit much this year, so it wasn't his impotent bat that bothered people (okay, yes it was), it was all the playing time he received. When Posada wasn't injured he often started at designated hitter, giving Cervelli even more at-bats. In fact, his 714.2 innings caught this year are the most on the team, about six games more than Posada's total of 660.1. Of course that gap closed significantly down the stretch in September, but it still may have some impact down the road.
At 39-years-old, Posada remains a catching marvel. He's hitting .253/.361/.464 in between all those nagging injuries this year, a .361 wOBA that ranks ahead of Victor Martinez and is bested only by Joe Mauer's .376 mark among AL catchers. Sure, his defense is as bad as ever, but Cervelli hasn't exactly made anyone forget Jose Molina. Posada is clearly the best catcher on the team and should start behind the plate every day in the postseason, and the lessened workload during the season just might help him do it.
Aside from 2008, when Jorge missed most of the season with a major shoulder injury, the 660.1 innings in 2010 are the fewest he's caught in a single season since 1999. He was well over 1,000 innings caught annually from 2000-2007, and it wasn't until injuries set in later in his career that Posada's workload started to decrease. Of course all that extra rest this summer hasn't helped lately; he's hitting just .179/.304/.282 since September 10th, but we're not going to get worked up over 46 plate appearances, especially during a period when the entire team struggled offensively.
This is completely subjective obviously, as there's no concrete way to determine whether or not the decreased workload during the hot summer months will help keep Posada fresh for the playoffs. It sounds logical, but I'm constantly amazed at how often logic loses out. A productive Jorge Posada is the best thing for the Yankees, and if all of those plate appearances wasted on Cervelli this season help Posada remain productive when the games really man something, then I take back all of the bad things I ever said about Frankie. Well, not all of it, but some of it.
Aside: Remember when there was that big debate last season/postseason about Cervelli being a better game caller and better with the pitchers and what not? Well this year Yankee pitchers have a 4.03 ERA and a .252/.325/.397 batting line against with Frankie behind the dish and a 4.06 ERA with a .246/.317/.399 line against with Posada. The whole thing seems silly now, doesn't it?