We all hoped that Tuesday's thrilling win would be the start of better days, but all it did was delay yet another crushing defeat. Phil Hughes came out of the gate strong but lost the game on a pair of mistake pitches, and the offense failed to capitalize on many early opportunities before it was too little, too late. It's like that win didn't even happen, we're all miserable again.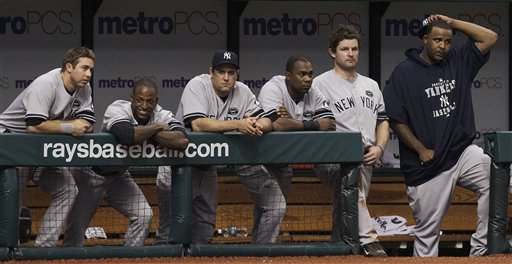 Biggest Mistake: Dan Johnson? Again?!?!
For six-plus innings, Hughes pitched a pretty good game. He was perfect into the fifth, and even though Dan Johnson took him deep for a two-run go-ahead homer in that frame, that was pretty all the Rays managed against him until the seventh inning. I think we all would have signed up for that before the game without thinking twice.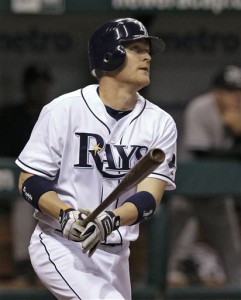 The problem was that they let Johnson beat them again. Hughes started that seventh inning with a very manageable pitch count of 85, and he even retired Carl Crawford and Evan Longoria – two legitimate MVP candidates – without incident for two quick outs. Matt Joyce, who hit that three-run homer off Hughes in his last start at The Trop, singled with two outs to bring up that Johnson guy again. Plain and simple, it was a mistake pitch. Jorge Posada set up outside, the 2-1 cutter drifted back in over the plate and you know what happened next. Johnson had his second two-run go-ahead homer of the game, the deciding blow in the Yanks' latest demoralizing defeat.
A game and situation like this is ripe for second guessing, but I have no idea what the right move is there. Do you bring in the recently called up Royce Ring – who hasn't pitched in the big leagues in two years – to face the three lefties in the late innings of a one-run game? Do you go to Joba Chamberlain with Hughes approaching 100 pitches? What about another reliever entirely? All I know is that you can't let Dan freaking Johnson beat you twice in a game, period. If Hughes gets the final out of the inning and preserves the lead, we're all talking about how great he looked, but here we are wondering how it could get any worse.
Putting Those Ford Edge Commercials To Some Good Use
Derek Jeter has done more great things for the Yankees over the years than I care to count, but tonight's might have been his Mona Lisa. Well, that's a gross exaggeration, but it was rather hilariously awesome in it's own strange way.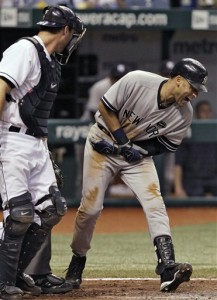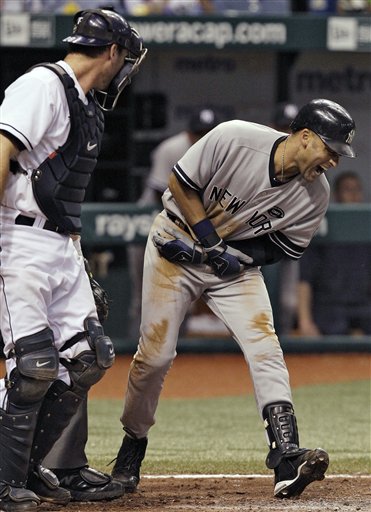 Down by one following Johnson's first homer, Jeter came to the plate with one out in the top of the seventh looking to do whatever he could to reach base. That's exactly what he did, though he sort of bent the rules. Chad Qualls' first pitch sinker ran back in too far and hit Jeter square on the wrist/forearm, and the Yankee captain went down clutching his arm in immediate pain. At least that's what everyone though. The replay showed that the ball instead hit the handle of his bat, and that it was all just one hell of an acting job. Jeter was awarded first base before Joe Maddon argued and got tossed, and one batter later Curtis Granderson hit a go-ahead homer that put the Yanks back on top.
I had a feeling that the baseball gods wouldn't let this one stand up, and sure enough it didn't. I was just hoping they'd bend the rules for Derek like they have so many times before. To his credit (I guess), Jeter was very honest about it after the game. When asked where the pitch hit him, he said flatly "the bat." This entire situation would be a lot bigger and more controversial if the Yanks won, and I'm certain Derek would have been willing to face that criticism and controversy head-on in exchange for the W.
WTF Get Those Men In
The Yanks have now dropped five of their last six games and eight of ten, and one common theme seems to be squandered chances. They put 15 men on base and stranded 10 of them (three scored, one double play, and Austin Kearns got thrown out trying to stretch a single into a double) in this game. None were worse than Lance Berkman's inning ending double play in the first, eliminating a bases loaded, one out situation that could have put Tampa to bed before Hughes even took the mound. Instead, just frustration.
During this ten game suckfest, they Yanks have stranded 85 of 106 total baserunners, or 80.2%. The MLB average is 72.1%, so this can't last forever, right? Right?!? It really has been like Murphy's Law on crack lately, anything that can go wrong does and then some.
Leftovers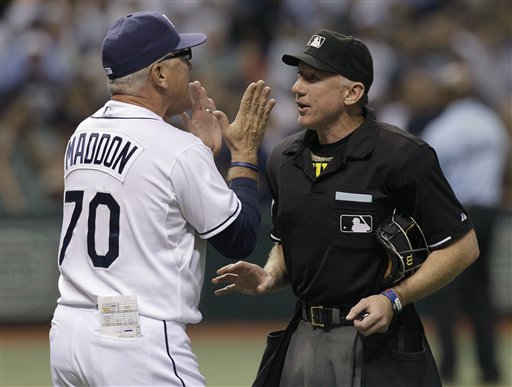 I can't wait for Nick Swisher and/or Brett Gardner to get healthy, because I'm not sure how much more of Austin Kearns I can take. He's now six for his last 45 (.133) with 19 strikeouts, six of which came in the last two games. The man is a fine platoon player, but the wheels came completely off once he got pressed into everyday duty.
For the second straight game, Colin Curtis was left in to bat for himself in big spot. This time it was with men on first and second and two outs in the eighth after Marcus Thames curiously pinch hit for Berkman earlier in the inning. Given how awful the bottom of the order had looked for the last two or three games, isn't Berkman hitting righthanded against Randy Choate with Thames available to pinch hit for either Kearns or Curtis a better option that what happened? I'm just amazed at how often the big spots found the holes in the 8-9 spots.
Four perfect outs from Joba, including two strikeouts. At least that's good.
The loss puts Tampa up by half-a-game in the AL East, the Red Sox are now six games back of the Yanks for the Wild Card with 16 left to play for both clubs. For you worry warts out there, Boston would need to go 11-5 the rest of the way just to tie and force a Game 163 if the Yanks go 5-11. Yeah it could happen, but I wouldn't worry about it. I'm definitely bummed out though, I don't want you think we're happy about the way things are going. Be pissed off, it's normal.
WPA Graph & Box Score
It was so promising for a while. MLB.com has the box score and video highlights, FanGraphs a bunch of other cool stuff.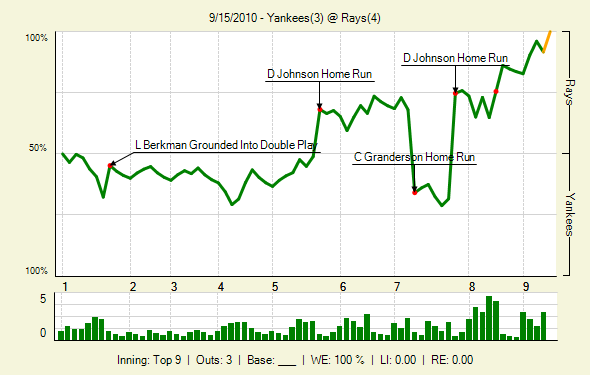 Up Next
Hooray for off days. The Yankees have been playing like absolute crap for the last week-and-a-half and will get torn to shreds in the media tomorrow, and for most part the deserve it. Hopefully they can regroup tomorrow and finish the season strong, because I'm not sure how much more of this crap I can take.
When they do resume play, it'll be in Baltimore with A.J. Burnett on the mound against the imminently beatable Kevin Millwood on Friday. Two of three this weekend is like, the absolute bare minimum.