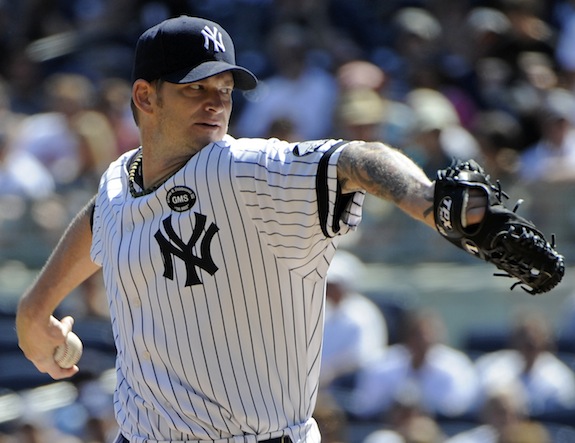 Once upon a time, A.J. Burnett was having a very good 2010 season. Through May 6 — six starts — Burnett was 4-0 with a 1.99 ERA and a 2.85 FIP. His strike out totals — just 28 in 40.2 innings — were down, but he was keeping both runners off base and the ball in the park. Just one of the first 164 batters to face him homered.
Since then, Burnett has, with the exception of a few good starts in July, been utterly abysmal. He's 6-15 over his last 26 starts, and he's averaging just over 5.1 innings per start. After last night's 2.1-inning, seven-run fiasco, his ERA over those 140 innings is 6.30, and he's allowed 23 home runs and 64 walks while striking out just 111 guys. Opponents have an OPS against him of approximately .860. In other words, A.J. Burnett's opponents are putting up better offensive numbers than Mark Teixeira.
Clearly, the Yankees have an A.J. problem, but what that problem is, as Jack Curry said last night on the YES Network, no one knows. "The Yankees haven't been able to figure A.J. Burnett out," he said during the postgame show, "so I'm not going to be able to figure him out."
Through some of the tools available to us, we can see that A.J.'s results haven't been so poor. His fastball velocity is down a little over a mile per hour which by itself shouldn't create these problems, but the Pitch f/x data says his heater is too flat while his breaking pitches aren't moving as much as they had in the past. But as Jack Curry said, figuring out the why and how of it should net someone a Major League consulting job.
After the game, Burnett's comments boarded on flippant, but I can't hold his statements against him. This is a professional athlete, 33 years old, struggling through his worst stretch of play. He can either be defiant, depressed or in denial, and right now, he appears to be suffering through a mixture of the three. "You have to get caught up in it," Burnett said. "It's a big game, a big night, but the way my season's been, I'm not going to let it affect me. I've been through way worse than tonight."
Today, tomorrow, next week, the question will focus around the American League Division Series. Because of the schedule, the Yankees do not need four starters. They can run out their Game 1 starter on three days' rest for Game 4 and throw their Game 2 starter in Game 5 on full rest. Between Phil Hughes and A.J. Burnett, someone will be the odd man out. "I would expect to start in the postseason," Burnett said last night. "I just want the ball. Whatever Joe decides, it's Joe's decision."
Enter denial. As the Yanks' pitching stands today, A.J. Burnett will not and should not get the ball during the ALDS. While it's true that regular season success (or failure) doesn't predict post-season results, Burnett has done nothing to earn a key October start. Last night, he couldn't locate his fastball and left his breaking pitches up over the plate. When he fell into hitter's counts, the Blue Jays' sluggers made him pay. On the other hand, Phil Hughes was nothing short of spectacular on Sunday night, and if the decision comes down to handing the bill to one of them to stave off elimination, Hughes is my guy.
That said, Burnett will probably have to pitch this October if the Yankees are to advance to the World Series. The ALCS schedule returns to the familiar 2-3-2 format this year without an extra off-day, and unless the Yanks are willing to run CC Sabathia, Andy Pettitte and Hughes out there on three days' rest for an entire seven-game set, Burnett will have to make an appearance. Maybe he could dominate the Twins in the ALDS as he did last year; maybe he could shut down Tampa Bay. My confidence in him though is at a low, and while Game 2 of the 2009 World Series will go down in Yankee lore, A.J. Burnett cannot coast on that legacy any longer.
Going forward, the Yankees will have to assess Burnett's future. They still owe him $49.5 million over the next three years, and he won't be traded unless the Yanks eat a significant portion of that deal. Based on his 2010 season alone, he's nothing better than a fifth starter, and as like the rest of us, he'll be a year older next year. I shudder to think what that future might bring, but if it involves April 2010 A.J. Burnett, count me in. Everything else has been one long, vivid nightmare.