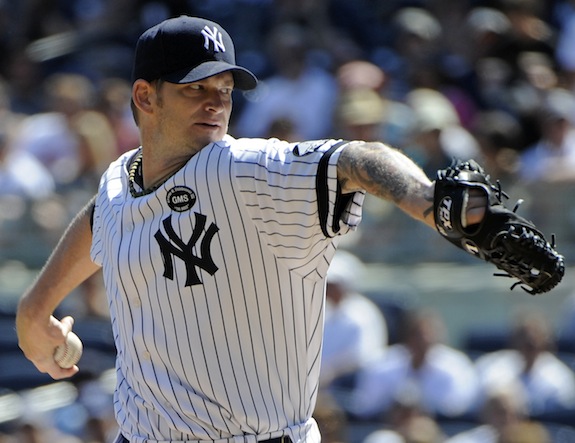 A.J. Burnett is struggling. He's struggling to find command; he's struggling to find consistency; he's struggling to find the strike zone; and he's struggling to find wins. In fact, the Yankees are 4-13 over Burnett's last 17 starts and 1-6 since the start of August. During that stretch, Burnett has a 6.58 ERA, and it's just ugly all around.
Yet, Joe Girardi is still willing to show faith in Burnett because his stuff is there, lingering in the background. Yesterday, we saw that faith, through no fault of Burnett's or Girardi's, backfire in the 7th inning. A.J. was one out away from escaping the game without a loss, but the Orioles had a threat going. With Corey Patterson on second, Brian Roberts, one of the Orioles' few offensive threats, came up with two hits on him already.
Roberts is a tough player to neutralize. Historically, he hits better from the left side against righties than he does as a right-handed batter against south paws, but he's a tough out from either side of the plate. This year, he is OPSing .858 in limited duty. It's easy to second-guess the decision to allow Burnett to face Roberts. After all, the Orioles' second baseman had a bead on Burnett's stuff, and A.J. had passed 100 pitches. The Yanks could have played the match-ups and used Boone Logan to turn Roberts around to his weaker side, but Girardi stuck with A.J.
The pitch Roberts hit into right field for the game-winning hit wasn't a bad one. It was a curve-ball, down and in, that Roberts fought off. A good hitter can do that to a good pitcher, and Burnett, speaking of his inability to shut down the Orioles, was highly critical of himself after the game. "It's not about my seventh. It's my whole day in general. I take pride in shutdowns. I've said it six times already, sorry I keep repeating it, but nothing else happened today. I wasn't able to shut them down when we scored."
What struck me about the game, though, wasn't the outcome or Roberts' lucky hitting. It wasn't Burnett's inability to hold the Orioles, although that obviously played a role in the eventual outcome. Rather, it was Joe Girardi's willingness to stick with Burnett passed the breaking point.
On Saturday, Girardi sparked a mini-controversy when he lifted Javier Vazquez from a two-run game with two runners on and two outs in the fifth. That move backfired as well when Dustin Moseley allowed the tying runs to score, and Vazquez was steamed that he couldn't work out his own jam. Javy, recently returned from the rotation, clearly has a short leash while Girardi wants to get Burnett as much work as possible in an effort to iron out what plagues him. Joe Girardi: "I thought it was a good step forward. I thought his stuff was very good today. He didn't really have his changeup today, but his curveball and his fastball were very good. He got in some situations that he wiggled his way out of — a first and second with nobody out and didn't give up a run. He pitched pretty well," the Yankee skipper said after the game.
So why the disparate treatment? On the one hand, the issue is about stuff. On days when Burnett has something resembling a good curveball, he's always just one good pitch away from getting out of the inning. On days when Javier Vazquez is throwing 86 mile-an-hour meatballs, it seem as though only Lady Luck can help Javy through five or six innings.
On the other hand, though, these decisions are about trust and the Yanks' future. Javier Vazquez is a one-and-done in New York City. They brought him in to give them length in the rotation when they knew they couldn't sneak by on CC Sabathia, Andy Pettitte, A.J. Burnett and two young guys or replacement-type hurlers. At this point, he's probably on the wrong side of the bubble and wouldn't make the playoff roster. Burnett, though, has to be ready for the postseason. If the Yankees are going to advance, A.J. Burnett and his $16.5-million salary will be asked to pitch in some must-win situations, and Burnett has to have confidence in his stuff. Furthermore, Burnett is here through 2013, and the Yanks can't start banishing him to the scrap heap quite yet.
So A.J. gets a longer leash than Javier Vazquez, and even though both decisions — a non-move on Monday and a move on Saturday — backfired on the Yanks, both were the right calls. Sometimes, the Brian Roberts of the world just end up beating that good curve ball.