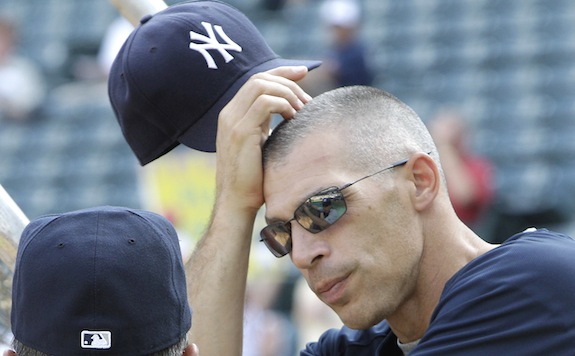 The last 10 games have not been kind to Joe Girardi and his Yankees. The team is 2-8 over its last 10 games and has lost three games in the standings to the now-first place Tampa Bay Rays and four to the Boston Red Sox. With 16 games left in the year, their playoff spot remains secure, but everything that could have gone wrong for the Yanks has lately. I can't help but level some of the blame at Joe Girardi.
For the last three years, Joe Girardi has been a fine manager. He's not an exceptionally great strategic leader, but he's succeeded where later-years Joe Torre could not. He's managed to take advantage of a full bullpen of arms and doesn't burn out his best relievers. He keeps his veterans happy and, outside of a few hiccups with injuries in 2008, he has placated the New York media as well. Although the Cubs job will be open this winter, the Yankees have shown every indication that they want Joe Girardi back, and despite my current frustration with him, he ought to be managing this team come March 31, 2011.
Lately, though, as the Yanks have played through a stretch of some of the most unlucky and uninspired baseball we've seen since 1994, Girardi's decisions have become easier and easier to question. He had Francisco Cervelli sacrifice bunt on a 3-0 pitch with a runner on second and no one out and later defended the move by noting that he wanted to "move up the runner." He had Curtis Granderson, batting .270/.342/.495 over his last 231 plate appearances, sacrifice against right-hander with on a 2-0 count with a runner on first and Colin Curtis up next. These moves aren't just bad in hindsight; they're just flat-out bad.
Beyond that, his roster management has suffered lately as well. Since the Yanks expanded the bench, Girardi hasn't been able to figure out which buttons to press, and he appears to be suffering from the paradox of choice. With too many players available, he isn't making a good use of any of them. The way Girardi approached the eighth inning last night is a prime example of this problem.
With the Yanks down by a run, they had Robinson Cano, Lance Berkman and Jorge Posada due up with Austin Kearns and Colin Curtis to follow. When a lefty on the mound, Cano reached on an infield hit, and Girardi went to Marcus Thames, the team's biggest power threat off the bench. The Rays immediately brought in a right-hander to counter Thames, and Girardi, who didn't want Berkman facing a lefty, got burned. Thames struck out, and after Jorge Posada walked, the two bottom-of-the-order hitters couldn't do anything. After Kearns struck out, Girardi inexplicably allowed Colin Curtis to hit for himself, and the inning ended with a groundout. While Juan Miranda isn't much of an offensive upgrade, against Grant Balfour and with Greg Golson on the bench, it was the obvious move to make, and it's one Girardi hasn't been making lately.
The other questionable move came an inning earlier. Phil Hughes started the 7th with a low pitch count and got two quick and efficient outs. Once Matt Joyce reached though, the decision to let Hughes face Dan Johnson again is a questionable one made even worse when Johnson deposited his second two-run home run into the right field seats. With Boone Logan unavailable, the Yanks could have gone to Royce Ring, but that lefty hasn't seen Major League action since 2008. Girardi could have gone with Joba Chamberlain who doesn't give up many home runs and has been dominant of late. Instead, he rolled the dice and let Hughes face Johnson. As with so many of Girardi's moves lately, this one cost the Yanks. For the last ten days, many moves he's made, defensible or not, just haven't worked out.
Girardi's comments to the media, as Ken Davidoff wrote this week, make it clear that he's managing with an eye toward October. He wants to keep his bullpen strong and healthy. He wants to make sure Brett Gardner and Nick Swisher, his banged-up Yankees, are feeling OK for the playoffs. Brian Cashman, too, supports this approach. "I want a team ready to play to its maximum potential in October," the Yanks' GM said. "I want to win the division, without question, but if I have injury problems. I don't want guys playing with ailments that linger into October."
Yet, I want to see the Yanks reel off a week of solid play. Let's wrap up that playoff spot, and then rest everyone. Right now, the Yanks aren't playing with urgency, and they aren't being managed with much either. Maybe that's just the reality of a six-game lead with 16 left, but the Yanks are going to have to win a few more games to get to October, and winning is something of which we've seen very little lately.