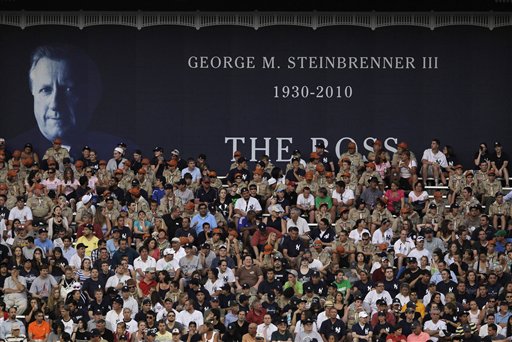 It's been more than two months since George M. Steinbrenner III passed away, but that certainly doesn't mean he's been out of our minds. We're reminded every day of the impact he had on this organization, of his drive to win and succeed, of his often overbearing personality and unrealistic expectations. We had to take the bad with the good, but it's all part of what made George the finest owner in sports history.
The Yankees will dedicate a new monument in Monument Park to the Boss' memory tonight, the first new monument in more than a decade. Events like this tend to be followed by the most memorable of games, so expect the unexpected. Here's the starting nine…
Jeter, SS
Granderson, CF
Teixeira, 1B
A-Rod, 3B
Cano, 2B
Swisher, RF
Berkman, DH
Gardner, LF
Cervelli, C
And on the bump, it's Ivan Nova. Jon Lane has more on the pitching matchup, so check it out.
The ceremony is schedule to begin right at 7pm ET, with the game starting about a half-hour later. All of the pregame stuff will be on YES, but I'm willing to bet you'll be out of luck if you're watching on MLB.tv. Enjoy.