The Yankees came into Friday's game riding a six game winning streak that helped push their lead in the AL East from zero games to a game-and-a-half, but the odds of extending the streak weren't very good with the Blue Jays coming into town. Toronto has played the Yanks hard this year (they'd won seven of the dozen meetings before this game) and were sending Brandon Morrow to the mound, who just worked the Yanks over for six innings less than two weeks ago. Thankfully, Morrow, making his final start of the season due to innings limitations, was off his game, and the boys from the Bronx were able to extend their streak to a season high tying seven games.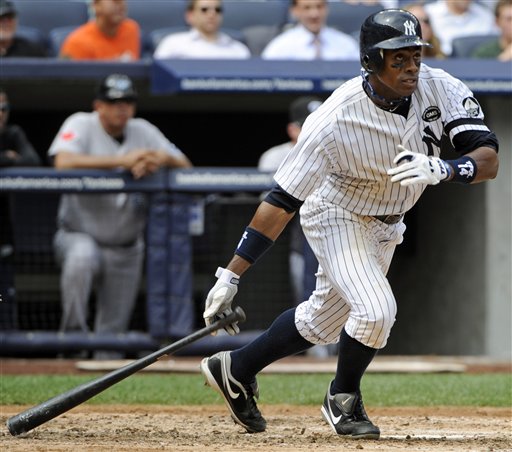 Biggest Hit: Granderson Extends The Lead
Travis Snider gave the Jays a quick one-zip lead in the first inning with a solo homer, but the Yanks battled back and plated a pair in the bottom of the inning to take the lead. Not content with a one run lead, they came to the plate the next inning and immediately went to work. Austin Kearns led off with a hit by pitch (more on that later) and made it to second on an Eduardo Nunez fielder's choice, then leadoff man du jour Brett Gardner drew his second walk in as many innings to put runners at first and second with the lone out.
Curtis Granderson, coming off yesterday's two homer game, stepped in with a chance to keep the line moving and get the Yanks headed in the right direction. Morrow started him off with a pair of fastballs that went for a ball and a foul tip, but his third offering was a curveball that tumbled into the zone rather than dove out of it, and the Yankee centerfielder pulled it down the first base line and into right field. Kearns scored easily, but Gardner gets major kudos for hustling and scoring from first on a ball that didn't even go into the corner. Jose Bautista fielded it on a ricochet off the sidewall about halfway between the infield and warning track. Gardy just straight up outran the play, giving the Yanks a much more comfortable 4-1 lead.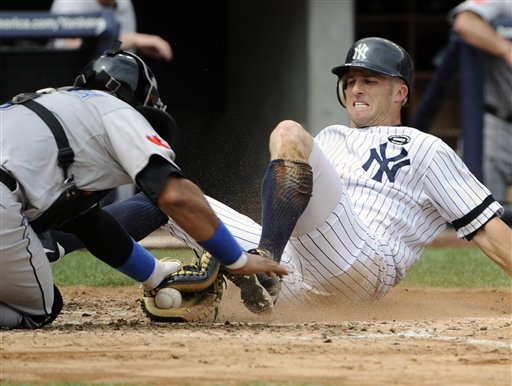 Honorable Mention: Tex Does It Again
An inning before Granderson blew things open, the molten hot Mark Teixeira got the Yanks right back in the game with a run scoring double that knotted things up at one. It looked gone off the bat, but the wind was pretty vicious during the game because of Hurricane Earl, blowing numerous balls back towards the infield. Pop-ups were an adventure all afternoon, infield or out. Tex came into the game 9-for-13 (.692) with two doubles, two homers, two walks and one strikeout on the hometand, so he picked up right where he left off. This guy man … he's just a baseball playing robot.
Biggest Out: Robertson Escapes The Jam
Joe Girardi's bullpen has come together quite nicely over the last two months or so, and the addition of Kerry Wood at the trade deadline only made things better. David Robertson assumed the eighth inning role from Joba Chamberlain for a few weeks, but on Friday he entered the game with a man on first and one out in the sixth inning.
Robertson dropped a pair of curveballs on John McDonald, who hit a routine grounder to short that should have been an inning ending 6-4-3 double play, but Robbie Cano threw a palmball on the relay to first and pulled Tex off the ball. D-Rob did his job, got the double play grounder, but sometimes the unexpected happens in baseball. He followed up the non-GIDP ball with a six pitch walk to his former teammate Jose Molina, a move that put the tying run on base and the go-ahead run at the plate.
Thankfully, Robertson was able to right himself and managed to strike out Mike McCoy by getting him to swing through a pair of 91 mph fastballs on the outer corner for strikes two and three. McCoy, a 29-year-old journeyman with a .094 ISO in the minors, wasn't likely to give Toronto the lead with one swing of the bat, but if he had reached base the Yanks were suddenly looking at a bases loaded situation for Snider, would had already gone deep earlier. It was by far the biggest out of the game, increasing New York's chances of winning by close to nine percent.
Leftovers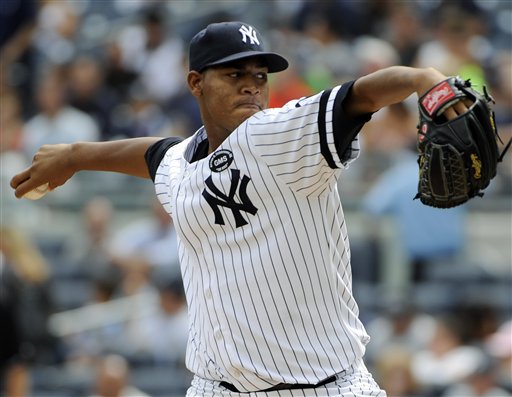 Ivan Nova had to battle in this one, it certainly didn't come as easy as it appeared to in his previous two starts. It seemed like he was unable to throw either his curve or changeup for strikes consistently, which is probably why he struck out zero batters in his four-and-two-thirds innings of work. He did get nine outs on the ground compared to just four in the air, but Girardi yanked him with the tying run on base with two outs after just 76 pitches, and Nova was visibly disappointed. Maybe not at Joe for taking him out so early, but at himself for failing to go any deeper in the game. The Jays really worked him hard, so I wasn't upset with the early hook. Team wins are far more important than individual wins at this point.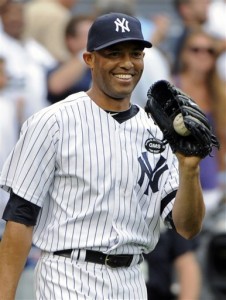 The bullpen, as usual, was fantastic. Boone Logan came in and cleaned up Nova's mess. He gave way to Robertson who did his thing. Wood retired all five men he faced in the seventh and eighth, then Mariano Rivera capped it off with a hilariously easy ninth inning. Seriously, a bunt groundout back to Mo, a weak grounder to Tex, and a foul pop to Ramiro Pena at third on six total pitches. Piece of cake.
Speaking of Ramiro, he picked up another two hits today and is now eight for his last 18 (.444). Eduardo Nunez also went 2-for-4 from the nine-hole.
Not to be outdone by the guys at the bottom of the order, Gardner and Granderson combined to go 3-for-6 with two doubles (both Granderson's), one triple (Gardner's), four walks (two each), and four runs scored (three by Gardy). Big time production from the top two hitters today, can't say enough about the job they did.
Jorge Posada doubled and Lance Berkman hit the ball right on the screws four times and came away with a pair of hits. Berkman's really been tattooing the ball since coming off the disabled list, albeit in a small sample. Pretty much the only player you can't praise today is Robbie Cano, who struck out once in five at-bats, taking some awful looking swings along the way.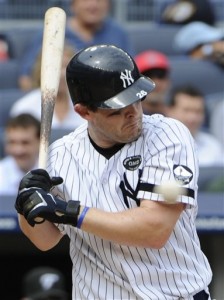 Austin Kearns took that pitch off his hand early on and appeared to favor it the rest of the way. I saw him shaking it several times later in the game, especially after making contact with a pitch. Hopefully he's just a little banged up and won't miss any time.
Ready for some creepiness? This seven game winning streak started on August 28th with a game against the White Sox. Last year on August 28th, the Yanks beat those same White Sox to start a seven game winning streak that ended on September 4th. Their opponent for that loss? The Blue Jays, of course. Kinda creepy, no? Hopefully they don't repeat history tomorrow.
The Rays topped the Orioles, so the division lead remains at a game-and-a-half. The Red Sox were rained out, so the Yanks picked up a half-game on the Wild Card lead and now have an eight-and-a-half game cushion. Their magic numbers to clinch a playoff spot and the division are 20 and 27, respectively.
WPA Graph & Box Score
MLB.com has the box score and video highlights, FanGraphs all the other cool stuff.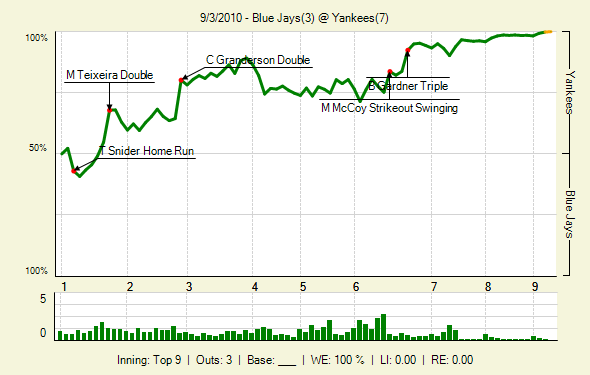 Up Next
The Yanks will play the third of five straight afternoon games on Saturday, giving the ball to Javy Vazquez for his first start in two weeks. He'll be opposed by Marc Rzepczynski, who the Yanks knocked around just ten days ago.