All good things must come to an end, and that's exactly what happened to the Yankees' eight game winning streak today. The Blue Jays did what they do best, hitting the ball out of the park against Phil Hughes. Three different Jays went deep off the Yanks' starter, and a few other tack on runs eventually put things out of reach. On the bright side, the Yanks did get their cleanup hitter back.
Hughes Mistakes
As he gets further and further away from his previous career high in innings pitched, Phil Hughes appears to be becoming more and more prone to making mistakes. On a day when he otherwise looked pretty decent, Hughes made two glaring errors when he turned a pair of 0-2 counts against Vernon Wells and Aaron Hill into two-run homers. It was the same problem both times; a fastball that ran back in on the inner half and right into each batter's wheelhouse. Hughes later hung a cutter to John Buck, who sent it into Monument Park for a solo shot. Three out of every four pitches Phil threw was a fastball, and Toronto's hitters were teeing off on it.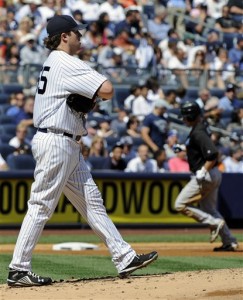 Aside from the longballs, which were obviously major mistakes and the reason the Yankees lost their first game in over a week, Hughes allowed four hits (three doubles, one of which was a ground rule double) and walked just one, striking out five. After consecutive starts with a season high five walks, the one free pass is a good sign. He still allowed way too many foul balls (24 out of 100 total pitches), but that appears to be par for the course these days. Certainly not his best outing, but I though Hughes' stuff was pretty good. He just missed his spots a little too often and got beat.
Once Again, No Match For Cecil
The Yanks have faced Jays' lefty Brett Cecil now four times this season, and each time they've walked away with a loss. They did, however, manage to score more than one run against him for the first time, knocking him out of the game with one out in the seventh and three runs on the board thanks to 11 baserunners. They had a few opportunities to do some damage, namely in the third (runners on first and second, two outs), fifth (same), sixth (man on second, one out), and seventh (first and second, two outs), but ultimately they couldn't capitalize.
Cecil, a lefthanded changeup artist, has gotten the best of the Yankees each time out, so maybe it's time to rethink stacking the lineup with righties against him. I mean, fool me once shame on you, fool me four times, shame on the strategy. Hopefully the guys keep that in the memory bank for next year and avoid another one of these messes.
Leftovers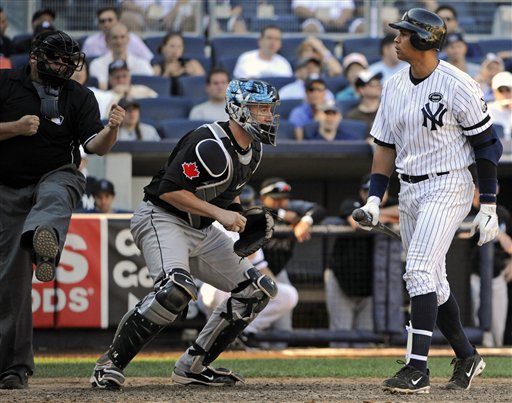 Alex Rodriguez's return to the lineup after a 15-day stint on the disabled list went fine; he legged out an infield single and later drove in a run with a line drive single to center. He also struck out looking to end the game, though the pitch did look a little inside. Alex also looked a-okay in the field, though he wasn't tested with anything difficult. Even though the Yanks lost, it sure was nice having A-Rod back in the lineup.
Nick Swisher, meanwhile, looked pretty bad running down to first during his late pinch-hitting appearance. He was fine at the plate, but the limp was very, very noticeable once he tried to run. I'll be surprised if he manages to play tomorrow. Austin Kearns played the field but did not bat, so who knows how his sore hand is doing. With he and Swish banged up, the outfield got real thin, real quick.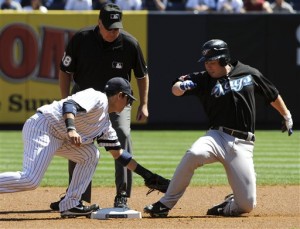 The Brett Gardner, Professional Lead-off Hitter™ experiment continues to be smashing success. He went 2-for-3 with a walk on Sunday, and has reached base 19 times in his last seven games atop the lineup. Gardner's got a .467 OBP since August 13th. Studly.
Hughes had allowed two homers total on 0-2 counts in his career before this game, then he allowed two more. All but three of the 22 homers he's given up this year have come at home, so if the Yanks start Hughes in the playoffs, I imagine they'll try to get him out there on the road.
Jon Albaladejo hit Jose Bautista with his first pitch right between the numbers on his back, but don't get too excited, it was a curveball. The Yanks held Bautista to one single and four walks in the series, much better than what he was doing to them earlier this year.
The Rays fell to the Orioles on Sunday, so the Yanks lead in the division remained at two-and-a-half games. With the White Sox beating the Red Sox and passing them in the Wild Card standings, the Yanks magic number to clinch a playoff spot remains at 17, good old Jerry Hairston Jr.
WPA Graph & Box Score
MLB.com has the box score and video, FanGraphs everything else.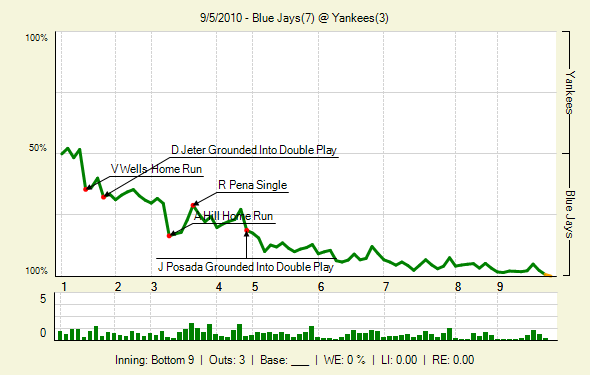 Up Next
The Orioles roll into town for a Labor Day matchup on Monday. A.J. Burnett gets the ball against Brian Matusz during the Yanks' fifth consecutive 1:05pm ET start.