When it comes to bullpen management, we're all armchair tacticians. It seems as though this tendency has intensified in the past few weeks. Joe Girardi has made a number of questionable decisions when calling on his bullpen, which inevitably rouses a flurry of second guessing. Sometimes the moves have been justified; when certain pitchers are unavailable it becomes difficult to make the right decision. But last night Girardi made one of the worst possible decisions, given the situation.
The situation begins in the top of the sixth. Ivan Nova had already gotten through the dreaded fifth inning with ease, allowing just one hit and walking one to that point. The inning didn't start off well, as the Rays went single, walk, single to load the bases with the heart of the order coming up. It looked as though the Yanks caught something of a break when Carl Crawford hit a dribbler to third, but it turned out that his bat hit Francisco Cervelli's glove. It was the sixth time this season that Crawford has been awarded first base on a catcher's interference call. It also put the Rays on the board for the first time.
Considering the results last time Girardi stuck with Nova, I'm surprised he didn't turn to the bullpen right there. But apparently he wanted to stick with the righty-righty match-up of Nova against Evan Longoria. This time the call paid off. Nova got ahead 0-2 with a changeup and curveball, and then dropped another curve, this one on the low-outside corner, to induce a 5-4-3 double play. That brought up the lefty Dan Johnson, which signaled the end for Nova. With three straight lefties due up Girardi made the fairly obvious call and went to Boone Logan.
Had Logan succeeded in his job we might not be talking about this situation. He needed to just get one of the three lefties, but instead he allowed two singles and walked a guy. That put the Rays to within one and re-loaded the bases. With the righties B.J. Upton and Jason Bartlett due up Girardi had another obvious decision. This was a tailor-made David Robertson situation. He has been the fireman this season, coming in when the leverage is highest and the team needs an out or two. But instead Girardi turned to Chad Gaudin.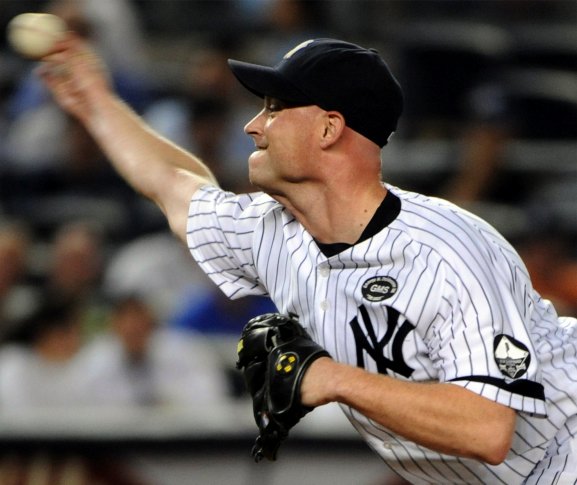 At first it seemed as though Robertson might not be available. He had thrown 23 pitches on Sunday against Tampa Bay. Kerry Wood had thrown 25 pitches on Sunday in addition to the 15 he threw on Saturday. Joba Chamberlain would have been a good choice, too, since he had thrown just 11 pitches combined in the previous two days. If Robertson and Wood weren't available maybe Girardi didn't want to burn his only setup man in the sixth inning. But even then it seemed like strange decision. Why go with Gaudin in a bases loaded situation? I'd far rather have him pitch the eighth with a clean slate than in the sixth with the bases loaded.
As we learned after Gaudin walked in the tying run, both Wood and Robertson were available. Robertson started the seventh and recorded two outs before Wood came on to get the next four. Why, then, would Girardi go to Guadin when the lead was on the line? After the game he gave the most predictable answer ever:
"I liked the matchup," he said. "I liked his stuff against Upton and Bartlett, and that was the rationale basically."
Matchups are fine and all, but baseball is a game where anything can happen in any given at-bat. That's why it's preferable for the manager to go with his best overall guy when the game is on the line. It might have been only the sixth, but the Rays had already rallied and could have added a ton more. Girardi has gone to Robertson in similar situations before, so it seemed baffling that he would go to Gaudin when Robertson was available. That Wood was also available makes the situation even more questionable. Unsurprisingly, going with the lesser guy blew up in Girardi's face.
That's not to say that he was wrong about the match-up. In his career Chad Gaudin has been hell on right-handed hitters. He has struck out nearly one per inning and has held them to a .253 batting average. His slider has been a particularly effective weapon. That works well against Upton, who has hit sliders poorly in his career and particularly poorly this season. Bartlett has similarly flailed this season when the opposing pitcher throws him a slider. That might make the match-up seem attractive. Unfortunately, Guadin's slider has not been as effective this year, and he hasn't been as effective overall against righties. As much as I like to preach career numbers, if a guy isn't doing something well in a given year it's tough to expect him to turn it around just because he has done better in his career. In the micro world of individual match-ups recent trends do matter.
Had both Robertson and Wood been unavailable, the choice to go with Gaudin based on match-ups would make sense. He is certainly a better choice than Sergio Mitre, Jon Alabaladejo, Romulo Sanchez, et. al, in that situation. The Rays had two righties coming up, and Gaudin has proven that he can succeed against those guys, at least to a greater degree than anyone else in the bullpen has. But once we knew that Robertson and Wood could have pitched in that situation, it made the decision seem that much worse. When the other team has the bases loaded and you're up by one and need just one more out, you go with your best available guy. Girardi did not do that.
Addendum: The only silver lining of this decision is that once the playoffs start Girardi will not have so many choices. With the off-days built into the schedule the relievers should be, for the most part, well-rested. Chad Gaudin will also not be an option. Given the relievers who will make the postseason roster, Girardi will find it difficult to make a bad call when going to the bullpen.