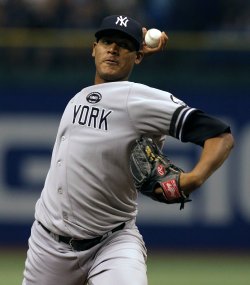 When a team sees a pitcher for the first time it can take a trip through the order before they catch onto him. That's what we've seen from Ivan Nova in his short stint in the rotation. He has been mostly good his first time working through an order, but he runs into trouble as the game wears on. Maybe that's fatigue, maybe it's the opponent figuring him out. Either way it has meant early exits for Nova and a long day for the bullpen. Last night's game was no exception.
Through the first four innings it looked as though Nova was getting better and better. He allowed two base runners in the first and needed 18 pitches, only half of which were strikes, to finish the inning. In the second he allowed one base runner and threw nine of 16 pitches for strikes. In the third he needed just nine pitches, six strikes, and in the fourth it was just seven pitches, five strikes. In neither inning did he allow a base runner. It wasn't until the fifth that he started to break down.
It started with a Carlos Pena home run, which, as Mike said, is far from a fireable offense. Of Pena's 27 home runs this year 19 have come against righties. Even B.J. Upton's double seemed to come on a good pitch, a 93 mph fastball low and inside. Since it was followed by a swinging strikeout on a good, low and in curve to Reid Brignac, it seemed like Nova might settle down. But that meant the lineup was turning over and he'd have to face the Rays' best hitters for a third time.
In the first Nova used the fastball away before coming inside with a changeup to record a pop-out to second. The change did catch a bit of the plate, but Jaso missed it. The second time he continued to work mostly away, though he did throw a number of pitches high in the zone, including the pitch that Jaso lined to Curtis Granderson. It was no surprise, then, that he had a feel for Nova the third time. Again Nova worked away, starting with two changeups that missed. Ahead 2-0 Jaso took a fastball high and away for a called strike before smacking a liner to center on an outside fastball. I can't read Jaso's mind, but based on his previous ABs he probably had an idea of what was coming next. On 2-1 he could afford to guess.
Nova then retired Ben Zobrist before walking Carl Crawford, who had one of the three Rays hits to that point. It did look like Nova was working around Crawford, as even the strike on 3-0 was a generous call. That brought up Evan Longoria, whom Nova had walked on four pitches in the first. In the fourth Longoria jumped on a first pitch fastball and lined it to Granderson. This sounds somewhat like what happened to Jaso. The third AB started a bit different, as Nova went away with the curveball after having gone inside with the fastball in the first two PA. Longoria took it for a strike. Nova then went back to the fastball, a 95 mph pitch on the outer third. But like Jaso before him Longoria took the outside pitch up the middle for an RBI single.
Matt Joyce was Nova's final batter of the night. In the first he worked him outside before coming high and inside with a 1-2 fastball that induced an inning-ending infield pop-up. Again in the fourth Nova kept his pitches outside until he got two strikes. At 1-2 he again came high and tight with the fastball, but this time Joyce took. He would not be so disciplined on the next pitch, a curve breaking down and in. Joyce swung over the pitch in the dirt and was thrown out at first. In the fifth Nova fell behind 0-1. He went to the curveball, but it crossed high and in the middle of the plate. Joyce, perhaps looking for an outside pitch given the patterns in his previous ABs, took it the other way for a single. Nova kinda got burned there, because if Brett Gardner were in left he might have caught that. But was Kearns, and the ball dropped right in front of him. That put the Rays within two and ended Nova's night.
Given the hitters that did finally catch up to Nova, it looks as though he fell into patterns. A team with quality hitters won't fall for that too often. By the third time through the order both Jaso and Longoria appeared to have an idea that they'd get outside fastballs. When Nova threw one they were ready. With Joyce it was more of the same. You can only pitch a guy outside for so long. Good hitters will figure it out. Thankfully, this seems to be more of a maturity thing for Nova than a question of his stuff. His fastball clearly has life and he has generated quality results from his secondary pitches. At this point it's about keeping hitters off balance. If he can do that he can fill a spot in the back of a rotation. If not, he still might find success in the bullpen, where he won't have to face hitters more than once.