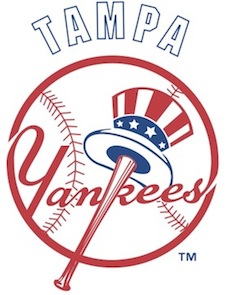 The New York Yankees are in talks to sell part of the Single A Tampa Yankees to an Orlando businessman. If the partnership deal goes through, the Yanks' representative in the Florida State League would likely move to Florida, but the big league club will continue to use Steinbrenner Field in Tampa for its Spring Training home.
At a press conference Wednesday, Orlando businessman Armando Gutierrez Jr. and the Yanks confirmed days of speculation about the potential sale. Gutierrez expressed his desire to bring the Tampa Yankees to the Orlando area but stressed that his deal covers just the minor league team. "You're not losing spring training. That would be my comment to Tampa," Gutierrez said.
The Yankees in a statement echoed Gutierrez. "These exploratory conversations will have no impact on the Yankees' Spring Training facility or the Major League team," the team said.
In the world of Central Florida, Gutierrez is an intriguing figure. He's 28 and the son of a wealthy Cuban-American scion. He had been running for Congress as a Republican to fill a vacant House seat but recently dropped that bid to pursue this baseball opportunity. Earlier this year, he spoke at length about bringing a Major League franchise to Orlando, but it seems as though he's willing to settle for a Class A team instead. "You have a chance to see an 18- or 19-year-old Derek Jeter before he becomes a Hall of Famer," Gutierrez said of the Minor League affiliate.
Despite this public proclamation, though, a move is no sure thing. The biggest hurdle would, of course, be a stadium deal. "Until we secure a site, there's still a chance that this could not happen," Gutierrez said. "But if the county works with us to get us a site, we will make this happen."
The Orlando Mayor Rich Crotty said a press conference earlier this week that the county has available approximately 12-15 acres of a 29-acre site that could be used for the stadium, but talks for that land are in the very early stages. The land may also be taken over as part of Florida's ambitious high-speed rail plans, leaving Gutierrez left empty-handed. "I'm not going to go at this in a helter-skelter way," Crotty said. "As usual, we'll exercise a lot of due diligence. We'll make sure that the taxpayers are well-protected and that if we do participate with a land donation in terms of a lease, there will be a return on investment to our citizens in terms of sales-tax collections and so on."
Even with the land in hand, Gutierrez would have to foor the bill for construction costs. Orlando isn't going to build a stadium with taxpayer money, and Gutierrez vaguely said he had "multiple options" when it came to carrying the stadium costs. No deal, in other words, is imminent.
Before any potential deal is completed, Gutierrez and the Yanks would have to secure approval from numerous bodies within baseball. The Florida State League and its clubs, Minor League Baseball and Bud Selig's office all must weigh in on the deal. These hurdles, however, are generally considered nothing more than a formality. The other complicated pieces have to fall into place well before either side grows too concerned with Major League Baseball approval.
Interestingly, this move appears to be the first major one taken by the Steinbrenner family in the wake of George's death. The team hasn't said too much about any potential sale, and Hank, Hal, Jessica and Jennifer have been largely silent. They sent Felix Lopez, a team vice president and Jessica's husband, to the press conference. Still, it appears as though the family may look to consolidate its holdings and focus on the Big League club. One day, they might look to sell the Yankees, but for now, only the Tampa franchise is on the block.