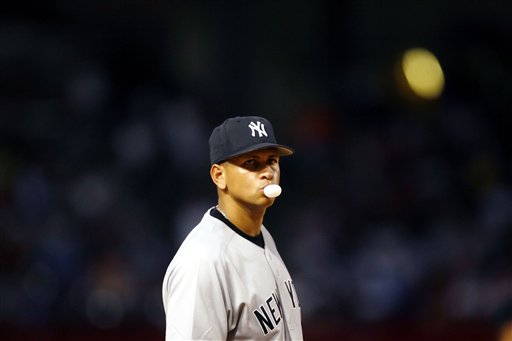 Let's talk about Alex Rodriguez a little bit. He hit his 30th homerun of the season last night, a total most of us thought he had no chance of reaching just two weeks ago. A five homeruns in six days binge helped get him there, and he's now posted the most consecutive 30+ HR, 100+ RBI seasons in baseball history (13, and 14 overall). Alex has only been with the Yankees for seven years now, not much in the grand scheme of things, but let's see how he stacks up in the team's record books…
bWAR: 40.9, should jump into the top ten sometime in 2012
OBP: .394, outside the top ten by .001
SLG: .560, fourth best behind Babe Ruth (.711), Lou Gehrig (.632), and Joe DiMaggio (.579)
OPS: .954, fifth best behind Ruth (1.195), Gehrig (1.080), DiMaggio (.977), and Mickey Mantle (.977)
HR: 268, seventh best but could finish as high as third behind Ruth (659) and Mantle (536)
K: 838, sixth most with everyone above him well over 1,000
OPS+: 147, one point behind Reggie Jackson for sixth best
HBP: 80, fifth most and he should eventually settle in behind Derek Jeter (152) for second most all-time
AB per HR: 14.3, second best behind Ruth (11.0) and … wait for it … Jason Giambi (14.0)
WPA: +26.0, fifth best and within shouting distance of Yogi Berra (+32.4) for second
WPA/LI: +28.3, third most behind Mantle (+94.4 (!!!)) and Jeter (+32.7)
At $168,389,252 in salary, I'm willing to bet A-Rod's second only to Derek in that department as well. Here's the link to the full leaderboards if you're interested. It's pretty amazing to see where he ranks among the all-time great Yankees despite being in pinstripes for just seven years. I'm glad he got to 30 bombs this season, but I'd be even happier if he manages to find those 40 missing points of on-base percentage next season.
* * *
Anyway, here's your open thread for this wet, rainy evening in the Tri-State Area. The Mets are playing the Brewers, and according to my guide there will be another game on the MLB Network, but the teams are TBA. With any luck it'll be the Padres-Cubs, the only game going on tonight with any playoff implications. I suppose it could be Royals-Rays, which would obviously impact the Yankees, but meh. Chat about whatever, just don't be a dick.
Oh, and I need some mailbag questions, so send them in using the Submit A Tip box in the sidebar. I've gotten one so far this week, and it's not even about the Yankees.