The one constant through this recent stretch of poor play has been the Yankees' complete inability to get runners in and tack on those important insurance runs. It burned them yet again yesterday, and since this 4-9 stretch started on Sept. 5th, the Yanks have left 115 runners on base. That's 8.8 runners per game, or over 1,425 runners per 162 games. Last season they stranded a total of 1,238 runners, and before this stretch they were on pace to strand just 1,198 batters this season. It's an obvious problem.
It takes a team effort for an offense to struggle this bad with men in scoring position, so we can't pin it on one or two players no matter how much we want to. Lance Berkman and his pair of GIDP's yesterday is hardly the root of the problem, it's just a microcosm of how things have been going. Here's a quick look at the regulars (sorry, Colin Curtis) and how they've performed with men on second and/or third during this stretch of suckiness (click to enlarge) …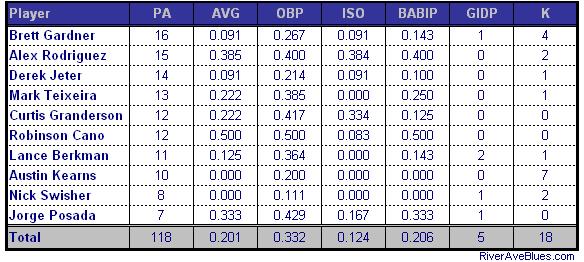 As you can see, the only guys pulling their weight in these spots have been A-Rod and Cano. Everyone else has, putting it kindly, come up short. The good news is that if you take out the disaster that is Austin Kearns (who only played regularly because of injury), the regulars have only struck out 11 times in 110 plate appearances with men in scoring position during this stretch, a 10.0% strikeout rate that's far, far better than the 18.1% league average with RISP.
Putting the ball in play hasn't been the problem whatsoever, the hits just aren't dropping in. It's not a sign of being "unclutch" or anything like that, it's just dumb luck. Baseball can be cruel like that. At some point things will get back to the way they should be and were for the vast majority of the season and these balls are going to start finding the grass. It's inevitable.
As a team, the Yanks have hit just .197 with a .315 on-base percentage (somewhat inflated by five intentional walks and two hit by pitches) and a .098 ISO since that magic Sept. 5th date. That's just an unsustainably bad pace. Even the Mariners, who are in danger of having the worst offensive season in the expansion era (seriously), have hit .230 with a .320 OBP and a .109 ISO with RISP this year.  Before this stretch, Joe Girardi's boy hit .265 with a .366 OBP and a .171 ISO with RISP on the season, and it's only a batter of time before they return to that level. The Yankees are simply too talented to keep performing this poorly for an extended period of time.
And you know what, there's one other thing to keep in mind here. We're talking about an incredibly small sample of data. 118 plate appearances is nothing, and neither is 13 games. That's just about 8% of the season, and no one should be rushing to make conclusions based on that amount of data. But given the time of year and the division race, things have a tendency to get blown out of proportion. Yes, this lack of getting the man in completely sucks and it's frustrating as hell, but it won't last and it's certainly not some fatal flaw that is just now being exposed. It happens, and it'll pass hopefully sooner rather than later.
* * *
And as far as this squeeze bunt/suicide squeeze stuff, please, just stop it. It's not a high-percentage play like most make it out to be, in fact it's quite the opposite. It takes a perfect bunt to execute; not a good bunt, not a very good bunt, a perfect bunt. If it's too close to the catcher, the runner coming in from third is toast. Same thing if it's too close to the pitcher, first baseman, or third baseman. And if it happens to go foul, then you're done, because the element of surprise is gone. Good teams never ever ever pull these kinds of plays, they rely on their players to hit the ball and get the run in. Smallball simply isn't a long-term winning strategy, plain and simple. Go ahead and tell me the last time a smallball team won a World Championship. I'll wait.