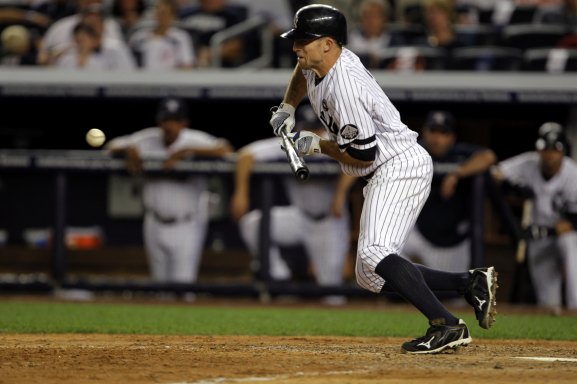 When the 2010 season draws to a close, Robinson Cano's name will be in the mix for the AL Most Valuable Player award, and he's certainly deserved it. Playing a stellar second base, Robbie is hitting .318/.380/.542 with career highs in home runs (26) and walks (50). After showing little patience during his first five big league seasons, his .062 IsoD is a pleasant and welcome surprise. But in one sense of the phrase, he hasn't been the team's most valuable player.
Enter Brett Gardner. Of the Yankees' starting nine, Gardner is the little guy. He's only the player in the team's Lance Berkman-approved playoff lineup who has never been an All Star, and he's the only player in the starting nine making less than $500,000 (or $5.5 million, for that matter). Yet, he's second on the team in WAR and is now pushing nearly five wins above replacement level. While Cano's emergence as a power-and-patience player has been a pleasure to watch, Brett Gardner is a true surprise.
On the season, Garnder is now at .284/.390/.384 through 504 plate appearances. He's seventh in the AL in on-base percentage, ninth in walks with 70 and fourth in steals with 40. As a defender, too, his numbers are steller. His left field UZR is 16.9, and his arm is 5.3 runs above average. His eight outfield assists are second in the American League, and opposing teams have stopped running on his arm. Have I mentioned he's making just $452,000 this year?
Last year, we watched in frustration as Melky Cabrera dominated the outfield playing time at the expense of Brett Gardner. He suffered through a poor debut in 2008 and couldn't get into a groove in 2009. Penciled in as the stop-gap everyday left fielder until Carl Crawford hit the open market after 2010, Gardner was expected to man the nine hole, platoon in left field with Randy Winn and Marcus Thames and, hopefully, get on base 35 percent of the time. He's been even better than that.
Lately, the Yanks have struggled to figure out how best to deploy Brett Gardner. He's spent the bulk of the season at the bottom of the order, but his numbers in the nine hole are far worse than his numbers in leadoff spot. As the last guy up 199 times, he's been on base just 35.1 percent of the time. Contrast that with his leadoff OBP of .440 in just under 100 plate appearances, and it's a wonder anyone else ever gets to bat first. With his speed and patience, Gardner is a throwback to the feisty leadoff hitter of old.
Yet, with Gardner, there's still a sense that this will all come crashing down. During the first half of the season, he hit .309/.396/.415 with 25 stolen bases in 31 attempts over 81 games. Since the All Star break, he's hitting .236 with a very respectable .377 on-base percentage but his slugging has dropped to .324. He has successfully stolen in 15 of his 16 attempts over his previous 51 games. His BABIP has fallen from .360 in the first half to .315 in the second half, and his strike-out rate has shrunk from once every 6.4 plate appearances to once every 4.87 times at bat. Maybe the grind of his first full season in a few years is wearing on him; maybe the league is catching up. It's worth it to note that, over his last 107 plate appearances, he's hitting an impressive .301/.443/.410.
For the Yankees, then, they have a choice to make with Gardner and left field after the year is up. He's clearly capable of putting up above-average Major League numbers and being an exceptional player. He's also still under team control for a few more years: He won't hit arbitration until 2012, and free agency won't come to Brett until 2015. So does the team look to upgrade to a power-hitting free agent this year?
A month ago, I wasn't so sure, but right now, I doubt anyone other than Gardner will start in left field next year. His presence on the team gives the Yanks flexibility in spending because they're not pouring millions into that corner outfield position and are in fact getting $20 million worth of production out of their $452,00 investment. Even if he's not a five-win player again next year, he'll easily be in the 2.5-4 win range. Plus, his patience and ability to get on base — arguably his biggest assets at the bat — have not diminished as his hitting has slumped during the second half. I'd love to see Brett Gardner hit more doubles and a few more line drives, but as the Yanks enter a stretch of the season where every run is sacred, Gardner will have his role to play yet.