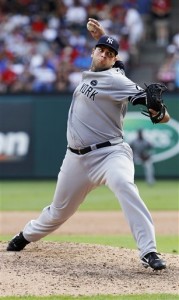 As predictable as it was, the trio of Kerry Wood, Joba Chamberlain, and David Robertson have emerged as Joe Girardi's trusted righthanded setup crew over the last few weeks while Boone Logan has taken advantage of Damaso Marte's injury to become his go-to-lefty. With the Yankees still in the division race and a few wins away from clinching a playoff spot, he's leaned heavily on those four plus Mariano Rivera in the late innings of close games. Heck, even Chad Gaudin seems to emerged as that next guy, the one who's just outside of the regular setup crew that sees plenty of work in what we'll call "various" situations.
It's still September though, and the Yanks have a full arsenal of relievers on hand aside from those six mentioned above. They've called up three extra arms this month, and remember, they had a 13-man staff before that with Lance Berkman on the disabled list. The call-ups and spare long men haven't seen much action at all (as you'd expect), so let's recap where each of those guys stand…
Jon Albaladejo
The Triple-A relief ace hasn't appeared in a game since Sept. 12th, which is when he worked the final 1.1 innings of a game in which the rest of the team was busy getting shut down by Cliff Lee and the Rangers. Since being recalled at the start of the month he's appeared in four games, throwing three innings and allowing a pair of hits and a walk while striking out three. Those three baserunners each reached in his last appearance, so the three before that were pretty solid except for some hit by pitches. Albie seems to be the favorite among the extra, sparsely used relievers, probably because he has seniority.
Sergio Mitre
Girardi's love affair with Mitre always seemed questionable at best, especially since their relationship dated back to their time in Florida and Serg never really did anything on the field with the Yanks to stand out. He last appeared in a game on Sept. 13th, when he gave up the walk-off homer to Reid Brignac, the only batter he faced. Prior to that he had appeared in just one game since August 27th, and two since August 20th, so that's three total appearances in the last 32 days. Clearly, he's just a "break glass in case of emergency" long man right now.
Dustin Moseley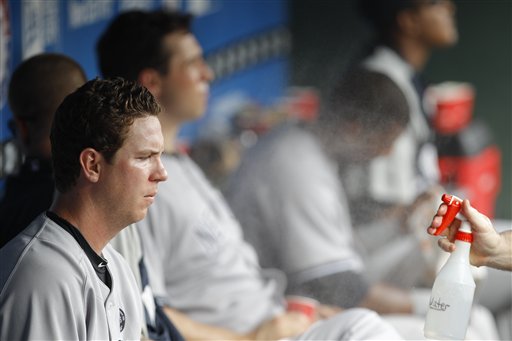 To be perfectly honest, I had completely forgotten that Moseley existed until Ben mentioned his name last night. The last time he pitched was his start in Texas against Lee, the same date as Albie's last game, when he pitched admirably for six innings before turning back into Dustin Moseley in the seventh. His only other appearance this month came on Sept. 4th, which is when Girardi brought him in with runners on the corners and two outs against the Blue Jays only to watch him give up a double to Lyle Overbay to tie the game. You remember that, it was the mother of all second guess moves.
Royce Ring
Recalled last Wednesday, Ring has yet to appear in a game for the big league team. The lefty last pitched on Sept. 9th, when he faced two batters in Game Two of Triple-A Scranton's playoff series with Columbus. He walked one and got the other to ground out. Ring is the definition of a LOOGY, so his appearances-to-innings pitched ratio is well below one this year. At some point Girardi will call on him to get a lefty out, maybe even tonight since Logan has faced multiple batters in each of the last two games.
Romulo Sanchez
Sanchez was promoted over the weekend and Girardi hasn't called on him yet. Before that he was recovering from an apparently minor elbow injury that had him on the Triple-A disabled list, so he hasn't pitched in an actual game since August 24th, his only outing in the last 32 days. For a guy that's wild as it is, I can't imagine that's a good thing. Luckily he won't be seeing any high leverage work anytime soon.
Javy Vazquez
Oh Javy, how the mighty have fallen. It's seems like ages ago that the righty posted a 2.75 ERA during an 11 start stretch from mid-May to mid-July, but now he's so out of favor that he's nothing more than a highly paid mop-up man. Vazquez hasn't pitched since starting in Texas on Sept. 10th, when he allowed four runs in five innings of work. He has warmed up a few times since then, but Girardi seems completely disinterested in using him. Given his disappearing fastball and hit-me-breaking ball, can you blame him?
* * *
The Yanks' magic number to clinch a playoff spot is down to just five, so any combination of Yankee wins and Red Sox losses totaling that number will put the Yanks in the postseason for the 15th time in 16 years. Barring another epic slump, they'll clinch that spot by the end of the weekend, giving Girardi a chance to rest his regulars and line up his rotation and all that. That's when Albaladejo and Ring and Mitre will really start to see some action, and chances are Moseley and Vazquez will make some spots starts as they try to line up CC Sabathia, Andy Pettitte, A.J. Burnett, and Phil Hughes for the ALDS.