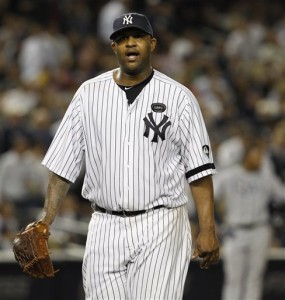 Joe Girardi announced after last night's game that CC Sabathia will in fact make tonight's start on his normal turn rather than be pushed back to Friday, which would have set him up perfectly to start Game One of the ALDS on normal rest. Instead, the Yanks are prioritizing their magic number of one over setting up the playoff rotation. There's almost no other way to view this move as anything but panic and shockingly bad decision making.
Like I said, the magic number is one. All the Yankees have to do to finally clinch that damn playoff spot is win one of their last five regular season games or have the Red Sox lose one their six remaining games. There's no need to pray for a miracle here, no need to go out and make such shortsighted decisions. I know that everyone on the team has maintained that they still have their eyes on the division and home field advantage, but get real. The Rays hold a virtual one-and-a-half game lead (because of the tie breaker) and time has simply run out on that front. This recent 6-14 stretch has ruined any AL East crown aspirations.
So what happens now is that Sabathia starts tonight's game, then has a full eight days off before starting Game One of the ALDS next Wednesday. They could do something ridiculous like have him throw 40-50 pitches on Sunday as a tune-up, but who knows if or how that will work. That's why starting him tonight is so asinine. Instead of starting him Friday and getting the eight day's rest out of the way early they're doing it backwards and rolling the dice that the long layoff won't effect their ace too much. That seems like a mighty big risk to take given the importance of next Wednesday's start.
There's no question that Sabathia could use a little extra rest before the playoffs, everyone can, it's just a matter of when he gets it. He's two outs away from last year's total of 230 regular season innings with one start left. Because of their enormous division lead, the Yanks were able to give all of their starters extra days off last September, with CC's last four starts coming on no fewer than five day's rest. There has been no such luxury this year, with just one of his last four starts coming on more than the usual four day's rest. After 266.1 combined innings (regular season and playoffs) last year, the Yanks have been unable to give their ace a little bit of a breather down the stretch. There's nothing they can do about it now, they just have to hope for the best next Wednesday.
The alternative to Sabathia tonight would be Javy Vazquez, who hasn't had a good start in what feels like months. Even if he were to lose they'd still be able to fall back on Andy Pettitte tomorrow to clinch that playoff spot, or Phil Hughes over the weekend. Like I said, all it takes is one win or one Red Sox loss the rest of the way to lock up that playoff berth. If the worst case plays out the and the two teams need to play a Game 163 to determine the Wild Card, well then the Yankees have far, far bigger problems that setting up their playoff rotation.
Who knows, maybe Sabathia went to Girardi and rest of the decision makers and demanded the ball for tonight's game. He's proven to be a rather dogged competitor that always puts the team first, but that's a situation where the parents have to take the lollipop away from the kid. They have to do what's best for the team rather than meet CC's wants, and in this case the most important thing for the Yankees is to get their playoff rotation in order. Starting him tonight does the exact opposite.
The Yanks have been playing like garbage for close to three weeks now and like a .500 team for two months, and it's turned up the heat in the kitchen a little bit. They still have a 99.8% chance of making the playoffs, and get that final 0.2% seems to have consumed the decision making. Girardi's managerial style has flip flopped between resting players for the long haul and slamming his foot on the pedal to win this month, but this is a scenario where he and everyone else involved needs to lay back and look at the big picture. The lack of … I almost want to call it planning and foresight, is stunning.
A lot of things have gone wrong over the last few weeks, particularly with the starting pitching. Vazquez lost his job to a rookie that struggles to complete five innings, A.J. Burnett has been historically bad, and Andy Pettitte's return from a groin injury has been half good, half awful. They have one sure thing in the starting rotation right now, and that's CC Sabathia, but they sure are doing one hell of job in trying to screw that up too.