It's tough to call any game a must win at this point of the season given the Yankees' comfortable lead on a postseason berth, but Tuesday's game was about as close to a must win as it comes. Losers of four in a row and seven of eight, the Yanks needed something to feel good about. A long, rollercoaster ride of a game later, we're looking at what might be the biggest win of the season for the Bombers.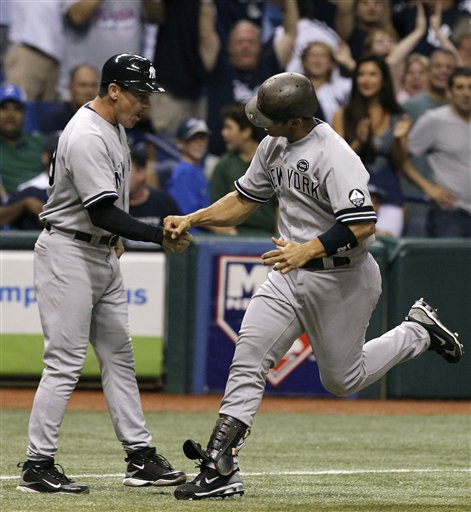 Biggest Hit: Jorge Goes Boom
We've seen a lot of monster homeruns this year (I'm talking distance), but very rarely do they mean anything. Usually it's a tack-on run or a meaningless homer in June or something, but Jorge Posada's tenth inning blast in this one was big in every way. Big on the scoreboard, big on distance, big in the standings.
The two teams played to a seven-all tie through the first nine frames, and given the Yanks' recent play, it's completely understandable if you were sitting watching the game wondering how they'd lose this one. Even the most hardened of fans had to have their doubts given the past week, so each scoreless inning by the bullpen just seemed like a delay of the inevitable. Jorge Posada changed all of that with one swing of the bat, a swing that sent a 2-0 Dan Wheeler fastball into orbit. When it did finally return to Earth, it landed on top of the restaurant in centerfield, 445 feet from home plate according to ESPN, and gave the Yankees an 8-7 in extra innings.
Big distance, big run, big WPA swing. Try 0.328. Massive for a non-walk-off hit.
Honorable Mention: Cano Ties It Up
As great as the ending of this game was, the middle was throw the remote worthy. The Yanks pushed six runs across in the first five innings, the most comfortable lead they had in more than a week. Of course, Tampa took it all back and then some, scoring seven runs in a fifth inning that was capped off by a Willy Aybar three-run homerun off Boone Logan.
Obviously deflated (it's hard not to be after that), that old Yankee resolve reared it's glorious head and the Yanks managed to tie things back up in the very next half inning. Granderson led off the frame with a walk against rookie Jake McGee, and Mark Teixeira pushed him into scoring position with a single to the opposite field. Two batters later, Robbie Cano knotted things back up with an run-scoring double into the rightfield corner, his 98th RBI of the season and a new career high. That's all well and good, but the score was back even, and that's all that mattered.
Biggest Out: Nobody Runs On Greg Golson … Nobody!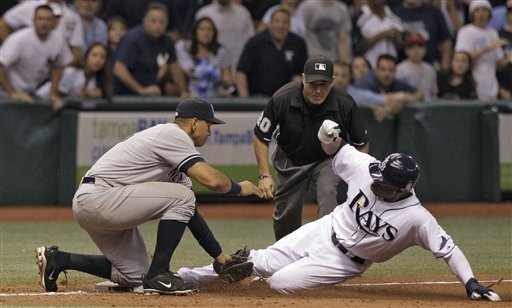 The 2009 Yankees were the kings of the walk-off, but one thing they never did was win a game on a walk-off throw. That's exactly what happened in this game, when Greg Golson gunned down Carl Crawford – a nice, slow runner, you know? – trying to advance to third on a fly ball to rightfield. It was an absolutely perfect throw, right on bag, handled beautifully on the short-hop by Alex Rodriguez before he applied the tag. It really gets no better than that. Crawford makes it in safe 99 times out of 100 on that play, but luckily for the Yanks, this was that one.
The most amazing part about it is that Golson didn't even think Crawford was going, as he admitted after the game. It wasn't until he heard Curtis Granderson yelling from centerfield that he prepped and threw flatfooted. "Who ever would have thought Greg Golson would make a huge play in the middle of a great pennant race?" said A-Rod after the game, meaning no disrespect to the kid. Hell, I'm sure Golson himself would tell you that. What a throw.
Curtis Muthaf*%&in' Granderson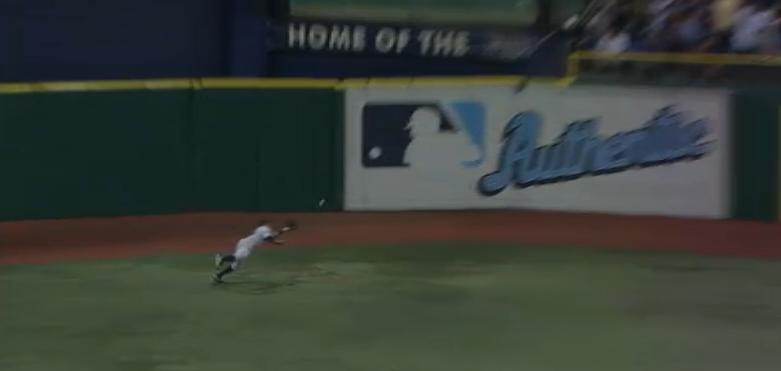 The Grandy Man has been the target of much criticism this year, and justifiably so. You don't come to New York and hit .248/.322/.444 one year after being an All Star and expect to get a free pass, but Granderson showed everyone what he's capable of doing in this one. He launched a monster opposite field double in the first inning, then yanked one into right-center two innings later for his second two-bagger. A few innings after that he drew a walk that started the game-tying rally. And none of that represents his best play of the game.
As the game entered the late innings, one swing is all that it would take for the Rays to win, as we learned so painfully on Monday. Ben Zobrist, .368/.538/.895 over the last week or so, connected with a David Robertson offering with two outs in the ninth, and although it didn't have the distance to leave the yard, it was a no-doubt extra base hit off the bat. With a favorable bounce, we might be talking about an inside-the-parker, which would have cut the population of Yankee Universe in half after everyone got done jumping off the bridge.
Granderson was having none of that nonsense. He got right on his horse, broke right away for right-center, dove and made the full-extension catch in the gap. It was arguably the greatest single defensive play of the Yankees' season, and that's not hyperbole. Here's the video if you don't believe me. It was a glimpse of Grandy's game-changing talent, and it couldn't have come at a better time.
Not So Super Nova
There's been a bit of a pattern in each of Ivan Nova's first five big league starts; he starts out strong, then struggles the second and third times through the order. This game was no different, as he cruised right through four innings of work before completely imploding in the fifth.
Staked to a six-run lead, he gave up a solo homer to Carlos Pena to lead off the frame, hardly a fireable offense. B.J. Upton followed that with an opposite field double, not the end of the world, especially when Reid Brignac strikes out as the next batter, but there seemed to be no escape after that. Three singles, a walk, and a grounder later Nova was out of the game, handing a two-run lead over toLogan with two men on. All the Yanks needed was one out, but they couldn't get it until after Aybar put Tampa ahead with a three-run blast to left.
It's pretty obvious that Joe Girardi left Nova in so long because he was trying to get him to complete five innings and thus put him in line for the win, but the move backfired in a big way. The Yanks got away with it in the end, but man, that was an absolute disaster inning. Every bit as bad as Granderson's catch was good.
Leftovers
Two more hits and a walk for Derek Jeter, who has now reached base seven times in three games since getting a day off in Texas. It all starts with the Cap'n, as he goes, so does the lineup.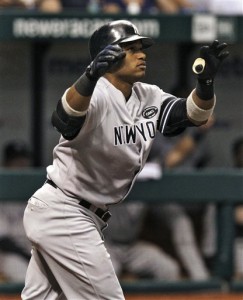 While his game-tying double was his biggest, Cano also launched a two-run homer early in the game to extend the Yankees lead. He reached base four times and drove in three. A-Rod also went deep, turning around a 94 mph Matt Garza fastball in the fifth for a solo shot. He won't get the seven needs to reach 30 for the 13th straight season, but as long as he's peaking at the right time, I couldn't care less how many homers he hits.
It all turned out fine in the end, but how in the world was Colin Curtis allowed to bat for himself with the bases loaded and two outs in the sixth? That's where Posada has to be deployed, not with no one on to leadoff an inning. Anyway, no harm no foul, I begrudgingly guess.
Four strikeouts in five plate appearances for Austin Kearns, who continues to look absolutely horrible at the plate. With Nick Swisher and Brett Gardner banged up, the Yanks are going to need him, so he better snap out of it soon. The other deadline pickup, Lance Berkman, singled and walked, continuing his recent stretch of awesomeness.
After Logan served up the homer to Aybar, the bullpen threw five scoreless innings, allowing just one hit and a walk while striking out seven. Can't say enough about the job those guys did, and they sorely need Thursday's off day to rest and recoup.
The win moves the Yankees back in first place in the AL East, albeit by just half-a-game. The magic number to clinch a playoff berth is down to just 11.
WPA Graph & Box Score
Now that's a fun one, isn't it? Of course the middle innings took years off my life, but so be it. MLB.com has the box score and video, FanGraphs everything else.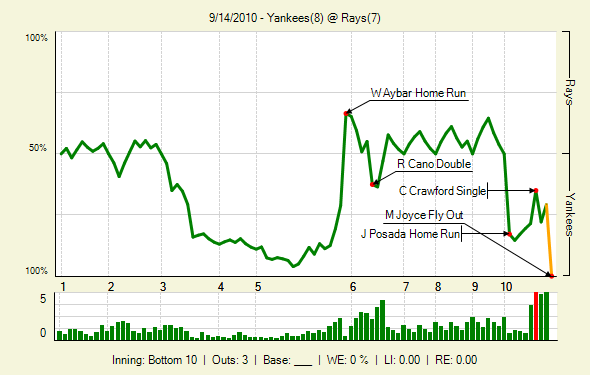 Up Next
The rubber game on Wednesday will pit Phil Hughes against changeup guru Jamie Shields. No question about it, the Yanks need a big-time outing from their young starter.