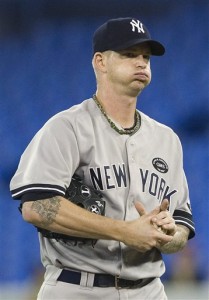 In what has become and all too familiar scene this season, A.J. Burnett put the Yankees in an almost immediate hole, a hole too deep for the offense to dig out of. Sure, they showed some signs of life in the later innings, but they then it was too little, too late. A September to forget continued with a 7.5 loss to the Blue Jays.
No Good, Very Bad A.J.
Honestly, I don't really want to recap Burnett's latest stinker. He got tagged for seven runs on seven hits (three singles, two doubles, two homers) and a walk in just two-and-a-third innings of work against his former team, reducing the Yanks' win expectancy to just 2.9% less than a third of the way through the contest. Every ball was scalded too, don't think he was victimized by a few bloopers or anything like that. A.J.'s season record now sits 10-15 with a 5.33 ERA, awful numbers for anyone allowed to make 32 starts and throw 180.2 innings, nevermind a guy paid $16.5M annually to be a number two starter on a championship team.
Burnett lines up to make one more start this season, Game 162 on Sunday, but there's quite literally nothing he could do to regain the confidence of the fan base at this point. If Joe Girardi and the rest of the Yankee brain trust are foolish enough to trust this guy in a playoff game, then they deserve what they get.
No Good, Very Bad Offense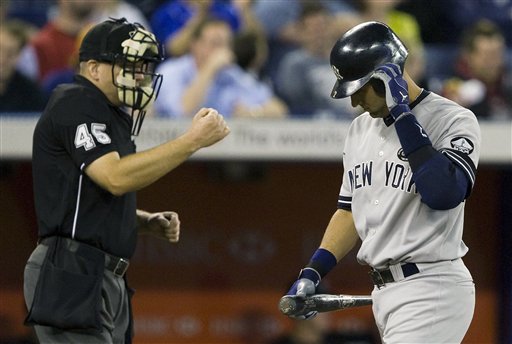 Oh yeah, let's not forget how punchless the lineup looked on this fine evening. Marc Rzepczynski, he of the 5.75 ERA coming into the game, didn't just keep the Yanks at bay in his five innings for work, he dominated them. Nine of the 15 outs he recorded came on strikeouts, and one point he struck out five straight and seven of nine. Curtis Granderson tagged him for a two run homer in the fifth, but Derek Jeter killed what could have been a rally two batters later when he grounded into his 21st double play of the season. Rzepcynski walked three batters and allowed two hits in the inning, but gave up only two runs. Story of September.
Mark Teixeira made it seem like a game with a three run homer in the seventh inning, but otherwise the offense did nothing of note. Of the final four Yankee batters to come to the plate, three were ahead 2-0 or 3-0 in the count, and all three made outs. Again, story of September.
Okay, Pretty Good Bullpen
I guess the one bright spot in this game was the work of the bullpen after Burnett departed. Jon Albaladejo cleaned up A.J.'s mess than chipped in a scoreless inning on top of that. Dustin Moseley gave Girardi two scoreless, David Robertson four somewhat scary outs (he did give up some hard hit balls), Boone Logan two pitches and an out, Chad Gaudin three pitches and out. Once Burnett was out of the game, Yankee relievers allowed just two hits and two walks in 5.2 innings of work. So yeah, hooray for that.
Leftovers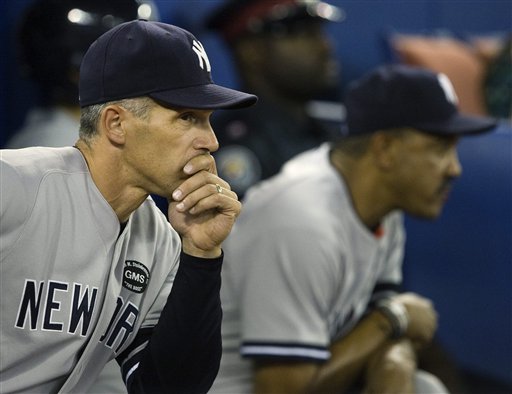 Austin Kearns picked up two hits and a walk, but he also struck out for the 14th straight game in which he's played. I'd call that rather dubious. With 14 strikeouts as a team, this was the 25th time this season the Yankees struck out at least ten times in a game. It's the 15th time it's happened since July 31st, a span of just 54 games. I blame Kearns and only Kearns. Am I doing that right?
Hard to believe, but Grandy's slugging percentage (.474) is dangerously close to Mark Teixeira's (.488) even counting both player's homers from this game. Who saw that coming two months ago?
This was New York's 14th loss in their last 20 games, and they're now just 27-26 in their last 53 games. Prett-ay, prett-ay awful if you ask me. They're playing like crap and seem to be bottoming out at the worst possible time. Good thing a playoff spot in pretty much in the bag.
The Rays lost to the Orioles, so the Yanks still trail Tampa by half-a-game in the AL East with five to play. It's effectively a one-and-a-half game lead though because the Rays hold the tie breaker. The Red Sox pounded the White Sox, so the magic number to clinch a playoff spot remains at one
WPA Graph & Box Score
Thanks, A.J. ESPN has the box score, FanGraphs some other cool stuff.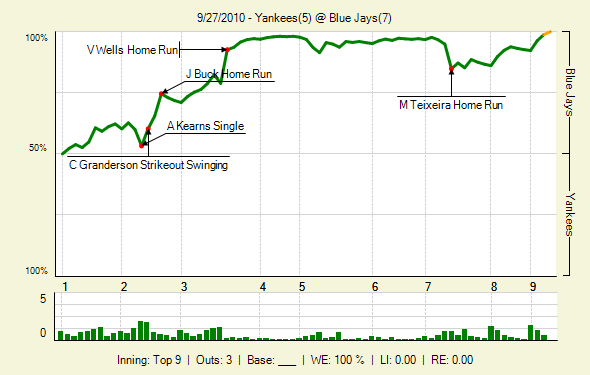 Up Next
We'll have more on this tomorrow, but the Yanks will send CC Sabathia to the mound on Tuesday in what can only be described as a panic move. It's tough to say otherwise since it throws Sabathia completely off schedule to start Game One of the ALDS. And the best part? Toronto's throwing Kyle Drabek, a pitcher the Yankees have never seen before. That usually ends well.