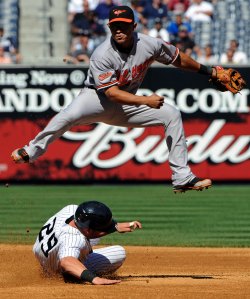 Of the many things that irk me during the course of a baseball game, none stings worse than a double play. Fielding errors might induce teeth grinding and passed balls might make me yell at the TV. But nothing makes my blood temperature rise like the ol' 4-6-3. Can't the batter have the common courtesy to just strike out in that situation?
This season, for the most part, the Yankees have avoided the double play. They've hit into 105 of them, fourth fewest in the AL, despite putting more men on base than any other AL team. Only Tampa Bay has a better men on base to double play ratio. It might seem like they hit into a lot; Derek Jeter, after all, seems to hit a grounder to second or short every time there's a man on first with less than two outs. But that's just confirmation bias at work. The Yankees do not hit into a lot of double plays.
Lately, though, the problem has seemed worse than ever. That's what got me looking at the data. I was pleased to find the team's overall success in avoiding the double play, but I wondered if that was something that had changed lately. Looking at the game log, it appears as though the GIDP trend started on August 20, when the team hit into two of them. Since then they have had eight multi-GIDP games, including four straight at the end of August. Because of this, I'll use August 20 as the line of demarcation.
From the start of the season through August 19 the Yankees grounded into 81 double plays, or one every 58.4 PA. In that period they put 1,532 men on base via hit, walk, hit by pitch, or error, minus home runs. That means they hit into a double play once every 19 times a man reached base. It's an inexact measure of GIDP efficiency, since we don't know how many times exactly they were in double play situations. But for our purposes it will work just fine.
Beginning with the Seattle series, the Yankees have grounded into 24 double plays in 721 PA, or once every 30 PA. They've put 240 men on base during that period, so they've grounded into a double play once every 10 times a man reaches base. So yes, they have certainly hit into more double plays lately. It makes me want to lob a brick through my TV. It seems like they've killed so many run-scoring opportunities. Only, they really haven't.
In the 19 games since August 20, the Yankees have a team .359 OBP, which is a bit better than the .349 mark that they had produced through August 19. Yet despite putting more men on base, they've scored fewer runs. Of the 268 men who reached base since August 20, 107 have scored, or 40 percent. From April 4 through August 19 they put 1,678 men on base and had 644 of them score, or 38.4 percent. That seems a bit off, right? If they're killing more of their base runners via the GIDP, would they be getting fewer of those runners around to score?
Much to our delight, the Yankees have hit more home runs during this GIDP skid. Before August 19 they hit a homer every 32.4 PA. Since then they've hit one every 25.75 PA. Double plays might be frustrating, but home runs are pure joy. So while we've seen the Yankees kill more of their base runners than before, we've also seen them sock some dingers. So shouldn't the corresponding trends even out and leave us with relatively equal happiness?
To those who can look past their petty emotions, sure. But most of us can't do that. We live and die by this team. We watch them 162 times a year, and even though we know they're going to lose 60, 65 games those losses still sting. Included in the emotions we feel during the game is loss aversion. People prefer to avoid losses rather than acquire gains. So while the homers have helped the team score a larger percentage of its base runners, we still react with greater intensity to the double play, because we can't stand the loss. So while the homers and double plays might balance out in reality, they do not in most of our minds.
Thankfully, the double play thing is most likely a blip on the radar. We are, after all, talking about just 13.2 percent of the team's plate appearances this season. There will be hills and there will be valleys. I imagine that as September wears on we'll see fewer GIDPs. If the Yanks can also sustain their current HR pace, that's going to be all the better for the offense. In the meantime, though, I'll remain frustrated every time there's a runner on first with less than two outs and someone hits an easy grounder to second or short. Makes me tear my freaking hair out.