After a pair of blow out losses the last two nights, the Yankees looked to be headed down that path again on Friday. Down nine runs at one point, they rallied back on the stretch of many, many homers to bring the tying run to the plate in the bottom of the ninth inning. Alas, it was not meant to be, as Jon Papelbon wiggled his way out of trouble and helped keep his team in the race for another day.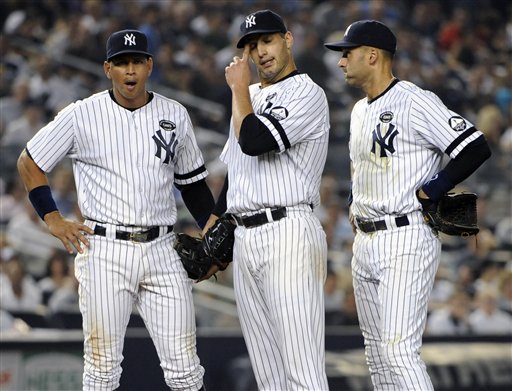 Lowrie Starts It Off For The Sox
WPA doesn't seem to do a real good job with blowout games like this, but tonight my emotions agreed with the biggest hit of the game. That was Jed Lowrie's three run homer in the second, one batter after Nick Swisher muffed a semi-routine fly ball/line drive/fliner. I think we all felt confident with Andy Pettitte on the mound and a fully rested bullpen, but that shot to rightfield kind of took the wind out of the sails. It increased Boston's chances of winning by more than 21% despite being so early in the game, and you could feel it when the ball landed too. Oh well.
Honorable Mention: Hall Goes To Zaaaaaales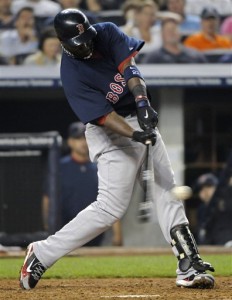 The fifth inning was like the culmination of every Yankee problem ever. The Red Sox scored three runs in the inning on a Bill Hall homer off the Zales sign in the visitor's bullpen after Jon Albaladejo recorded two quick outs to lead off the frame. We know all about this two out runs thing. Of course, those three runs appeared to be nothing more than meaningless tack-on runs at the time (the score was then 10-1), but the Sox ended up needing every last one of them. The Yanks have learned a thing or two about the consequences of not scoring insurance runs in the last few weeks, haven't they? So much fail, so little time.
Almost
They call them the Bronx Bombers for a reason, and they showed why in the sixth and seventh innings of this one. Curtis Granderson got the Yanks on board early on with a third inning solo shot, his 12th in the last 40 games or so, but the omgBOOMstix didn't really come out a little later. Mark Teixeira whacked his first homer of the month off Josh Beckett in the sixth, and one batter later Alex Rodriguez took him deep for the Yanks eighth set of back-to-back jacks this season.
With Beckett still out their next inning, Nick Swisher drove in Derek Jeter with a two out homer, and then A-Rod went deep again with Tex on base two batters later, though this came off Scott Atchison. In the span of ten batters, Red Sox pitchers allowed four homers. Teixeira hit his second of the game with two outs in the ninth, bringing the Yanks to within two. Joe Torre used to always say that homers where only good for catching up quickly or extending the lead (dry humor ftw), and that's exactly what we saw tonight. It's too bad they didn't have one more in their bats.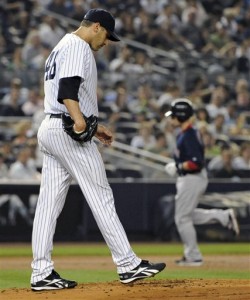 Bad Andy
As good as Andy Pettitte was in his last start against the Orioles, that's how as bad as he was tonight (/McCarver'd) (no seriously, read that sentence in his voice). It was just hit after hit after hit, some legit line drives, others dinky little bloopers, but they all count the same. Pettitte was falling behind hitters quite a bit which hurt him, obviously, and the end result was ten hits, seven runs, and ten outs. At least he didn't walk anyone.
Joe Girardi said before the game that the goal was 95 pitches for Andy, but he was lifted after throwing just 75. I wouldn't be surprised if he went to the indoor batting cage under the stands and threw some more after being taken out, but who knows. He has one more start left this season and needs to get stretched out to over 100 pitches for the postseason.
Leftovers
The Yanks became just the fifth team this century to hit six longballs in a game and lose, and just the second Yankee team to do it since 1961. A new low every day, eh? On the bright side, The O'Neill Theory is in full effect for tomorrow, and that's always a good thing.
Jeter extended his hitting streak to a baker's dozen, and both Tex and A-Rod each reached base three times (well, four of those were homers, so they weren't technically "on base"). Grandy also had three hits to push his batting average over the .250 mark. The bad news is that the 4-5-6 hitters (Robbie Cano, Lance Berkman, Jorge Posada) went a combined 0-for-12 with just one walk. Cano, of course, struck out to end the game. Getting something out of them would have helped.
Teixeira has definitely been swinging the bat a little better in the last three games. He hit a homerun ball on Wednesday that went just foul into the second deck, then he doubled and had another two-bagger taken away from him by Rocco Baldelli on Thursday, then tonight there were the two homers, his first two of the month. He's going to have to produce for them down the stretch and into the playoffs, so it's good to see him getting back on track.
Sergio Mitre, pitching for the first time in 11 days, kept the Sox off the board for two innings before giving way to filthy dirty Kerry Wood, who got the next four outs. Boone Logan then came in and got two outs on three pitches against lefties David Ortiz and Lars Anderson. Aside from AAAAlbaladejo, very nice work by the bullpen tonight. Wood threw just 18 pitches, so I'm certain he'll be available tomorrow if needed.
The Rays beat the Mariners, so they took over first place in the AL East and lead by half-a-game. The Sox crept to within six-and-a-half games of the Wild Card with just eight to play. The Yanks have won just 26 of their last 50 games and are now just 6-12 in their last 18 games. Their playoff ticket is very close to being punched, but it hasn't been just yet, so they really need to start playing better. Start taking it easy when you've clinched something.
WPA Graph & Box Score
I guess the rally wasn't as great as we thought. MLB.com has the box score, FanGraphs some other stuff.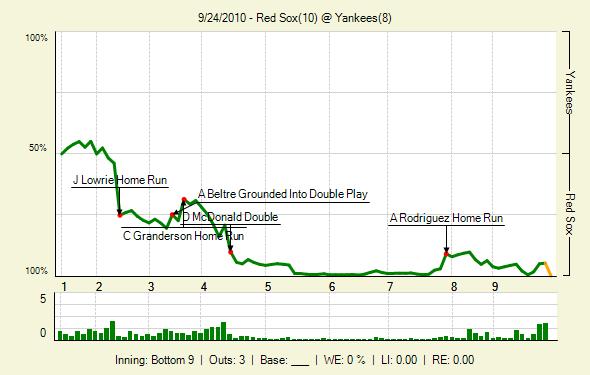 Up Next
You ready for some FOX baseball action? Cause that's what you're getting tomorrow when these two clubs meet again at 4:05pm ET. Ivan Nova gets the ball against Jon Lester. Hopefully the kid won't lose it the third time through the order, but I'm not holding my breath.