Despite their generally mediocre starting pitching and lack of Alex Rodriguez, the Yankees managed to reel off three straight wins coming into Tuesday's game against the Athletics, and they wasted no time making sure it would be four in a row. The struck early and often with a loud offensive attack that featured homers, double steals, triples from unexpected sources, you name it. They had it all working tonight, which led to a rather easy 9-3 win.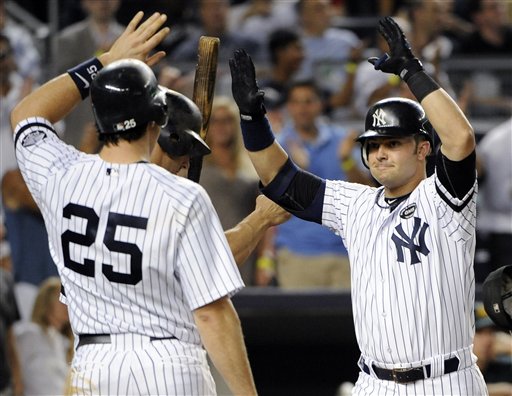 Biggest Hit: Swish Goes Boom
The Yanks showed no mercy to Jersey boy Vin Mazzaro, jumping all over him for three runs in the very first inning. The A's battled back for a run in the third, but that's when our beloved Bombers put their foot down. Mazzaro had been flirting with disaster all night, but they weren't going to let him off the hook anymore.
Derek Jeter started the frame off with a groundout before Mark Teixeira singled over the shift with one out. That's where he remained when Nick Swisher came to the plate two batters later with two outs in the inning. Mazzaro was mixing his curveball, changeup, and fastball all night, but nothing seemed to work for him. His first pitch curve dropped out of the zone for a ball, then a fastball and changeup sailed up and away for strikes two and three, respectively.
With his quieter and more, dare I say, professional setup at the plate, Swish has turned it loose five times with a 3-0 count this year, getting four hits including a double. Prior to this season, he'd gone after a 3-0 pitch just two times (!!!) in his career. That's quite a difference. I remember Jorge Posada going deep on a 3-0 count a few weeks ago, so maybe this is a new team-wide philosophy. Anyway, you know what happened next. Swisher swung at Mazzaro's 3-0 heater, and tomahawked it deep into the second deck in rightfield for a 5-1 lead. The homer improved the Yanks' chances of winning by 13.4%, easily the most damaging hit of the game.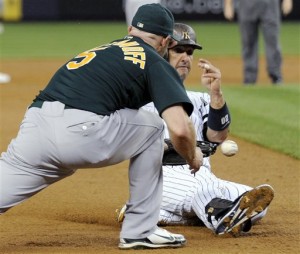 Honorable Mention: Jorge Goes For Three
We don't see it often, so when it happens, we've gotta mention it. Jorge Posada, whose speed is typically measured in fractions of the Molina scale, hit a triple in this game, the tenth of his career. It was hit first three bagger since April 26th of 2008, and overall the Yanks are 8-2 when he hits manages to hit one.
As you'd expect, it wasn't a standard rip the ball into the gap and run it out triple, it was a deep fly ball to left that bounced off the top of the wall and away from leftfielder Jeff Larish. Posada slid into third as the ball scooted by Kevin Kouzmanoff for a run scoring triple that put the Yanks ahead by three in the first inning. That's pretty much when you knew things were going to go New York's way.
Inefficient Phil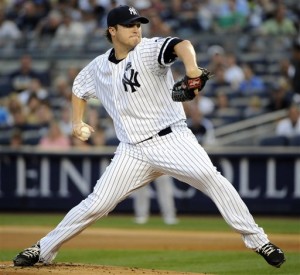 Much like his last start, Phil Hughes wasn't at his best in this one, running up a high pitch count and hurting himself with walks. It wasn't quite as bad as his outing against the Blue Jays, but then again the A's aren't as good as our neighbors to the north. Four of the nine batters to reach base against Hughes do so with two strikes, and overall they fouled off 19 pitches, eight with two strikes. He walked five guys on the night (just one strikeout), giving him ten total walks in his last two starts after walking just nine in his previous eight starts combined.
It was just five innings of work, but Phil needed 98 pitches to do it, and just 52 of those 98 pitches (53.1%) went for strikes. Maybe it's just me, but Hughes definitely looks like he's in a need of a little breather, he's been laboring an awful lot of late. Perhaps the Yanks will skip his next start or two to give him a rest, maybe they'll just wait until later in the month once they have a playoff spot clinched. Yeah, his previous career high is 146 innings, but that was four years ago. I wouldn't be surprised if all the work this season was catching up to him.
Leftovers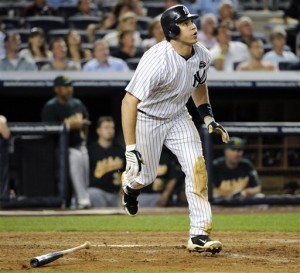 As you can imagine, there were several big performances offensively. Brett Gardner singled, walked, stole two bases, and scored a pair of runs. Teixeira had two hits including his 30th homer of the season. Curtis Granderson ran into one for his 15th homer of the season, his fifth since revamping his swing earlier this month. Ramiro Pena picked up yet another hit, and is now eight for his last 28, a more than respectable .286 batting average.
Speaking of Tex's homer, the guy that caught it was Rob Iracane's father. Rob's been a friend of RAB for quite some time and one of the fellas behind the always entertaining Walkoff Walk. Cool little moment for them, glad they got some face time on YES.
Marcus Thames went 0-for-4 with three strikeouts. He's allowed to have one of these every once in a while. I guess.
Very quietly, Chad Gaudin had himself a nice little August. He threw three innings of one run ball tonight, pushing his ledger for the month to 13 innings, five runs, and ten strikeouts. Three of those five runs came in his last time out, so he was effective much more often than not over the last 31 days. The lone run in this game came on a seventh inning solo homer with the Yanks up by seven, excusable even by the strictest of standards.
Both the Rays and Red Sox lost, so the Yanks now have a one game lead in the division and an eight game lead on the Wild Card. Can't complain about that. Nope, can't complain at all.
WPA Graph & Box Score
I've said it before and I'll say it again: I love it when these things hug the Yanks' side for four-plus innings. MLB.com has the box score and the video, FanGraphs the other stuff.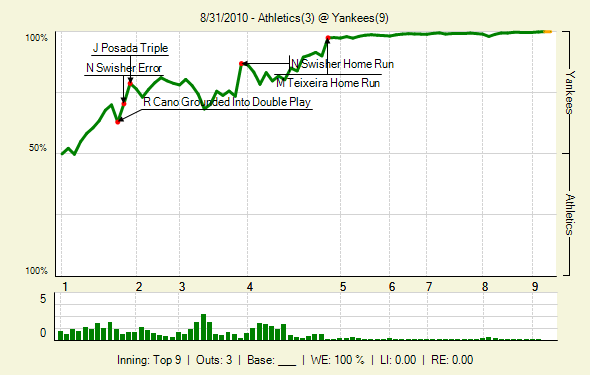 Up Next
Same two teams tomorrow night when A.J. Burnett tries to straighten himself out against personal fave Brett Anderson. With any luck, the Yanks will make it five in a row.