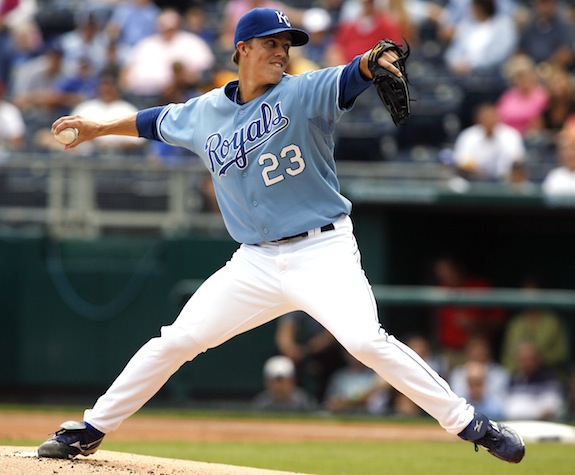 What if? What if? What if? What if Andy Pettitte retires? What if Cliff Lee stays with the Rangers? What if the Yankees are left empty-handed on the open market and are forced to contemplate a rotation with only CC Sabathia, Phil Hughes, A.J. Burnett and a whole lot of question marks? Those are the questions of which nightmares are made for Yankee fans.
As the ALCS plays out, the Yankees know they have a mini pitching problem on their hands. Last year, they used just three starters en route to their 11-4 run through October, and this year, they saw A.J. Burnett spit the bit in a pivotal Game 4, which also happened to be his first start since October 2. Their supply of reliable pitchers has dwindled, and that number could sink even further.
We're awaiting the end of a series against Cliff Lee, and many in baseball seem to think that Game 7, if it comes to it, could be the last time Cliff Lee faces the Yankees for a few years. If you can't beat, the saying goes, throw enough money at him so he'll join you. If it's about the money, as Patrick Rishe at Forbes explored earlier this week, Lee will land in New York. He could make around $180-$200 million in salary and endorsements if he signs with the Yankees, and the Rangers, despite their new-found wealth, can't even begin to approach a $25 million annual commitment for Lee.
But it's baseball, and we can't predict it. If Lee re-ups with Texas, the Yankees will look to the trade market, and as we know, the Royals will listen to offers for Zack Greinke, the 2009 Cy Young Award. The mercurial right-hander is owed $13.5 million in 2011 and 2012, and the perennial small-market Royals would love to clear some salary.
On the surface, Greinke is an alluring target. Despite suffering through a down-year — by his standards at least — the 27-year-old has some impressive numbers over the last three seasons (and for what's it worth, Buster Olney's sources think that Greinke's numbers were down because he was bored in Kansas City last year). He's made 98 starts with an ERA of 3.25 and a FIP of 2.98. He's given up less than a home run while averaging 2.2 walks and 8.4 strike outs per 9 innings. He won't come cheap, and because my trade proposal is bound to suck, there's no point speculating. If the Mariners wanted Jesus Montero plus for three months of Cliff Lee, we can only imagine what the Royals should want for two full years of Greinke.
Olney, who first broke the Greinke story, listed his most likely destinations a few days ago. Interestingly, the top 13 unlikely destinations are mid-market teams that are a player or two away from competitiveness. Those are the franchises that could truly stand to benefit from a Greinke trade. The Yankees and Red Sox, says Olney, are among the ten teams with the pieces to land Greinke and perhaps the need too. He writes:
The first question that both teams would ask before seriously pursuing Greinke is how they think he would adapt to their high-pressure markets. Keep this in mind: The Yankees do have excellent catching prospects, and the Royals need catching, and even if they sign Cliff Lee, they would not hesitate to make a Greinke deal if they thought he could adjust to New York. GM Brian Cashman always has believed in shooting for high-end pitching.
Therein lies the rub — or two rubs. As Jon Morosi reported yesterday, Zack Greinke has a restrictive no-trade clause. This year, he can block trades to 20 teams; next year, that number sinks to 15. Both the Yankees and the Red Sox are on that list and seemingly for a good reason. Greinke has suffered from a social anxiety disorder and depression, and the various beat writers and scouts who have at least a passing knowledge of Greinke and his make-up question whether or not he would be able to handle the pressure of pitching for the beasts of the AL East. Think Javier Vazquez Redux.
In an ideal world, the Yankees would be able to separate Zack Greinke the pitcher from Zack Greinke the person. They could trade from their depth and take on Greinke's modest salary. After all, he's making less than A.J. Burnett and is a near-lock to outperform A.J. over the next two seasons. But it's impossible to take Greinke's arm without his head, and that might very well be a deal-breaker. Greinke is an appealing name for the Yankees, but it just wouldn't work out for those two.