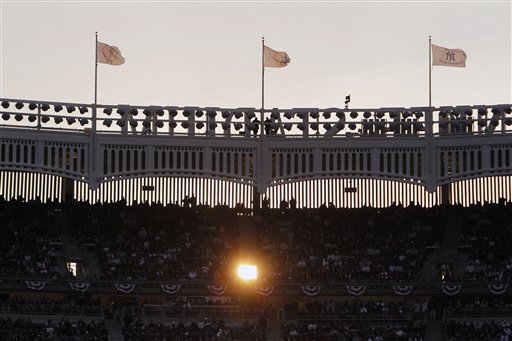 We're all pretty familiar with the Rangers after five games, so there's no need for a cheesy introduction. Phil Hughes needs to keep their lineup in check while his teammates put a hurting on Colby Lewis. Sounds easy, but it hardly ever is. There's nothing more we can do than sit back and watch, and maybe pray a little. Just win and force a Game Seven. Worry about that then.
CC Sabathia is available in relief, and I suspect A.J. Burnett is as well if it comes down to it.  It's do or die time (not literally), again. Here are the lineups…
Yankees
1. Derek Jeter, SS
2. Curtis Granderson, CF
3. Robbie Cano, 2B
4. Alex Rodriguez, 3B
5. Lance Berkman, 1B
6. Nick Swisher, RF
7. Jorge Posada, C
8. Marcus Thames, DH
9. Brett Gardner, LF
Phil Hughes (18-8, 4.19 ERA)
Rangers
1. Elvis Andrus, SS
2. Michael Young, 3B
3. Josh Hamilton, CF
4. Vlad Guerrero, DH
5. Nelson Cruz, RF
6. Ian Kinsler, 2B
7. David Murphy, LF
8. Bengie Molina, C
9. Mitch Moreland, 1B
Colby Lewis (12-13, 3.72 ERA)
First pitch is scheduled for 8:07pm ET and can be seen on TBS. Enjoy the game, go Yankees.