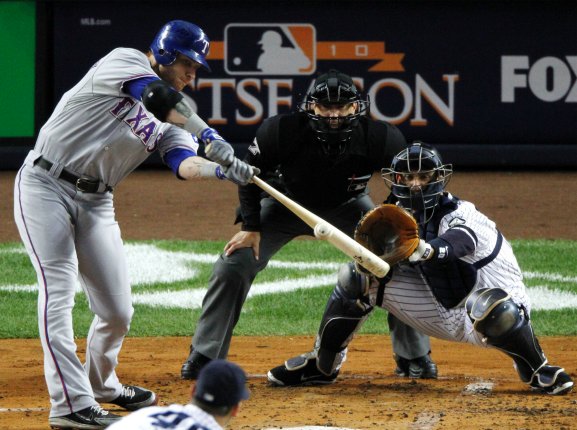 In the ALDS the Rays made the Rangers look like a beatable team. Sure, they had Cliff Lee ready to go twice in a series, but on offense the team didn't look like much of a powerhouse. The main reason was that the Rays held down Josh Hamilton. The MLB WAR and wOBA leader went just 2 for 20 with two walks and no extra base hits in the series. This was cause for concern, because Hamilton was coming off a fairly serious rib injury. If the Yankees could similarly reduce Hamilton's impact, they would have a much greater chance of winning the series.
It didn't take more than one at-bat for Hamilton to show that his ALDS slump was nothing more than that. He took CC Sabathia deep to establish a 3-0 lead. For the series he is now 6 for 19 with four homers, a double, and five walks. That has helped his team claim a 3-2 edge in the series. While much of Hamilton's turnaround is simply regression, there does seem to be another factor at play.
At ESPN 1040, Tommy Rancel, also of Rays blog The Process Report, explains the differences in how the Rays and the Yankees have approached Hamilton. During the regular season Hamilton fared best against fastballs and changeups. Throughout the ALDS the Rays attacked him with mostly curveballs. Of the 75 pitches he saw in those five games, 24 were curveballs — more than any other pitch. They threw him just 17 four-seamers and 13 two-seamers, while mixing in 15 changes. That seemed to work well, as not only did Hamilton not get on base, but he also struck out plenty.
The Yankees have apparently not learned from the Rays success. They have thrown Hamilton a four-seamer in 44 of 92 pitches. Almost all of these fastballs have come over the outer half of the plate, if they cross the plate at all. They have worked in plenty of curveballs and have had considerably success — Hamilton has swung and missed at 4 of 19 curves. But they haven't worked in nearly enough other pitches. Instead they're buttering Hamilton's bread with fastballs.
This is Phil Hughes's most difficult task in Game 6. The season is in his hands. If he is to succeed he must hold Hamilton in check. That means breaking out the curveball often. There's a chance that won't work, but it's better than continuing to go back with what we know doesn't work. Josh Hamilton destroys fastballs. Stop throwing them to him so often.