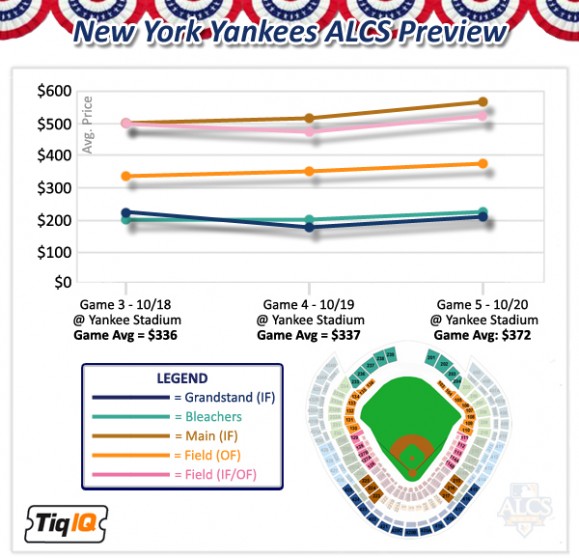 Our partners at TiqIQ have some graphs — and tickets — for the upcoming American League Championship Series. The above graph came out before Major League Baseball announced that Game 5 would be an afternoon affair, but as you can see, tickets start out expensive and get even more so as the series progresses. Notably, TiqIQ says that over the five days prior to Game 3 of the ALDS, ticket prices shot up by more than 60 percent. If it looks like the Yanks are going to clinch or if the series is tight, tickets will be in higher demand.
While the gist of the graph below is that bleacher seats are still cheaper than the rest of the park, even sitting behind the outfield walls will cost a pretty penny for the postseason. Average resale prices for the bleachers is in excess of $200 a seat, but it's well worth the experience. I saw Game 2 of the 1998 ALCS from the bleachers at old Yankee Stadium, and the crowd erupted when Chuck Knoblauch's mental error cost the Yanks the game.
As always, we have a wide array of tickets available for these games at RAB Tickets, and despite the high average prices, bleacher seats can be hard for around $100-$120 a pop right now. We're also running a promo for the week. If you make a purchase of $500 or more on Ticket Network only — basically the equivalent of two tickets for one game — put in the code rab28 for a 5 percent discount. Finally, if you're interested in tickets in Texas for Games 1 or 2, we have those available as well. You can find ALCS Game 1 seats right here and ALCS Game 2 seats here.