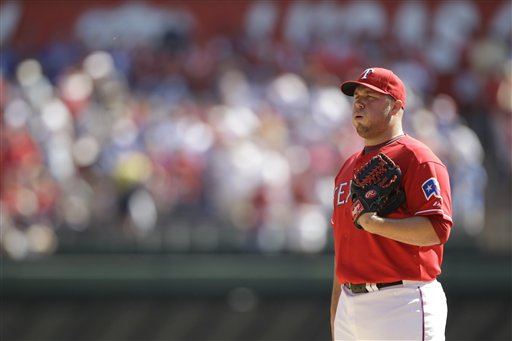 Last night's Game Three loss wasn't just an ass-whoppin', it was a historical ass-whoppin'. It was the worst shutout loss in Yankee postseason history, and the three baserunners were the fewest they've ever had in a playoff game. Cliff Lee was already one of just five pitchers to strike out ten-plus Yankees in a playoff game (the other four are or will be in the Hall of Fame), but yesterday he became the first man to do it twice. There's no shame in losing to a pitcher of Lee's caliber, but it's not as if the Yankee offense set the world on fire in the first two games of the series either. Therein lies the real problem.
Brett Gardner's second half crash back to Earth (.232 AVG since the All Star break despite a .311 BABIP) has predictably continued into the postseason, except now he can't rely on mediocre pitchers to walk him once every six trips to the plate to remain productive. He also seems to have resorted to the desperate act of sliding into first now, even though it's been scientifically proven to slow you down. Derek Jeter has struck out in five of his last six plate appearances, including three straight on swings-and-misses at fastballs up in the zone yesterday. Mark Teixeira … I don't even want to talk about him. His second straight terrible postseason is again propped up by one big homer against the Twins, par for the course during the worse non-rookie season of his career. Nick Swisher, Alex Rodriguez, and Jorge Posada are a combined 5-for-34 with three walks in the series. Outside of Robbie Cano and Curtis Granderson, the offense simply isn't getting it done this postseason.
The good news is that if there's one pitcher on the Rangers' staff that can help ignite an offense, it's Tommy Hunter. The burly righthander pitches to contact (his 5.8% swinging strike rate ranked 133rd out of 146 pitchers with at least 100 IP this year) and gives up lots of homers (1.48 HR/9, ranking 136th), two things the Yankees need a little help with right now. They've faced Hunter a few times in the past but just once this season, getting to him for two runs in five innings of work. They'll need more than that tonight, I can assure you.
Tonight's Game Four isn't a must win, but the Yanks have to play with that kind of sense of urgency just to get themselves out of this funk. Perhaps the lineup changes – Lance Berkman in at DH, Curtis Granderson up to the two-spot – that come with facing a righty will help, but those changes are really nothing more than cosmetic. The starting nine they trot out there on a given day is more than enough to win, but right now very few are playing up to their abilities. Several players just look straight up old to be quite honest, and that's a bad thing, because reversing age-related decline is pretty much impossible.
Cliff Lee was brilliant last night, let's not take anything away from him, but the Yankees haven't hit at all in this series save for one inning in Game One. If they lose tonight, A.J. Burnett will almost undoubtedly be the goat, but if the offense can't muster anything off Tommy Hunter, then I'm not sure they deserve to win anyway. They Yanks are set up for a breakout offensive game, and championship caliber clubs have to find ways to win pitching matchups like this, especially at home.