It must feel like a recurring nightmare for Ron Gardenhire and the Twins at this point. They won 94 games and steamrolled the rest of the AL Central this season, then headed into the playoffs with homefield advantage and their best team in years. Three games and four nights later, they were again swept by the Yankees in the ALDS, and just one of the games was really competitive. Phil Hughes did the honors on Saturday, putting up zero after zero while the lineup scored run after run. Minnesota's season is over, but the Yanks are just getting started.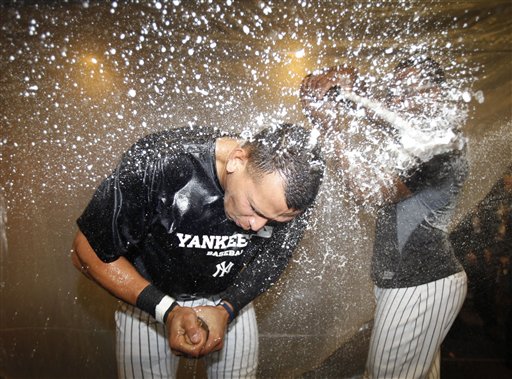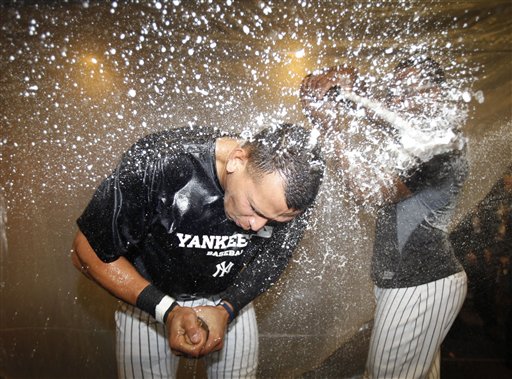 Biggest Hit: Happy Thames Are Here Again
For the first time since the 2003 ALDS, the Yanks scored first in a playoff game against the Twins. It's a stretch that lasted nine games, but that all came to an end in the second inning when Jorge Posada singled in Robbie Cano following his leadoff triple. Two innings later the Yanks were up two-zip, and nice lead but certainly nothing that makes you rest easy that early in the game. Might mighty Marcus Thames changed all that with one swing.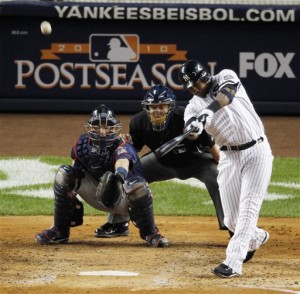 Minnesota starter Brian Duensing was fooling no one in this game, something that's not uncommon for pitch-to-contact guys against the Yankee lineup. He threw 58 total pitches and didn't get one swing-and-miss, and the beginning of the end all started when Cano reached first on a weak ground ball about 20-feet from first. Michael Cuddyer fielded the ball and tossed it over to Duensing at first, but the ball glanced off his glove and hit first base coach Mick Kelleher in … a vulnerable spot. I sure hope he iced down afterwards, and I'll leave it at that.
As we chuckled at the replay of Kelleher getting hit, Thames wasted no time extending his team's lead. Duensing left 91 mph sinker out over the plate and the designated hitter put his best swing on it, hitting a big fly into the rightfield people to give the Yanks a four run cushion. The Twins starter was out of the game two batters and one baserunner later, but this one was long gone by that point. Thames' shot was for all intents and purposes the nail in the coffin. At .102 WPA, it was the biggest play of the game.
Honorable Mention: You're On The Mark, Teixeira
Everyone knew that a lone second inning run wasn't going to stand up for seven innings, and two players who contributed surprisingly little the Yankees' 2009 World Title run put another run on the board in the third.
Nick Swisher, who hit just .128/.255/.234 in last year's playoffs, got the party started by lacing a double into the left-centerfield gap with two outs in the third. Mark Teixeira, who was slightly better than Swish last year at .180/.282/.311, absolutely annihilated a 1-0 fastball from Duensing, hitting it clear over Delmon Young's head in left to score Swish. He hit it so hard that he was held to the single, but that was irrelevant. The run was in, and the lead grew.
Biggest Out: O-Dawg Kills The Rally Before It Even Starts
We'll expand on this in a bit, but Hughes cruised right into the fourth inning without allowing a single baserunner. Denard Span changed that with a leadoff single to right, and with a two run lead all it would take was one swing of the bat to tie things up. Minnesota had the meat of their order coming up, so the situation could have gotten very dicey very quickly.
Instead of letting a bad situation snowball into a disaster, Hughes remained nice and calm and quelled the threat with one pitch. That pitch was a 93 mph heater on the outside corner to Orlando Hudson, who grounded it right to Derek Jeter for a rally killing 6-4-3 double play. It was that simple. Oh, you guys are threatening? No, let's put an end to that. The double play improved the Yankees chances of winning by 9.0%, the second biggest play of the game.
Honorable Mention: Hughes Gives Kubel The Gas
This one's completely subjective, but that's okay, we're allowed to do that from time to time. After Thames and a few other guys helped push the lead to five-nil, the Yanks were simply looking to get outs as quickly as possible.The Twins started to mount a little two out rally in the sixth inning, when Hudson and Joe Mauer both singled to right. Phil's pitch count was starting to climb, but he wasted no time putting Jason Kubel away. First pitch curveball dropped in for a strike, second pitch fastball was fouled off for strike two, and the kill pitch was a 93 mph heater up in the zone that garnered a swing-and-a-miss and the third out. That could have been the end of Hughes' outing right there, but he was again able to bear down and escape the inning.
The Night He Became A Man
There's something extra satisfying about watching a guy perform well on the big stage after you've followed basically his entire career. Phil Hughes is pretty much that first guy for a large contingent of Yankee fans, since he was drafted just as blogs and fan analysis brought prospects and minor league baseball to the forefront. We watched as Hughes made his rookie ball debut, as he tore through two levels of A-ball in one season, as the dominated guys two and three years older then him in Double-A. It was glorious.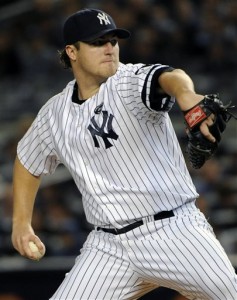 But we also dealt with the struggles, the injuries, and the failure to provide instant gratification. It wasn't until two full years after his big league debut that he established himself as a Major Leaguer, and that didn't happen until he moved to the bullpen. Hughes won a World Series ring last year, but his career progression didn't end there. Not even close. He stepped back into the rotation this year, and delivered a masterpiece in the biggest start of his life.
Thirteen days after his last start, Phil took the mound in this game and was throwing grenades right from the start. The first nine batters were set down on just 31 pitches, and the lone baserunner he allowed in the fourth was erased on Hudson's double play. He didn't run into any real trouble until the fifth, which came after he sat on the bench for over half-an-hour while the lineup tacked some runs on the board. Hughes threw over 30 pitches that inning and nearly coughed up part of the lead, but he rebounded and gave his two more innings.
The end result was seven innings pitched, four singles, just one walk, and six strikeouts. He threw 99 pitches and 67 strikes, recording a game score of 74, his second highest of the season behind the near no-hitter in Oakland (that was an 80). The stakes were a bit higher this time out, so I'm going to make an executive decision to dub this his best game of the season. In fact, he became the first Yankee pitcher to go seven scoreless in a playoff game since Mike Mussina way back in Game Three of the 2001 ALDS. Yeah, it had been a while.
Phil Hughes grew up a little bit in this game. Well, he continued growing up I mean. He's been doing it all season, but this was the biggest step forward we've seen. He was dominant and efficient, calm yet overwhelming, and quite frankly, he was an ace. After all we've gone through with Phil over the last six years, this was something special.
Leftovers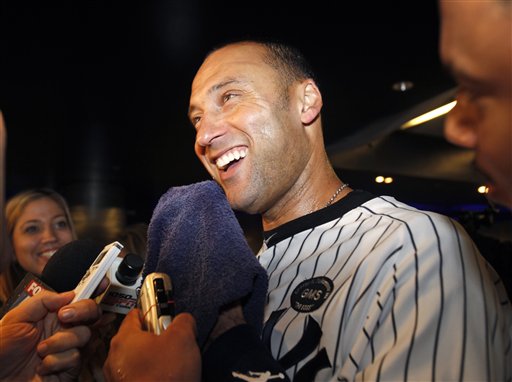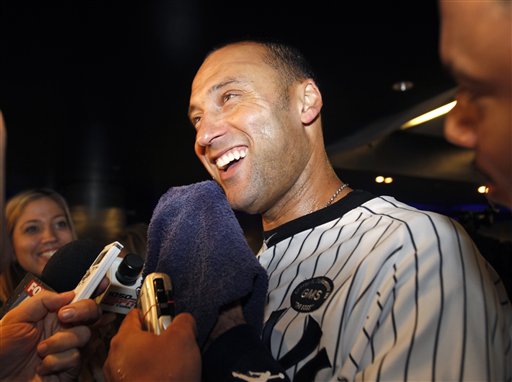 In hindsight, maybe using Kerry Wood three times in four days wasn't such a good idea. However, both Boone Logan and David Robertson earned their pay checks tonight. They threw three pitches combined and recorded two harmless pop outs with the bases loaded in the eighth. Mariano Rivera was exceptionally sharp in the ninth, closing it out flawlessly. He retired nine of the 11 men he faced in the series, with one of the baserunners being erased on a double play and the other coming on a blown call (the Greg Golson shoestring catch). Mo's back to being Mo, and not a second too soon.
Swish hit a solo homer late to give him three extra base hits in the series, the same number he had in the entire postseason last year. He hit .333/.385/.750 in the three games, but wasn't nearly as good as Curtis Granderson, who hit .455/.500/.727 in the series. He singled and walked in this one, then stole a base and moved to third on the same play as the result of a throwing error, setting up their third run in the fifth inning. Derek Jeter had two hits, Cano had two hits, and Thames had two hits. The only Yankee that didn't reach base in this game was Brett Gardner, but we'll forgive him.
As for the Twins, they went just 2-for-18 (.111) with runners in scoring position during the series, the Yankees 9-for-25 (.360). Remember when everyone was worrying about that last month? Anyway, it's also worth mentioning that the Yanks held Mauer and Jim Thome to .250/.308/.250 and .100/.308/.100, respectively. Kubel, a career .291/.354/.456 hitter against New York, was held to three walks and zero hits in 11 plate appearances during the series. Minnesota's three big lefty bats mustered zero extra base hits. Shut right down.
Part of me feels bad for Gardenhire and the Twins, they have to be so mentally defeated by the utter lack of success against the Yankees for the last half-decade. They're a great organization that consistently puts a winner out there year-after-year, but their shtick doesn't work in the playoffs. Develop some pitchers that can miss bats, and maybe you'll stand a chance next time.
Final note: The Yankees are now 8-1 in playoff games at the New Stadium. The only loss was to Cliff Lee in Game One of the 2009 World Series.
WPA Graph & Box Score
Love it, nice and easy. MLB.com has the box score and video, FanGraphs some other sweet stuff.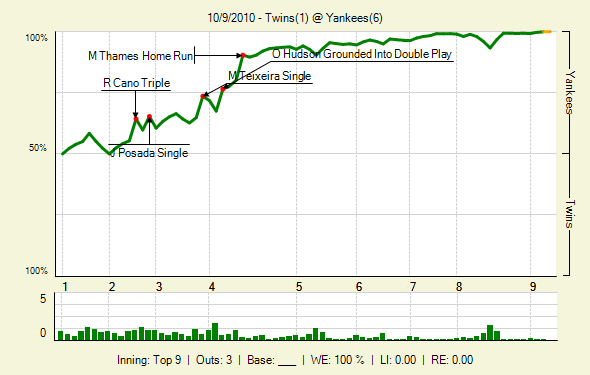 Up Next
Woooo six days off! The Yanks will play either the Rangers or the Rays in the ALCS when that series starts on Friday in either Texas or Tampa. For now they'll just get some rest, throw some bullpens, take a bunch of batting practice, and ready themselves for the next step. This ALDS sweep was only the start of something big.