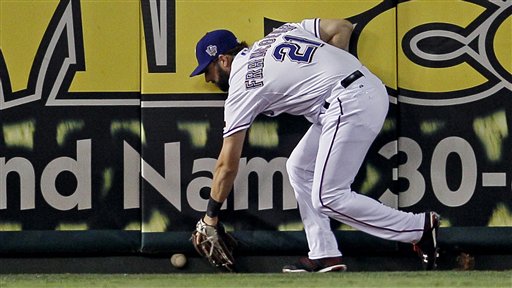 So now we have ourselves a series. The Rangers grabbed Game Three thanks to Colby Lewis and that royal pain in the ass Mitch Moreland*, and Neftali Feliz even managed to find his way to the mound. Tonight's pitching matchup features Tommy Hunter vs. Madison Bumgarner, which is an easy win for the Giants on paper. Insert cliche about not playing the games on paper here. Hopefully it's an exciting game, and I'm still rooting for a Game Seven, so a Texas win wouldn't be the worst thing in my world.
Anyway, here's your open thread for the game and whatever else you want to talk about. The late football game has the Steelers at the Saints, which should be worth watching between innings. You guys know what to do, have at the thread and enjoy the games.
* Seriously, where the eff did this guy come from? Dude was riding buses in the minors in late July, and now he's putting together ten pitch at-bats in the Fall Classic. Texas almost turned him into a pitcher for cryin' out loud.